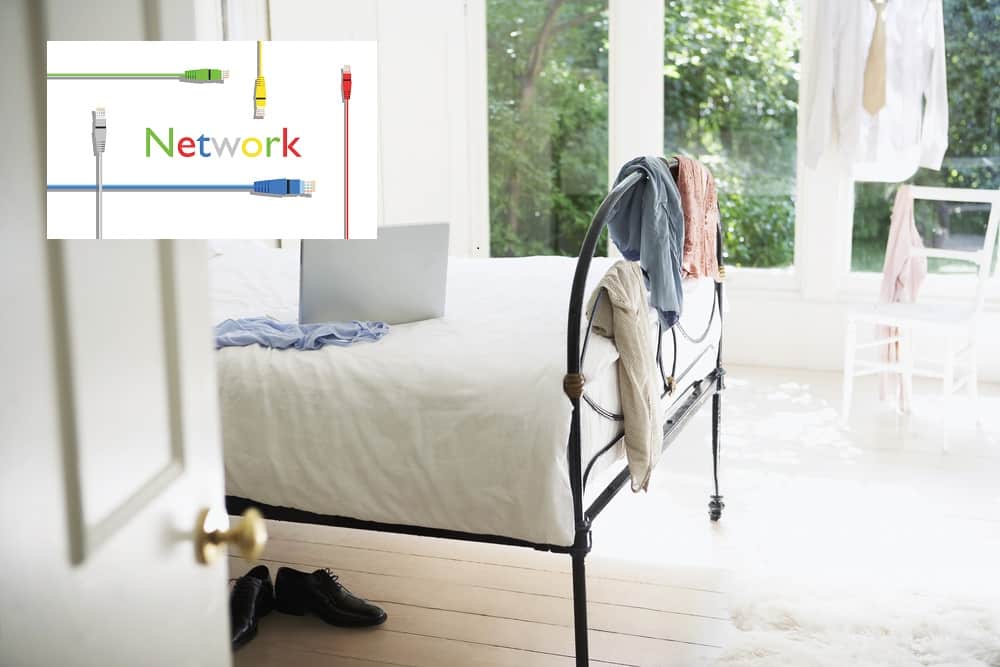 In the 21st century, this may sound a little bit awkward to you, as to why one would need to get wired internet to another room. There are multiple ways and reasons involved in persons wanting to get wired internet to another room.
In this article, we are going to list all the possibilities that may cause a person to want to get the internet connection to another room. The most common one would be the wireless internet or WIFI. Most people would want to switch their wired connection to be wireless so they can have the liberty to use it around the house without having to stick to a specific corner or desk.
How to Get Internet in Another Room
For those who are looking to turn their wired internet connection to a wireless one, so they can use it another room or throughout the house, setting up a WIFI system would be the perfect choice.
Today, most of the devices we use are WIFI compatible. It is hard to imagine an electronic device or a gadget these days that does not support WIFI. In the 21st Century, we are getting smart home appliances that are also compatible with WIFI connectivity and you can use them through an active internet connection.
If you are fed up with being limited to a certain room or certain corner of the house and want to use your internet connection wirelessly the best choice for you would be setting up a WIFI network. It is the most common phenomenon and most of the internet service providers support a wireless network option. If you are confused on the process, let us make it simple for you in comprehensive steps:
Confirm from your ISP provider if they allow setting up the WIFI network.
Get yourself the right WIFI router that will fit your requirements.
Configure the WIFI Router according to your needs.
By following these steps, you can easily convert your wired internet connection to wireless and use it in another room. If you are still confused about what is a router, or what settings you will need to configure, let us make it simple for you. A router acts like a modem and transponder both. You plug your wired internet connection in a WIFI router and it will emit the WIFI signals that you can use across your house. There are different ranges and sizes of routers available in the market that you can choose from according to your needs. However, like everything else, setting a WIFI connection has its pros and cons as well.
Pros
No Hassle of wires.
Cost-efficient.
Easy to set-up and Install.
Cons
Uneven signal strength.
Irregular Internet speed.
Not so stable connectivity.
As convenient or a luxurious thing WIFI might sound, it comes with a fair share of disadvantages as well that are undeniable and unavoidable. If you are using WIFI connection across your home or office, you might get irregular signal strength that directly affects the speed and efficiency of your internet connection. Also, to work or for those of us who prefer gaming, there is a high chance that they require more latency over the network and no lags at all. They would prefer to get a wired connection across all the rooms.
Yes, it is possible and fairly simple and easy to install. There are multiple ways that you can choose from if you want to get the wired internet to another room. The most convenient and optimal ways to get the wired internet to another room would be
2. Using a DSL Cable
Using a DSL Cable is the most high-end way to get wired internet to another room. DSL cable provides you with the right power that you require to fuel your online gaming or any of the professional work. DSL is the cable that is mainly providing internet connection to your Modem from the telephone line.
If you don't want to compromise even a little bit on speed, the best way for you would be to choose DSL cable to each room. This will also give you the liberty to use multiple devices in the same room without having to worry about the internet speed. However, to use a DSL cable for wired internet in another room, you will require to install a separate modem in each room.
The devices like Laptops, PCs or gaming consoles do not support DSL cables. What you will have to do is, plug your DSL cable in the modem and then connect your devices with the modem through an ethernet cable. This might cost you a bit more than simply using one modem but also will enable you to enjoy more speed.
Pros
More internet speed.
No network lags.
Cons
May cost more due to the extra number of modems being used.
Will require high-end modems or switches to share DSL cable.
A bit complicated to install and manage.
3. Using and ETHERNET Cable
Using an Ethernet Cable is probably the most common way used to get wired internet in another room. The method is highly popular and for good reasons. If you don't want to spend a fortune on expensive DSL cables and extensive modems. Also, you cannot afford to have a lagging internet connection through WIFI. Ethernet cable serves the purpose for you. The installation is pretty simple. Ethernet cables are the cables that are supported by most devices. These cables are digital cables also known as LAN cables. All you have to do is get a modem that has Ethernet Output slots. It is not hard to find such modems as most of the modems do have these slots built-in them.
Now, you just plug one end of your Ethernet cable into a modem and other end in the device that you want to use. You can increase the length of the Ethernet cable to share the wired internet connection to another room as well.
Pros
Simple and easy installation.
Good internet speed and no lags.
Supports all major devices.
Cons
Not as efficient as a DSL cable.
You can only wire a limited number of devices depending on your Modem output switches.