Tired of paying for tiers of cable channels that seem to cost more every month? Lots of cable subscribers have figured out that they can "cut the cord" and stream programming over the Internet using a media player like Roku or Chromecast or Amazon's Fire Stick. Meanwhile they save hundreds of dollars a year instead of subscribing to a cable package.
There's also another way to trim your monthly bill from the multiple services operator (MSO)—the cable company or phone company that serves as your Internet service provider (ISP). Purchase your cable modem (CM) or gateway instead of leasing it.
Here let's note that after describing the difference between a CM and a wireless router, the text thereafter uses the term "gateway." While these terms are not interchangeable, we'll adhere to the use of "gateway" for simplicity's sake when applicable.
Why Rent When You Can Own?
Probably you're aware a CM is a network device that serves as a bridge between an ISP's coax network and the customer premises equipment (CPE), e.g., media players, computers, etc. (which are also part of the customer's local area network or LAN). CMs modulate and demodulate wave signals encoded with digital information from a cable network when transmitting and receiving data. Note that routers and modems are two entirely different beasts even though it's likely that if you're renting a cable modem from your MSO, it probably also doubles as a wireless router. These combo devices, known as gateways, connect your home Ethernet LAN/wireless LAN to the Internet.
Regular readers of this space will recall that earlier this year we described why MSOs don't want their customers owning their own gateways. Having the customer lease these devices provides a significant income stream to the MSO. Depending upon provider, the monthly charge for a gateway can vary between $8 to $12. But if the subscriber purchases this CPE, it will pay for itself in a year or less.
The Perks of Gateway Ownership
By upgrading to a top-shelf gateway, the subscriber may discover previously unavailable networking options to increase connectivity during peak Internet usage periods. Too, newer devices take advantage of the latest IEEE 802.11ac wireless standard. So if your legacy gateway is an older 802.11n gateway, your newer gear can't fully avail of the higher speeds a 802.11ac gateway offers.
Too, consider network security. Today, malware attacks network elements at all levels—even the gateway. It's entirely possible the MSO gateway connected to the Internet is compromised. Remember these devices are computers too. Router malware is "the ultimate man-in-the middle attack" and a serious network security breach. If your web traffic isn't HTTPS encrypted, it can be redirected to phishing websites or other destinations that will search for passwords, logins and personal credit and financial information.
A gateway is supposed to serve as a firewall between your LAN and the Internet but if your gateway isn't properly secured, you could be duped into divulging the family jewels to cybercriminals. If the tech at your MSO inadvertently activated the router's remote administration, it can be modified by a hacker. Or maybe the router's admin password remained at default. Or maybe the MSO tech committed a security breach when configuring the router. By owning and formatting your own gateway, you'll have the peace of mind knowing that you took the responsibility of securing your LAN against the bogeymen who lurk across the Internet.
There is a downside—if your gateway should malfunction or cease operation, you'll be responsible for replacing it. But has your MSO ever had to replace your gateway because it didn't work anymore? Thought so.
Elements of a Typical WLAN; from left to right, modem, wireless router and network interface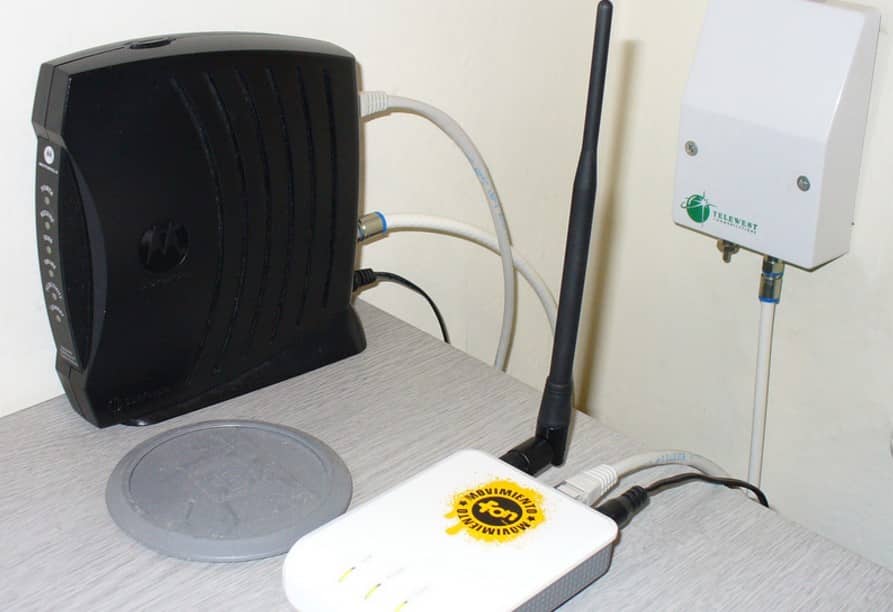 Source: Clive Darra / Flickr

Note that in the above configuration the ISP network interface (on wall) connects to the modem (black) which in turn connects to the wireless router (white with black antenna).
Selecting a Home Gateway, Wireless Router or Cable Modem

Below we look at three distinct CPEs available from Amazon. All three have been extensively reviewed by consumers with each receiving mostly positive feedback. Note that both the Surfboard and the Netgear CM support DOCSIS 3.0 and both are approved for use by most major MSOs worldwide; check with your provider for details.
GATEWAY
A highly touted gateway, it delivers 343 Mbps download speeds and Wi-Fi 1800 Mbps throughput (1200 Mbps-5.0 GHz/600 Mbps-2.4 GHz), supports IPv4 and IPv6 and comes with a 4 Gigabit ports for flexible Ethernet routing. This device channel bonds 12 channels—8 for download and 4 for up. An 802.11ac device, backwards compatible with b/g/n. Requires eMTA for VoIP telephony. Takes advantage of advanced beamforming technology with dual-band radios and concurrent MoCA 1.1 access point. (MoCA—Multimedia over Coaxial Alliance. Similar to powerline technology.) Works with Windows XP/7/8, OS X, Unix and Linux operating systems.
See this CNET video explaining the SBG6782-AC Surfboard in detail:
WIRELESS ROUTER
Advertised as "the world's fastest Wi-Fi router," it has combined dual-band data rates of 1900 Mbps (1300 Mbps-5.0 GHz/600 Mbps-2.4 GHz). Comes with a dual-core processor served by five Gigabit Ethernet ports and two USB 3.0 ports for peripherals such as printers, external storage drives and dongles. This ASUS model uses Broadcom TurboQAM technology for increased 802.11n speed of up to 600 Mbps. Take advantage of the ASUS AiCloud service that allows users to access, stream, share and sync data wherever connectivity is available. Create a virtual private cloud network by connecting to compatible routers to share files with family and friends. Compatible with Windows 7/8 and Mac OS operating systems. In case one wonders about the difference between "U" and "R" in ASUS model names, "U" denotes "universal" (i.e., sold by Amazon) and "R" is for "reseller" (i.e., retailers like Walmart, Best Buy, etc.)
Josh Dew, the purveyor of a popular YouTube channel, really likes this ASUS model. Watch and listen to him wax rapturously over the AC68U:
CABLE MODEM
The CM400 has a capacity of up to 340 Mbps, supports 8(down)x4(up) channel bonding and includes a 1 GB Ethernet port. Down speeds advertised up to 343 Mbps and up speeds at up to 131 Mbps. Can be quickly and easily self-activated with Comcast XFINITY without a service call. Supports both IPv4 and IPv6. No VoIP function. System requirements include Microsoft Windows 7/8/Vista/XP/2000, Mac OS or any OS running TCP/IP network. Compatible with Microsoft IE 5.0+, Firefox 2.0+, Safari 1.4+ or Google Chrome 11.0+.
Rare Product Reviews gives us their take on the CM400 in the following vid:
Coda
After digesting the information found within today's article, observant readers may notice that techies favor the use of separate stand-alone CMs and wireless routers rather than combo gateways. Why?
The stand-alone setup is considered to be more flexible with regard to cost, device features, upgradeability and performance functions. On the other hand, there are more cables to manage and two power outlets are needed. The combo gateway cannot be upgraded and if one part of the device malfunctions, the entire unit must be replaced. Each user has his own preference.
Personally speaking, your intrepid writer favors the combo gateway due to its simplicity. He's never had issues with his SMC Networks D3GN5V (an 802.11n device, which should tell the reader how long the gateway has been in use). Unless one just has to upgrade to 802.11ax when it debuts in 2019, a combo gateway utilizing 802.11ac should serve most users' needs. It's one less network element to troubleshoot if connectivity is ever lost.