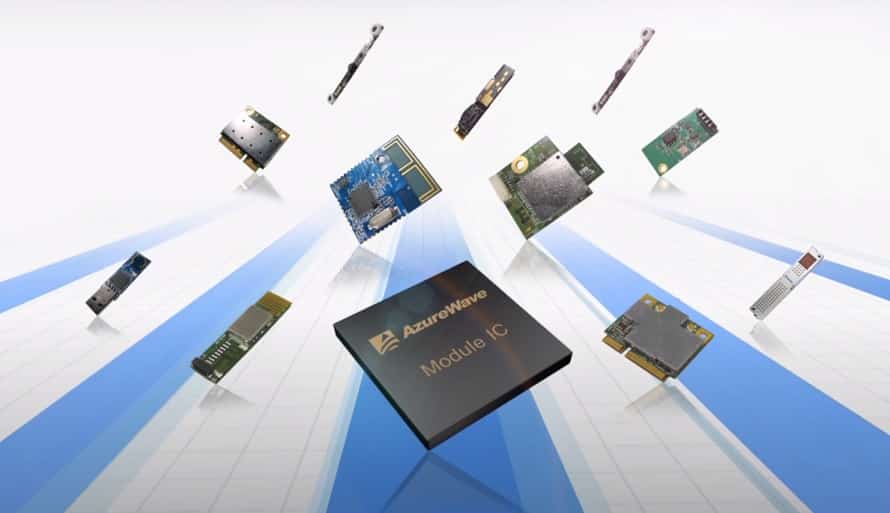 Faithful IAG readers recall our recent article comparing USB to PCIe WiFi. Now, we venture into the bowels of your mobile device as we discuss AzureWave for WiFi. Want WiFi, Bluetooth (BT) or Near Field Communication (NFC) integrated into your legacy device without dedicating a USB port? Tech-savvy users can install an AzureWave PCIe adapter on their computer's motherboard for a pittance compared to buying a new, upgraded device.
AzureWave Technologies Overview
In case you haven't heard of AzureWave, the publicly-traded Taiwanese company was established in 2005. Now with locations in Taipei, Hsinchu, Shanghai, Shenzhen, Tokyo and San Jose, AzureWave claims a capitalization of NT$500 bn (US$16.5 bn).
According to Reuters, AzureWave is "principally engaged in the research and development, production and distribution of wireless communication modules and digital image modules… including WiFi, BT and global positioning system (GPS) products." The company offers networking gear such as WiFi routers, 'sharing devices' (i.e., WiFi PCIe adapters) and cameras.
The plucky tech company competes against mainland Chinese behemoths like Huawei and ZTE, both of which have far greater earnings, capitalization and research budgets compared to AzureWave.
FYI, for those who scooped up Google's first-generation Chromecast digital media player in 2013, the dongle was powered in part by an AzureWave AW-NH387 2.4 GHz wireless N chip, combining WiFi, BT and FM radio into one solution.
This company-produced video from 2010 (note the references to 3G) gives an overview of AzureWave Technologies: 
AzureWave Products for WiFi
On its website, AzureWave lists a "Wireless Module Product Brief" for the following products:
Note that "1×1" and "2×2" refers to transmit-and-receive data stream chains. For readers keeping score, they'll recall that "2×2" refers to multiple-input, multiple- output (MIMO) radio chains.
If you're upgrading WiFi connectivity to your legacy device, why on earth would you opt for a 1×1 module? 802.11n supports MIMO, so it's a headscratcher why AzureWave doesn't offer a MIMO 802.11n 2×2 module. For that matter, one has to wonder why they offer a 1×1 module for 802.11ac (5 GHz).
Should you go to the trouble of disinterring the motherboard from your mobile device, we recommend opting for one of AzureWave's 802.11ac 2×2 modules. Just make sure your WiFi router supports multi-user MIMO (MU-MIMO). Otherwise, you'll be stuck with single data stream speeds.
AzureWave's 802.11ac 2×2 WiFi Modules
The company provides three 802.11ac 2×2 models:
All three modules are intended for mobile devices such as "notebook, TV, tablet and gaming devices which need small package module, low power consumption, multiple interfaces and OS support." All comply with 802.11a/b/g/n/ac standards and use
With regard to security, these Azurewave products are a bit behind the curve. All three support the IEEE 802.11i standard utilizing WPA/WPA2 and WEP 64- and 128-bit encryption. As our perceptive readers no doubt recall, the now-deprecated WEP has long been known to be highly vulnerable to attack and WPA3 is rapidly superseding WPA2 in networking gear.
All three products support the Advanced Encryption Standard (AES–802.11i) with Counter Mode with Cipher Chaining Message Code Protocol (CCMP) as well as Temporal Key Integrity Protocol (TKIP—now a fallback to CCMP but as insecure as WEP). But one wonders why AzureWave modules don't support more secure 256-bit data encryption.
Too, both CM276 and CM389 support the 802.11e Quality of Service (QoS), important for efficacious VoIP and video applications. They also feature the Manvell 88W8997 combo system on a chip (SoC), an integrated dual-band (2.4 GHz and 5 GHz) circuit used in processing WLAN and BT applications.
While these modules are both very similar, CM276 and CM389 differ in that the former supports BT 5.0 while the latter supports BT 4.2. This means that CM276 delivers data transfer speeds as fast as 2 Mbps—double that of BT 4.2—while communicating across distances as far as 800 feet (240 meters), 4x that of CM389.
AzureWave's AW-CM235NF
However, when comparing these three modules, techies looking to improve their device's WiFi data throughput will want AzureWave's CM235. It too supports 802.11i AES, 802.11e QoS and BT 5. But in 802.11ac mode, it supports 256-QAM for 20 MHz, 40 MHz and 80 MHz channels, delivering data rates up to 867 Mbps.
Instead of the Manvell 88W8997, CM235 utilizes the Cypress CYW4354 SoC, an integrated dual-band circuit compatible with 5G. By deploying low density parity check (LDPC) codes, CM235 has improved range and power efficiency—useful for congested WiFi environments.
Apparently, AzureWave has made proprietary upgrades to the CYW4354 SoC, as Cypress documents that the chip supports only BT 4.1.
AzureWave's WiFi MCU Modules
While we're here, we should also mention AzureWave's WiFi MCU modules. These microprocessor units transform everyday devices into IoT devices by enabling them with WiFi connectivity. Thus, they're not designed for mobile devices. Still, should you want to revamp your old surveillance cameras for the Internet, you might be interested in these two models:
The CU300 utilizes the Manvell 88MW320 SoC while the Cu427 taps into the Cypress CYW43438 SoC. Both have similar data rate speeds; each delivers 54 Mbps for 802.11g and 72.2 Mbps (on a 20 MHz channel) for 802.11n. The biggest difference between the two? Apparently, the CU427 supports BT 4.2 while CU300 doesn't support any version of BT.
Where to Buy AzureWave Modules
You can find AzureWave modules for sale on Amazon (see this), newegg.com, mitxpc.com and eBay, just to mention a few sites. Note that resellers offer many discontinued AzureWave models, so when it comes to product support and firmware updates, caveat emptor.
Coda
Our take on AzureWave is that they offer quality products albeit not on the cutting edge of today's wireless technologies. Note that subsequent generations of Chromecast's digital media player dongles did not include AzureWave chipsets, opting instead for Manvell's Avastar 88W8887 for radio connectivity. Draw your own conclusions.