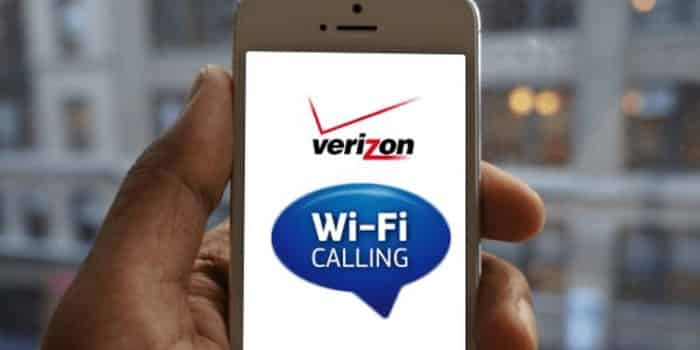 iphonedigital/Flickr.com
CC BY-2.0
Fifteen years ago, the hottest app going was Skype. Now part of Microsoft, Skype lets users place video and/or voice calls and send "instant messages" over the Internet. It became so popular that many network admins banished the service, claiming it hogged bandwidth and posed security concerns. So what is Verizon WiFi calling? Similar to Skype, it's VoIP with video and messaging capability. We explain below.
Verizon Needs WiFi Calling
According to a 2017 survey of 80 worldwide Mobile Network Operators (MNOs) conducted by Rewheel Research, Verizon led all carriers with "the highest… average network capacity utilization of 57%." This is a far greater percentage than most MNOs, which in 2016 and 2017 averaged just below 20%."
Like other carriers, Big Red doesn't disclose its network capacity. But this statistic indicates why Verizon allows WiFi calling (as do other MNOs) for subscribers—it relieves congestion on their curdled cellular airwaves.
Your intrepid blogger once worked as a network traffic engineer tasked with routing POTS calls across various trunk types to maximize cost savings while ensuring caller connectivity. Every network has a "busy" hour when users are most likely to be online. A traffic engineer configures a network to withstand volume during the busiest times of the day.
A maxed-out cellular network means dropped calls, delays in connecting calls and low-quality connectivity due to poor signal strength. If Verizon has 57% average network capacity utilization, it likely has times when users can't access their cellular network, or if they do, they suffer from low-quality connections. Hence the importance of Verizon being able to dump traffic onto WiFi networks.
To ascertain an MNO's network capacity, Rewheel multiplied the number of macrocell sites by spectrum. The consultancy noted that "operators in the Nordics, Austria and Korea have 5 to 10 times denser macro site grids than operators in the U.S. or Canada and hence much higher capacity potential…"
Thus, Verizon's cellular sites and networks must support a greater number of subscribers and traffic volume than any other carrier in the world. No wonder Big Red encourages WiFi calling.
WiFi Calling Explained
WiFi calling is virtually the same as calling over a cellular network or, for that matter, the public switched telephone network (PTSN). Phone numbers remain the same. WiFi calling routes traffic over the Internet instead of an MNO's communications network.
While both WiFi Calling and Skype are examples of VoIP, they differ in key ways. With Skype, users must log on to an app and connect to the service before making a call. WiFi calling is transparent; the smartphone's dialer integrates the app.
Also, third-party apps like Skype, Google Voice, Whatsapp, etc., won't automatically hand off WiFi calls to a cellular network should you leave the WiFi network's coverage range.
Too, unlike Skype, WiFi calling users don't need to create a "contact" phone directory. People receiving WiFi calls aren't required to download a third-party app to use the service. Users can set WiFi calling as a default mode on Android and iOS phones, automatically switching to a cellular network if the signal is lost, and vice versa.
After Apple added WiFi calling functionality to the iPhone 6 in 2014, and due to increased traffic saturation of cellular networks, MNOs went overboard to boost the service. Almost all the phones they support now have WiFi calling capability.
Take a peek at this Verizon-produced video tutorial on using HD Voice for Android phones: 
Verizon WiFi Calling Specifics
Foremost, to use Verizon's WiFi calling, the smartphone must be "HD Voice"-enabled. As is the wont of MNOs to brand a non-proprietary technology as uniquely their own, Verizon labels Voice over LTE (VoLTE) aka HD Voice as "Advanced Calling 1.0." Recall that the IAG previously noted that voice is now data; Orthogonal Frequency Division Multiplex (OFDM) technology gives wings to LTE's rapid data speeds.
Before VoLTE, Verizon Wireless employed CDMA2000 (3G aka Evolution Data Optimized or EV-DO)—and before that, 1xRTT or "2.5G"—which uses separate channels for voice and data. With these different streams, users couldn't simultaneously talk and text, i.e., use voice and data, on their Verizon phones. VoLTE makes that scenario a bad memory by using more bandwidth for greater audio call quality and adds data functionality.
VoLTE also integrates video calling into a smartphone's dialer. Users can initiate a video call during a VoLTE voice call and opt to switch between the two if desired. However, features such as caller name ID and ringback tones don't work with HD Voice. Verizon says that "voice calling uses about 1 MBpm of data" and "a 1-minute video call typically uses about 6-8 MB of data."
Setting Up Verizon WiFi Calling
To use Verizon WiFi calling features, the device must be able to access Big Red's 4G LTE network. To enable HD Voice for Android on Verizon, go to "Settings" >> "Wireless Networks." Next, tick "Advanced Calling" and follow the yellow brick road. On an iPhone 6, 6 Plus and newer, the HD Voice option is found under "Settings" >> "Cellular" >> "Enable LTE" and then tick "Voice & Data." Note that video calling is not supported on iPhone 6, 6 Plus and Motorola Nexus 6.
On an Android phone, to ensure that your call is on a WiFi network and not Verizon's cellular service, look for their WiFi calling icon. The device separates the icon into two parts; on left is a phone handset and on right is the international WiFi "wave" image. An iPhone displays "VZW (short for Verizon Wireless) Wi-Fi" in the status bar.
Is Verizon WiFi Calling Free?
On Verizon's WiFi Calling FAQ page under "1. How much does Wi-Fi Calling cost?", Big Red offhandedly informs us that "the Wi-Fi Calling feature is available at no additional charge, and is included in your monthly existing monthly voice plan." What Verizon doesn't tell you is that it subtracts WiFi calling minutes from a voice plan's allocated minutes. Riled consumers have thus complained that WiFi Calling isn't "free."
In reply, an online Verizon community moderator disingenuously states: "You are not in essence being charged extra (emphasis added) for minutes used on WiFi calling. If you talk for 15 min, then you only use 15 min from your plan, but there's no charge to use those minutes via WiFi."
In other words—no matter if one places a call using a WiFi network outside of Verizon's realm or on their cellular airwaves—if you talk on a Verizon phone, Big Red will charge you for airtime. Verizon claims that WiFi calls use their network since they originate from the "VZW Internet gateway," even if they connect over another carrier's data network. But hey, Verizon WiFi calling is "free to use."
Ask yourself: What's the point of paying premium prices for Verizon's wireless 4G network? It's often congested in metropolitan areas during busy hours, so why not find another carrier that won't charge you for making WiFi calls over a DOCSIS network?
Coda
In February 2020, The Motley Fool's James Brumley noted that "the technology of combining WiFi connectivity and physical wires to keep cellphones linked to a network is something most major wireless carriers have tinkered with, as the number of connected devices has exploded and put a strain on spectrum. But the switch, or 'handoff' from one connection type or hub to another, has proven tricky and expensive."
Multiple Services Operators (MSOs) aka "the cable company" have solved this conundrum by using their wireline infrastructure. The DOCSIS cable running along utility poles easily accommodates strand-mounted small cell WiFi antennas.
Within the past year or so, MSOs have made inroads into the wireless communications market. Companies such as Charter and Comcast now do business as mobile virtual network operators (MVNOs), reselling Verizon spectrum to their cable subscribers.
IAG readers, steel yourselves for yet another tech acronym: Citizens Broadband Radio Service (CBRS), which uses partially unlicensed radio-frequencies between 3.5 GHz and 3.7 GHz. "Negatory, good buddy," it's not truckers' "CB radio," which operates on 27 MHz in the U.S.
Likely, Charter and Comcast broadband customers don't recognize that they're actually on their WiFi networks when using their phones at home. Brumley observed, "This mixed connection approach is a far more economical one to operate, letting cable companies into the mobile phone business without complete reliance on others' networks."
Expect to see MSOs pursue this networking strategy. Charter CEO Tom Rutledge stated, "We're uniquely positioned to take advantage of wireline and wireless network convergence over time with our fully distributed wireline network." Charter CFO Chris Winfrey added, "We're obviously experimenting with convergence, and we've done a bunch of radio and mobile experiments this year testing switching dual SIM technology."