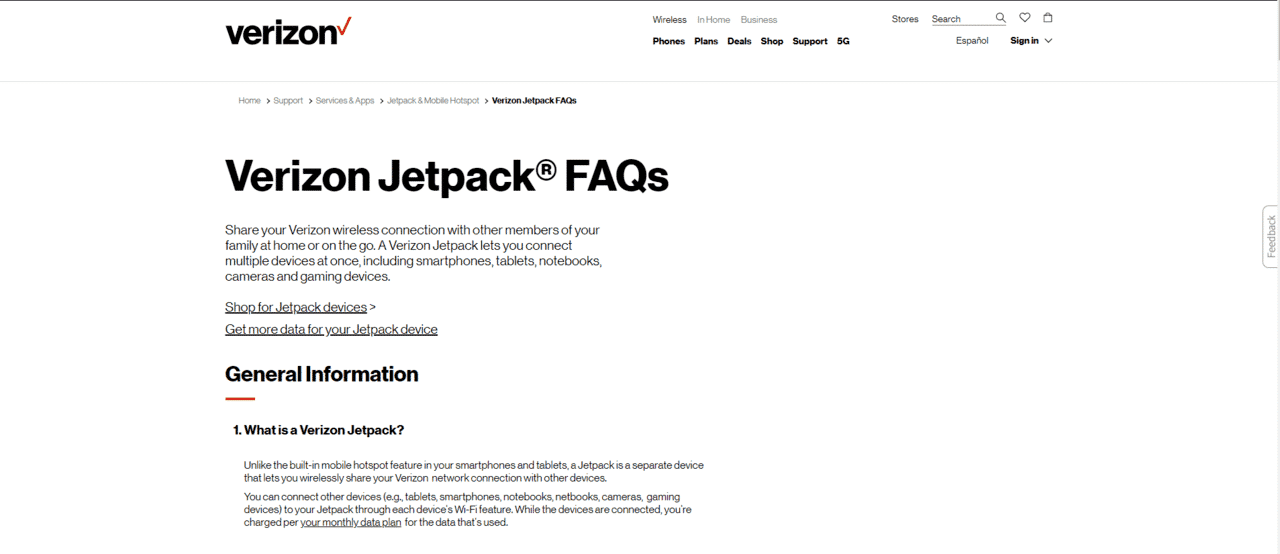 Introduction
The field of telecom is a very vast ground and the competition is extremely tough. Wireless Internet is the leading sector in the telecommunication industry making indefinite progress with each passing day.
Every now and then, we hear about a new high-tech gadget being launched in the market that works better than its competitors and becomes the number one priority of people. Verizon Wireless is playing its unique role in the telecom field wholeheartedly and struggling every day to make more reliable products.
Verizon communications are serving the nation as Internet service providers all over the United States. Among all the services Verizon is providing to its customers, fast working uninterrupted wireless internet is the most valued one, demanded highly by the public. Verizon Jetpack is a product launched by Verizon which takes your high-speed internet experience to a whole another level.
What Is A Verizon Jetpack?
What is a Jetpack Device?
One might still be wondering, what exactly is a Jetpack device? If you are not familiar with the term 'Jetpack', just take your Wi-Fi router or USB internet stick as an example or even better your mobile hotspot.
Jetpack is a high tech advanced form of your mobile phone's hotspot feature that lets you connect more than one device to the internet service provided by the network company that you are using. But unlike the built-in hotspot feature of your mobile phones and tablets, a Jetpack device is a separate tool that lets you share your Verizon network connection with other digital devices without using a cable wire.
Inside the Jetpack device, there is a slot present for inserting a sim card that will provide the basic network connection which the device will share with the other connected items. You can connect many other devices including smartphones, tablets, notebooks, laptops, netbooks, cameras, gaming devices, LED screens, etc. to your Jetpack device simply by using each device's Wi-Fi feature.
How is Jetpack different from other devices?
A Jetpack device is like a small box that can easily fit into your pocket or purse as well. It is very different and much more efficient than any other internet device. The Jetpack device is portable and easy to carry along with you wherever you go unlike the Wi-Fi router in your home which stays on a wall stuck in one place and shares your home broadband Internet connection with other devices.
The advanced Jetpack devices are multifunctional. It can operate as both, a USB Modem as well as a mobile hotspot. This eliminates the need for a connection cable or even a power outlet connection which is required for a Wi-Fi router. PC cards, USB modems, and Express Cards can only be used with notebook computers because they need a physical connection to work.
Furthermore, it can connect with only one notebook at a time The Jetpack also provides better coverage without any restrictions and facilitates many devices with the wireless Internet connection at once. You can connect different types of devices to a Jetpack, including your smartphones, tablets, laptops, and what more.
Why a Verizon Jetpack device?
These are many jetpack devices available at the market by different brands but Verizon Jetpack is a considerable choice of devices. Reasons, why to consider using a Verizon Jetpack device in place of your Mobile Hotspot feature, are as follows.
1. Multi-functionality
It shares your Verizon Wireless network connection with other devices without affecting the speed of the internet.
2. Chargeability
A Jetpack device does not drain the battery of your smartphone or tablet because it comes with its own battery provided with very reasonable battery life.
3. Security and Privacy
Whenever you are sharing your mobile phone's hotspot connection with other people, you are somewhat bound to stay in a particular place that you cannot leave but with the Jetpack, you can stay and leave as you please.
4. Flexibility
The Verizon Jetpack allows you to connect as many devices via Wi-Fi connection as you want unlike the Mobile Hotspot feature of your smartphones. You can connect as much as 10-15 devices with the Jetpack.
How to use the Verizon Jetpack Device?
Using the Jetpack device is not rocket science but one might still have some issues while connecting it to your devices. It is better to know about the basics of the Jetpack device to easily work your way through. The Jetpack usually has two operating modes so the connectivity is different for different modes.
1. USB Tethered Mode
A Jetpack can be used with a given USB cable to connect to your computing devices to grant Internet access. A USB cable connection disables the Wi-Fi capabilities of the Jetpack. But when it is plugged into a power charger, the device automatically enables the Wi-Fi mode.
The newer models of Verizon Jetpack, such as the Verizon 5G Mi-Fi® M1000 Hotspot or the Verizon Jetpack® Mi-Fi® 8800L, enable both modes USB-tethered connection and Wi-Fi connection simultaneously.
2. Wi-Fi Mode
This mode is obviously more used and efficient as it does not require any wire or connection cable. You can connect multiple devices without a USB by using their Wi-Fi feature. Just turn on the Jetpack and your device's Wi-Fi and it will connect the network.
How to modify the settings on Verizon Jetpack?
For modifying the settings of your Jetpack device, go through the following steps.
Open the Web Browser on your device.
Load the page with the given URL (http://my.jetpack).
Look for the Login field on the top right corner of the welcome page
Log in by using the default Wi-Fi password displayed on the Jetpack screen. You can change the password as you wish later.
After signing in, modify the Jetpack settings according to your desires.
If you find the data allowance is not meeting your needs, you can make changes in the plan or purchase a data plan that best suits your needs. You can visit the online store of Verizon Wireless to shop for their Jetpack devices and data plans.