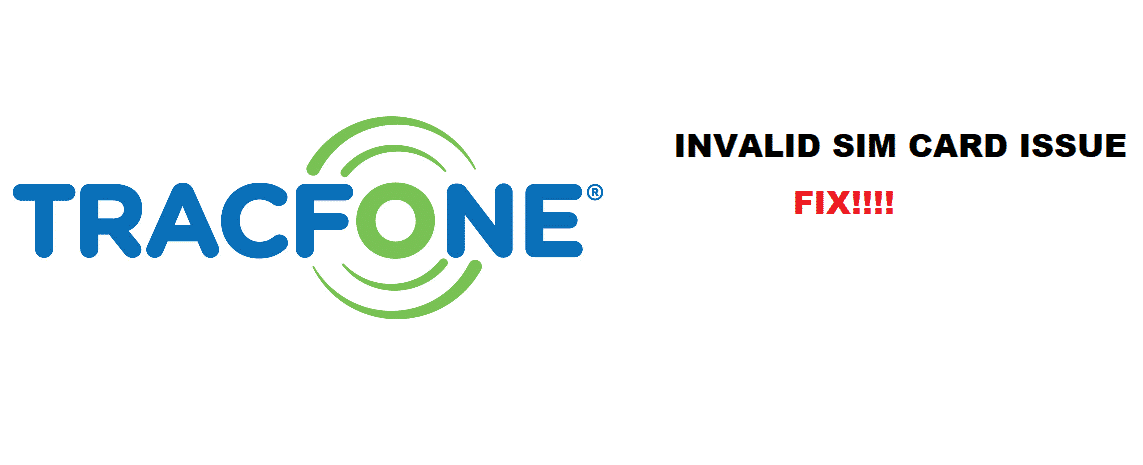 Facing SIM card dreads are the worst to experience whenever you get a new smartphone with full enthusiasm. The Notification of Invalid SIM Card ruins our excitement with a blink. SIM cards work on the wide range of phones under the activation policy which is being followed promptly. Although, the customers of TracFone carriers are facing unexpected Invalid SIM Card Error with their devices due to which the users are having a hard time running their phones properly.
What Is TracFone?
Just like Straight Talk, Tracfone is one of the MVNO Mobile Virtual Network Operators that has been made applicable to four giant network companies such as Sprint, AT&T, T-Mobile, and Verizon. TracFone owns the services of all these four mobile phone companies. However, users are allowed to have one cellphone company enabled out of these four.
Why Am I Facing Invalid SIM Card Issue?
Coming towards the INVALID SIM CARD issue, there can be several factors behind it. sometimes the SIM card that you have currently installed in your cellphone is from a carrier that does not support the activation policy assigned by your SIM card's activation server.
The users having TracFone carriers enabled on their network sometimes forget to have compatibly working phones for their SIM cards due to which they see the persistent issue of INVALID SIM CARD ERROR. As we know the issue is more related to software instead of hardware; troubleshooting wouldn't be about fixing your phone.
How To Troubleshoot TracFone Invalid SIM Card Issue?
The following are some logical and quick troubleshooting steps that are related to the software of your mobile phone and your selected network company that would you get the issue under control.
Here is how you troubleshoot Invalid SIM Card TracFone:
Force Reboot Your Mobile Phone:
Upon facing any SIM card or network related issue, the first solution you should be picking is force rebooting your mobile phone. It can debug your mobile phone and you might be able to get the SIM card working. Here is how you do it:
Press and deep-hold the Power and Volume Down button for 20 seconds until your phone turns off.
Wait for the Maintenance Boot Mode to appear on your phone's screen.
Click on the "Normal Boot" from the Maintenance Boot Mode.
Make use of the volume buttons to function through the available options.
Lower down with the below volume button to select.
Wait for 2 minutes.
Your device would successfully be force rebooted.
Reset Your SIM Card:
Invalid SIM card error is mostly the result of improper installation of the Sim card in the first place. Your network bugs might be the reason you are not getting to avail of the services properly. A simple restart can save you a lot. Here is how you do it:
Turn off your phone before you restart your SIM card.
Open your cellphone' slot where SIM is situated.
Remove your SIM card.
Wait for at least 20 seconds.
Insert your SIM card back into the phone.
Check your Sim inserting again if it is positioned correctly.
Turn on your phone.
Look for the network signals if they are back due to resetting.
You can always change your Date and Time Settings to make sure the resetting process is completely executed.
Look Out For Bad Apps:
You can have the issue completely resolved after eliminating the apps that have been bringing about the network bugs into your phone. Uninstall all the third-party apps to save your phone's tendency to take up SIM cards.
Reset Your Phone's Network And Software Settings:
Re-configure your network settings by simply factory resetting your device to re-insert your network credentials. However, if nothing works, you can always count on resetting your software settings.
The removal of network bugs and software bugs would easily get your Invalid SIM card error TracFone disappear.
Conclusion:
Invalid SIM Card Error is one of the most commonly faced issues that come up while using the TracFone carrier. The main reason lies with the wrong and improper installation of SIM cards instead of broken hardware. The best you could do is to always insert compatible enough SIM card. Apart from that, the above-mentioned troubleshooting steps are qualified to get your SIM Card working again with the TracFone carrier.