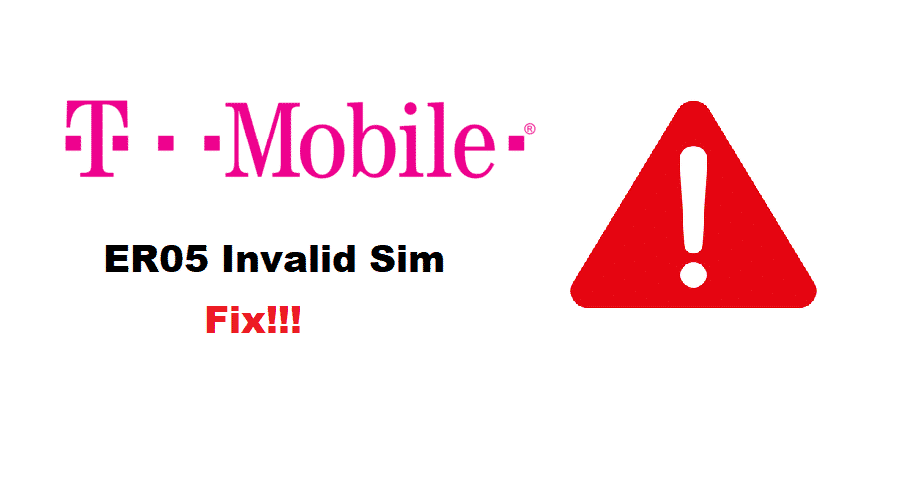 If you have put your T-Mobile sim into a new phone and it is showing ER05 Invalid Sim then you do not have to worry because it is a very common problem. It does not matter if you have an Android or an iPhone because this problem can occur on any phone.
T-Mobile Sim Card
T-Mobile is a network provider and they offer a sim card that is linked with your phone number. Your sim card is neither the memory card nor SD card, however, some phones have the same slot used for sim cards and SD cards, so don't get confused. If you have just got a phone and you need a new sim card then you can purchase a T-Mobile sim card with either a postpaid account or a prepaid account.
You can purchase a sim card through the T-Mobile store. They offer sim cards in a variety of sizes including nano, micro, and standard size. However, you can check your device sim card size by checking the Tech Specs page. Moreover, the T-Mobile sim card comes along with an adaptor allowing you to choose which size you want to go with.
If you want to change your number or activate a sim card then you can contact their customer service for further details. However, if you are experiencing an Invalid Sim Card Error then there can be a Faulty Connection and their customer service representative can assist you with it. However, before that, you can try a few methods to resolve this problem on your own.
4 Easy Methods To Troubleshoot T-Mobile ER05 Invalid Sim Error
Method 1:
The most basic and easiest way to resolve this problem is to restart your device.
Either you use an iPhone or an Android phone you can reboot your device to resolve your T-Mobile invalid sim error. Restarting your device removes many unwanted glitches and refreshes your phone.
Check if your phone detects the sim card now. If it still shows the error then you can try the other method.
Method 2:
The other reason your phone is unable to detect the sim card is network operator selection.
For that, you must simply go to the Settings of your phone and tap-select T-Mobile Networks.
From the Mobile Networks menu, tap on Network Operator and search for T-Mobile.
Once you have selected T-Mobile as your Network Operator your sim will stop showing invalid sim error on your phone.
Method 3:
If your phone still shows an invalid sim error then you can set your network preferences to Auto Mode.
First of all, go to the Settings menu on your device.
Now search for the More Networks option and tap on it.
Next, tap on the Mobile Networks option and go to Network Mode.
It will show you different options from which you will choose the first one that is "LTE/WCDMA/GSM (auto connect)"
Method 4:
One other option that you can try is to toggle Airplane Mode on your device.
For that, you will only have to drag down the notification panel of your device and find the Airplane Mode from the icons.
Once you tap on the airplane mode wait for about 1 minute-30 seconds before you turn it off.
Turn off Airplane Mode, and check if the sim still shows a T-Mobile Invalid Sim Error ER05.
Hopefully, this blog helped you to resolve your device showing the T-Mobile Invalid Sim ER05.