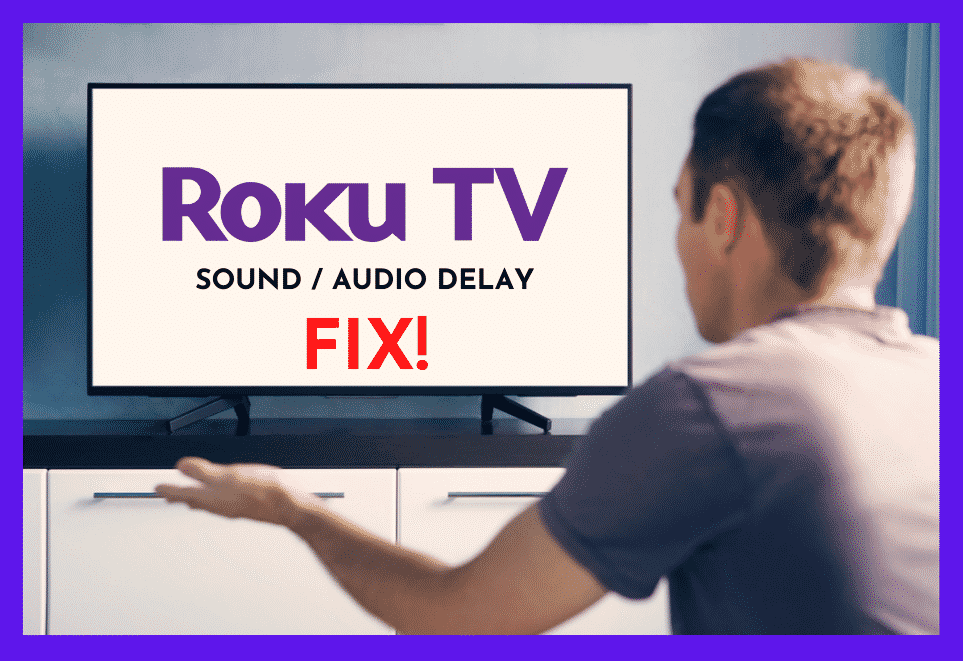 If you are reading this, the chances are pretty high that you already know what Roku TV is.
You have probably bought one for many logical reasons. Their exceptional sound system, perhaps? Maybe it was the ease of use factor that got you hooked. After all, all you need to do is plug it in, connect it to the internet, and then you're ready to enjoy your favorite shows.
However, there is one con in choosing Roku that more and more people on the internet are making their voices heard about it. Of course, we're talking about the annoying sound delay.
For some of you, this defect will only be noticeable on a few channels. For others, it's on every channel and even on Netflix. Whichever the case is for you, rest assured that this little guide will fix the problem.
So, if you're tired of the audio racing ahead of the video and ruining your enjoyment of football games and films, you've come to the right place.
How do I troubleshoot the sound delay issue on my Roku TV?
The idea of fixing something that sounds as complicated as this can make some of us simply give up trying before we have even got going. However, with this fix, you need no experience in the tech field. Anyone can do it!
Just follow the detailed steps below, one at a time, and you'll have the problem fixed in no time at all:
1. Change the Audio Settings To "Stereo":
Sometimes, the easiest fixes are the ones that turn out to be the most effective. So, we'll start with the easiest fix.
You may have noticed that when a commercial pops up while you're watching something, it can cause everything to slip out of sync. The best thing to try is adjusting the audio settings on your TV to "Stereo." It should fix the problem straight away. 
Here is how you do it:
Go to the "Home" button on your Roku remote.
Scroll either down or up.
Next, open the "Settings" options.
Tap on the "Audio" option.
Now, set the Audio mode to "Stereo."
After that, all you need to do is set the HDMI mode to PCM-Stereo.
Note that those Roku devices having an optical port will require you to set HDMI and S/PDIF to PCM-Stereo.
2. Check ALL Connections:
Most likely, the solution mentioned earlier will work 95% of the time. However, if the issue persists, check your internet connection.
Sometimes, if your internet speed and the connection's stability are poor, it will affect your service's quality, especially if you live in a remote area.
The best way to check your connection is to check your upload and download speed using a website such as this one here. 
Asides from this, there is also a chance that your HDMI cable or power supply may be slightly loose. Though it sounds like an obvious fix, you would be surprised how often it can happen – even to the tech-savvy among us.
So, it is worthwhile checking to make sure that you plug in both the HDMI cable and the power cable for the TV properly. 
3. Make Adjustments on the Remote:
If these fixes above have not worked for you, sometimes just making a quick change to the volume settings on your remote can fix the problem instantly.
Though it almost seems too easy to be effective, this fix has worked for plenty of people.
To give it a go, all you need to do on your remote control is disable and then enable the "Volume Mode". 
4. Hit The Star (*) Key On Your Remote:
Picture this. You're watching your favorite TV show. It goes to adverts, and then all of a sudden, the audio and video are way out of sync. Too far out of sync for you to even watch the show anymore.
You're going to want a quick fix that sets the situation right again so that you don't miss any vital plot information on your show. Here's how it works:
While your content is playing, simply hit the (*) button on your remote to access the volume settings.
Then, if "Audio leveling" is enabled on your device, just switch it off. 
And that's it. Again, this fix may seem a bit too simple to be in any way effective. But, rest assured, it has worked for many frustrated Roku users out there. 
5. Clear the Cache. 
Many people who work in IT joke that the most reliable fix is simply turning it off and turning it back on again. But, we think there's a bit of wisdom behind this humor.
After all, restarting your phone or laptop when they malfunction seems to work at least some of the time, right?
All you need to do is follow these simple steps for cache clearing:
Unplug your Roku device and wait for at least five minutes. 
Plug it back in. this action will clear the cache, and the device will perform more efficiently.
It is recommended to clear the cache at intervals regardless of whether you are experiencing problems or not. Clearing the cache frees up more processing power for your device to perform at its best. 
There are few things more frustrating than trying to unwind and watch your favorite shows just to have your experience ruined by lagging.
Luckily, across the board, users everywhere have reported that at least one of these fixes has worked for them time and time again.
Frequently Asked Questions:
How do I Fix Netflix Audio Lag on Roku TV?
Quite a few Roku devices users will have noticed that the only time their audio and video go out of sync is when they are on Netflix or Hulu.
More often than not, Netflix is the worst offender for this. But there's some good news. It's straightforward to fix the problem. There are a few streaming platforms out there that can override the sound settings on Roku.
Netflix is the most used of these. So, to get your Netflix working as normal and get back to enjoying your shows, here's how you go about it:
First up, launch the Netflix channel on your Roku.
Start a video/show. 
Now, open up the "Audio and Subtitles" menu.
Pick "English 5.1" from the menu.
And that's it. You can now enjoy your Netflix content at ease!
What can I Watch on Roku?
Roku offers a huge range of services that are both paid and unpaid. You can watch movies, television, news, etc.
Roku also supports widely used resources such as Netflix, Deezer, and Google Play. That's right, and it even supports games.
Why Does My Roku's Audio Keep Lagging?
There are multiple reasons that can cause your audio and video to go out of sync. In rare cases, it can be due to a weak internet signal.
Other times, the reasons for the lag can be a total mystery. Most users who experience this issue will note that the trouble begins when a commercial comes up or the video is paused. 
The few most common factors include buggy software updates, network errors or bugs, loose input of the HDMI cable, inappropriate sound settings, slow internet speeds, etc.
At times, it may seem like the broadcaster is at fault and that everyone is experiencing the same issues. However, this simply isn't the case. Luckily, the problem is easily remedied by following the above steps.
The Above Tips Didn't Work. Are There Any Other Fixes?
Depending on the specific Roku device you are using, what works for you might not be the same as what works for the next person.
One unusual fix that we have come across is a simple rewind to set everything right again. Several Roku users are reporting that if you rewind 30 seconds, everything becomes synchronized again.
Over time, this may become annoying. However, on occasion, it will do for a quick fix. 
What Causes a Roku TV to go out of sync?
The root of the whole problem is a default feature that is built-in to Roku TVs. Though this feature was supposed to provide optimal audio settings, many have found that it does quite the opposite.
The "Auto Detect" feature is to detect the device's audio pairing capabilities. 
Fixing Sound or Video Delay on Roku Devices.
As we have seen, fixing the video and audio sync on your Roku TV will never involve taking the TV apart to fix the problem. It also doesn't involve sending the TV back to the manufacturer.
By going through the steps above and finding the one that relates to your specific TV, you should be able to fix the problem in an instant if it happens again.