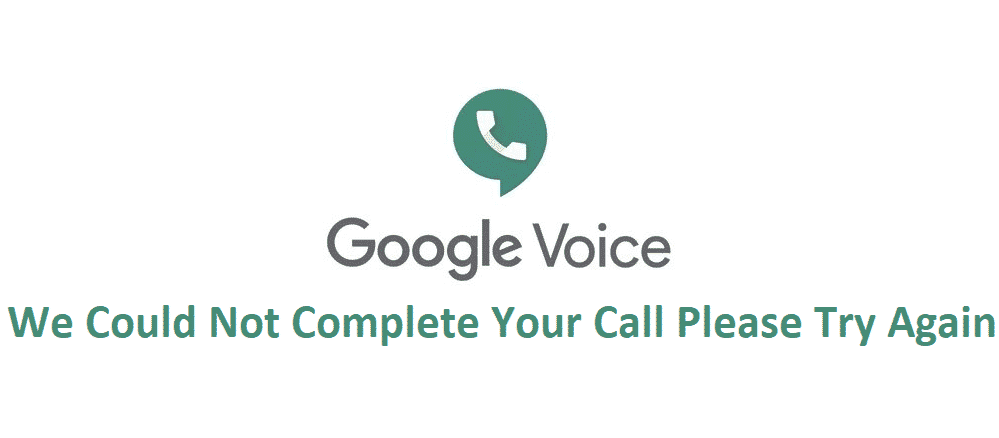 Google Voice is one of the most useful services provided by Google that allows the users to be able to make calls to other Google Voice users as well as to cell numbers. It is widely used by users in places where there may be no or low network coverage. Many users have found it useful in airplanes during flights.
While most of the time Google Voice users have had satisfactory experiences, sometimes, the users may face issues. One of the issues that have been reported by Google Voice users is getting the error message "we could not complete your call, please try again." Typically the users see this error message while they are trying to make calls to certain numbers.
Fix Google Voice We Could Not Complete Your Call Please Try Again
If you are seeing this error message while you are trying to make a call then there are a few steps that you can take to resolve this issue. These are listed below.
1) Make Sure that Your Wi-Fi is On and Working Fine
If you are using a Wi-Fi Internet connection, then the first thing that you need to do is to make sure that your Wi-Fi is turned on and is working fine. Google Voice is an Internet-based service and it requires a stable Internet connection to work properly.
2) Make Sure Your Mobile Data is Working Fine

If you are using mobile data to make a call through Google Voice, again you need to ensure that your mobile data connection is working fine. Make sure that you are in the coverage area and that you are able to browse other Internet-based apps.
3) Check if Your Google Voice Account is Working Fine

The next thing that you need to check is whether it is an issue with your Google Voice account or not. If you are having an issue while trying to make a call using Google Voice mobile app, you should try logging into your Google Voice account from a computer. If you are able to log into it, this means that your account is working fine.
4) Clear Cache and Cookies of Google Voice App

The Google Voice app on your smartphone may be malfunctioning due to some unexpected data-related errors. You can get rid of them by clearing the cache and cookies of the app. So clear the cache and cookies of the Google Voice app on your smartphone and then check if you are able to make the calls.
5) Reinstall Google Voice App

If you have tried all the troubleshooting steps mentioned above and you are sure that your internet connection or your Google voice account is working fine, then there is a possibility that there may be something wrong with the Google Voice App on your smartphone. In that case, you should reinstall the app from the App Store or Play Store. Once the app is reinstalled, sign in and check if the issue is resolved.