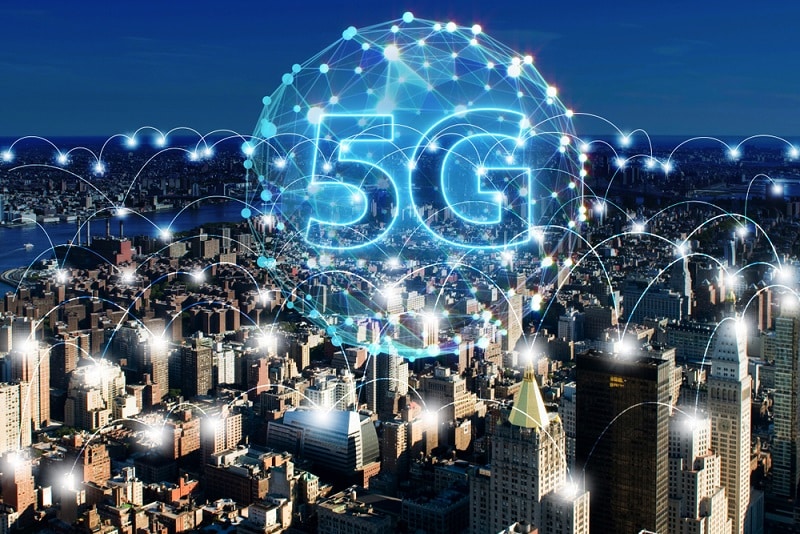 5G Around the World
Although finalized 5G standards won't be announced until 2020, the 5G rollout continues apace across parts of the world. North America, Europe and Asia are the focal points of this new buildout. Only a few telecom companies have the technology (and the patents) to manufacture the gear needed for the total 5G supply chain—and none are American-based. Where is 5G around the world? What does it do?
The 4 Pillars of 5G
One can divide 5G into two distinct components and two subdivisions: (1) 5G applications for (a) enterprises and (b) consumers; and (2) 5G companies which, broadly speaking, are either (a) "carriers" such as telcos and mobile network operators (MNOs) or (b) telecom gear manufacturers.
Historically, what defined a world-class provider of telecom services and/or devices was its ability to deliver a balanced combination of enterprise and consumer offerings. In the 20th-century, the Bell System in the U.S. encompassed both carriers and manufacturing. AT&T delivered voice and data services while Western Electric manufactured telecom gear. Bell Labs was the Bell System R&D arm (now owned by Nokia).
This combination of telecom services, manufacturing and research under one corporate umbrella is unknown in the 21st-century. Even in China's concentric, state-driven economy (and the world's largest telecom market), carriers and gear manufacturers are separate entities. Chinese smartphone manufacturers such as Huawei, ZTE and Xiaomi compete against each other, as do state-owned carriers China Telecom and China Unicom.
5G Enterprise Applications
As former FCC Chair and a current visiting fellow of Governance Studies at the Center for Technology Innovation Tom Wheeler admonishes, "If anyone tells you they know the details of what 5G will deliver, walk the other way." That said, analysts foresee many enterprise-level 5G solutions that will improve upon current 4G applications.
IoT will be an obvious beneficiary; 5G technology provides exponentially greater throughput and capacity through its advanced network slicing capability. It will eventually supplant LTE-M for machine-to-machine (M2M) communications in geographic areas where 5G is deployed.
5G network slicing will lead to the development of "smart" plants. Greater capacities, as well as faster latencies and speeds, will improve robotics, warehouse automation and manufacturing functions.
Based on 5G patents, only a handful of manufacturers appear to have the capability to provide 5G OEM enterprise-level solutions.
5G Consumer Applications
The obvious 5G application for consumers, at least initially, will be mobile broadband. While moving the cloud's "edge" closer to the end-user has several benefits, 5G's latency improvement over 4G looks to be the most striking development. But, as we noted previously, 5G's latency advantage over DOCSIS 3.1 is minuscule.
5G's greater network capacity compared to 4G has major implications for mobile video usage. The World Advertising Research Center (WARC) predicts that by 2025, 72.6% "of Internet users (the equivalent of nearly 3.7 billion people) will access the web solely via their smartphones" and "most of the growth in smartphone use will come from China, India, Indonesia, Pakistan and Nigeria."
These countries are all among the most populated in the world. China, of course, is the most populated; the others rank second, fourth, sixth and seventh, respectively. 5G's superior network capacity and throughput can meet device usage demands in densely populated urban areas such as Shanghai, Mumbai, Jakarta, Karachi and Lagos. These five cites alone have a combined population of over 80 million.
Huawei already offers consumers 5G augmented reality (AR) and virtual reality (VR) apps.
Take a look at "The Race to 5G Explained" from the Turkish broadcast service TRT:
Which Countries Now Have 5G?
According to lifewire.com, as of 18 October 2019, the following countries have at least a limited commercial (as opposed to test) 5G network footprint:
North America
Africa
Asia
South Korea

Qatar

Kuwait (fixed wireless)

United Arab Emirates

Philippines (fixed wireless)

Saudi Arabia (fixed wireless)

Bahrain
Europe
Germany

United Kingdom

Italy

Switzerland

Spain

Finland

Ireland

Faroe Islands

Monaco

Austria

Romania

Poland
Oceania
5G Gear Manufacturers
While at least 22 companies worldwide have declared 5G patent families, Wheeler identifies only four major 5G "infrastructure" companies: Huawei (China), Nokia (Finland), Ericsson (Sweden) and Samsung (Korea).
North American telecom manufacturers were absorbed by competitors in the wake of the dot-com bust. Motorola was acquired by Nokia and Lucent (previously mighty Western Electric of the Bell System) became a part of France's Alcatel, which was soon absorbed by Nokia.
Of course, there are various 5G OEM sectors. 5G technology encompasses
(1) chipsets,
(2) handsets,
(3) infrastructure gear
(4) IP standards (patents)
(5) Carriers (i.e., telcos and MNOs)
Currently, the vast majority of 5G devices are smartphones, i.e., handsets. Note these are current 5G OEMs and not those with whiteboard plans.
Chipsets
Chipsets are generally considered associated with consumer mobile devices, as opposed to chipsets relating to 5G infrastructure. Only a handful of 5G global chipset makers have the required capability and commercial availability to qualify as OEM manufacturers.
Various chipset product categories include modems and RF front-end components. Manufacturers are divided between those that build components compatible with millimeter-wave (MMW) radio signals or those with sub-6 GHz compatibility. Few make devices compatible with both. Despite the U.S. emphasis on MMW, the largest 5G modem market currently is for sub-6 GHz gear. Only the U.S. has deployed both MMW and sub-6 GHz 5G.
Global players include:
Huawei (China)

Media-Tek (Taiwan)

Qualcomm (United States)

Samsung (South Korea)

Unisoc (formerly Spreadtrum Communications; China)

Skyworks Solutions (United States)

Qorvo (United States)
From the above OEMs, only Huawei and Samsung build their modems entirely "in-house." Intel looks to exit the 5G smartphone modem business after losing a contract to Qualcomm to supply Apple with 5G modems and IP. Given the economies of scale necessary to compete (remember Motorola), Intel's 5G modem future can at best be described as "in limbo." Rumor has it that Apple is looking to buy Intel's 5G modem business and IP for its planned 5G devices.
Handsets
Global players include:
Samsung

LG (South Korea)

OPPO (China)

Xiaomi (China)

OnePlus (China)

Motorola Lenovo (China)

Huawei

ZTE (China)

Vivo (China)

Nubia (China)
Already, Samsung claims to have sold a million Galaxy S10 5G phones in South Korea alone.
Infrastructure Gear
To be clear, 5G gear encompasses both "single-purpose" and "multi-purpose" infrastructure providers. Single-purpose gear includes core network and radio access network components such as base stations and antenna arrays." Multi-purpose gear refers to data centers, edge servers, related software and other specialized 5G products.
Core network components combine mobile, fixed and converged connectivity and feature elements such as machine learning (ML), artificial intelligence (AI), software-defined networking (SDN) and virtualization (NFV).
Conversely, radio access network components facilitate mobile device communication across a wireless or cellular network. These components include base stations such as macrocells, microcells and indoors picocells which link 5G devices to the core network and antenna arrays—base station attachments—that amplify radio coverage.
Multi-purpose infrastructure gear combines value-added applications to networking products and is "non-traditional" (if such a term can be used with 5G) in that they integrate software and firmware with infrastructure hardware.
A. Single-Purpose Providers
Ericsson (Sweden)

Samsung

Huawei

Nokia (Finland)

ZTE
B. Multi-Purpose Providers
Cisco Systems (United States)

Hewlett Packard/Aruba (United States)

Dell EMC (United States)
IP standards (patents)
As of July 2019, Iplytics defined the following companies or consortia with 5G patents: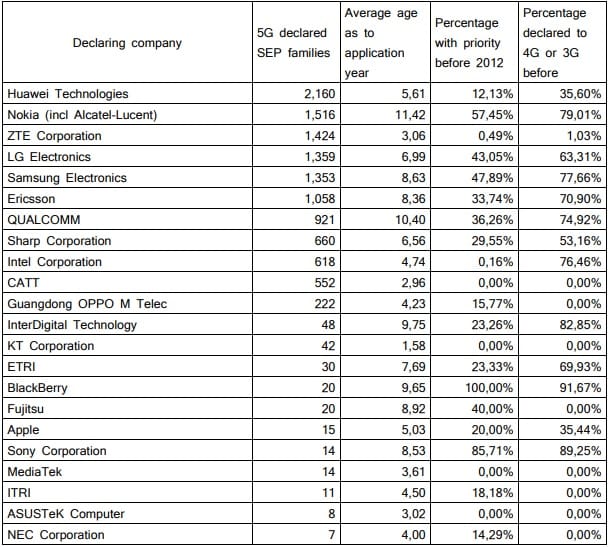 Source: iplytics.com
Carriers (i.e., telcos and MNOs)
As of October 2019, the following carriers offer 5G:
North America
Verizon

AT&T

T-Mobile/Sprint
Africa
Asia
SK Telecom

LG Uplus

KT

Ooredoo

Vodafone

Zain

VIVA

Etisalat UAE

Globe Telecom

Saudi Telecom Company (STC)
Europe
Deutsche Telecom (DT)

Vodafone

EE

Three

BT Mobile

Telecom Italia (TIM)

Swisscom

Sunrise

Hutchinson Drei Austria

Magenta Telekom

Elisa

Telia

Føroya Tele

Digi

T-Mobile Polska

Monaco Telecom
Oceania
Coda
So, who's the worldwide leader in 5G "innovation and standard settings"? According to Forbes writer Patrick Moorhead, it's Qualcomm. He claims that Qualcomm invested over US$5.6 billion in R&D during 2018 alone. On the other hand, China Daily reports that Huawei R&D investment in 2018 exceeded US$15 billion, "helping Huawei keep its advanced place in 5G technology."
Moorhead notes that "not all Standard Essential Patents (SEP) are necessarily created equally (and) Qualcomm's SEP have a higher quality and make up a bigger part of the core of the 5G spec than others." He adds, "Patent counting or just filing patents for the sake of getting that number up has been a strategy employed by some vendors, like Huawei."
Still, telecom analyst Daniel Newman declares, "When it comes to end-to-end providers for 5G network transformation, there are only really two companies that can claim full end-to-end offerings—Huawei and Nokia."
The 5G global landscape is still in flux, with the majority of nations worldwide yet to roll out 5G networks. But, given the enormous expense of 5G R&D and deployment (particularly for MMW), it seems apparent that the number of players will be limited.