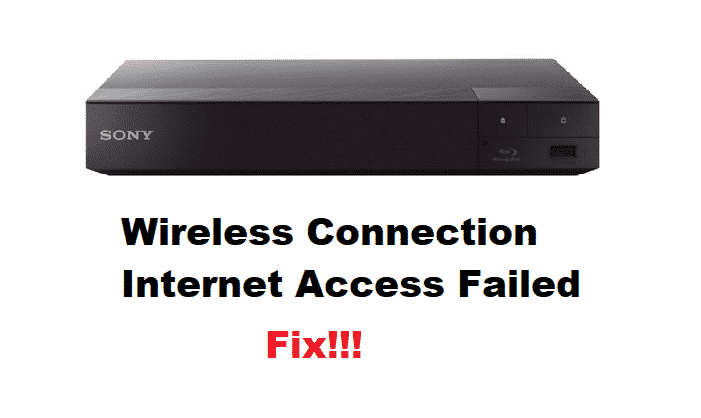 Blue-ray players can be used to play movies or shows of your choice. While these were usually used just to play discs. Newer models of these devices are now able to give you access to online features as well. You can use these to watch shows or stream videos from online applications. Talking about this, one of the best companies that make these players is Sony.
The products from them are made of great quality and will last you a long time. Although, while they might be amazing products, you might run into some issues with them. One of these is that your Sony Blu-ray player will show you the error message 'wireless connection internet access failed' when trying to use online features. If you get this problem then here is how you can fix it.
How To Fix Sony Blu-Ray Player Wireless Connection Internet Access Failed?
Device Not Supported
Before you start getting into technical fixes. One of the most common reasons why you might get this problem is that your device does not support the online services provided by Sony. You can confirm this by checking the manual provided by your device. This should be under the specifications of your player. If you have lost the manual for it then you can visit the official page for Sony. Search for the specific model of Blu-ray player that you are using.
This should take you to a page where you can find all the information about this device and you can download the manual for it from here as well. If your device is indeed unable to access the internet wirelessly then you can either use an ethernet connection on it. Alternatively, you can also use a wireless signal receiver on your player. This will help you to catch wireless signals on your player.
Power Cycle Your Modem and Router
Another reason for this problem can be that there is an issue with your modem or router instead of your player. You can easily fix most of these by just giving your devices a power cycle. If you only have a modem then shut it down and wait for a minute. After this, power it back on and wait for its light to become stable. Alternatively, if you own both a router and modem then switch both of these off but turn your router back on after your modem becomes stable. You can now connect your player to the internet without any error messages.
Faulty Device
This is unlikely to happen but in some cases, the player that you are using might be faulty. If you still have the warranty for it then you can easily get it replaced by the company. However, if your warranty has become void or has run out then you will have to get the device fixed. If it is beyond repair then you should purchase a new player for yourself. Lastly, make sure that you take your device to a store recognized by Sony. They should try their best to provide you with a solution.