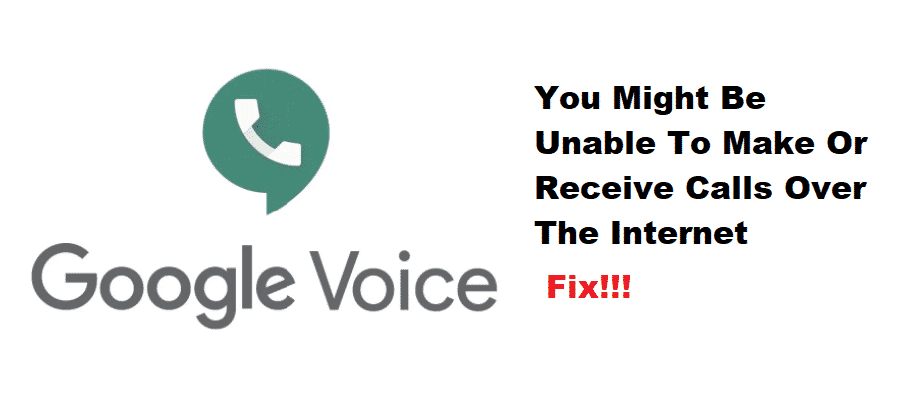 Google Voice is a service launched by Google for call forwarding and voicemail, as well as voice and text messaging. It provides the users with a U.S telephone number that is generated according to selected area codes. There is no charge for the number and a number will be assigned to each user account.
Every user also has the option to choose which telephone number should be forwarded to after he receives a call through the Web portal. He can also configure all of the ringing phones that should receive the call.
How To Fix Google Voice You Might Be Unable To Make Or Receive Calls Over The Internet?
Google Voice is a service being used by plenty of users. Unfortunately, quite a few of them have reported facing a weird issue while logging in to their Google Voice account. They will get an error stating "You might be unable to make or receive calls over the internet" in Google Voice.
Using this article, we will be explaining to you all the ways on how you can fix this issue. So, without wasting any time further, let's get started!
There May Be an Issue with Your Network
In case you are at your home and experiencing this issue, then the issue may be with your network. However, it is more likely to be experienced when you are at work. Your network could be blocking traffic which could trigger problems with your Google Voice.
You will have to take this to your IT department in case you are facing this problem at work or in an institute. In case you are at home, try giving your ISP a call. Alternatively, you can try using a different network to see if it has an effect or not.
Use Ad Block Plus
Ad Block Plus is an extension that can be installed on your browser. Not only can it be used to get rid of unnecessary ads, but you can also use a custom filter to get rid of annoying popups.
Likewise, you can create a custom filter and add the whole DIV to your Ad Block Plus. The warning should no longer appear.
Ignore the Message!
If you are in fact able to make and receive calls, then we suggest leaving the error as it is. Many users have stated that getting this warning message is actually an error made on Google's side.
However, if you absolutely want to get rid of this error, try contacting support. They should let you know why you are facing this message.
The Bottom Line
Are you experiencing an error in Google Voice stating "You might be unable to make or receive calls over the internet?". If so, simply follow the 3 steps mentioned above. Each step should help you successfully troubleshoot and potentially fix the issue for good.