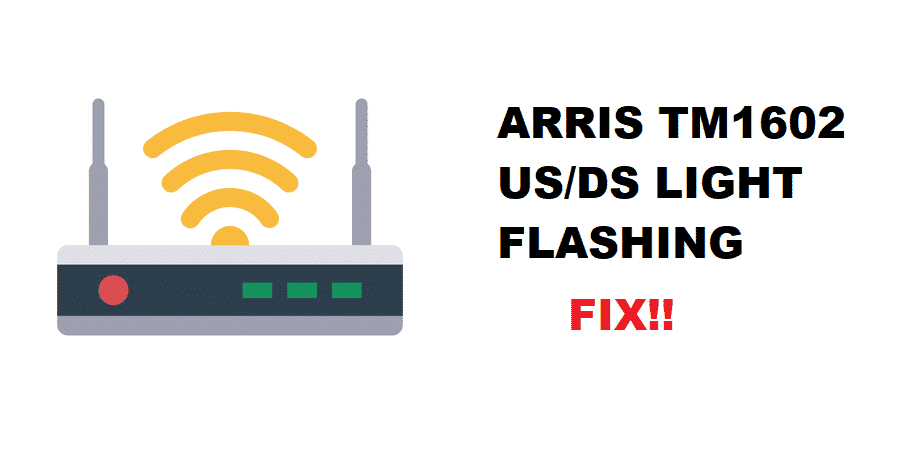 LED lights present on the front panel of your modem are not just there for the show. They tell us about connectivity and internet status. Arris TM1602 is a high-quality and well-functioning Spectrum modem that is being extensively used. People seem to be entirely satisfied with Arris TM1602 performance. The US/DS LED lights flashing on your Arris TM1602 have multiple meanings. In this article, we will walk you through the relevant information regarding Arris TM1602 US/DS lights blinking. Stay with us.
Why Are US/DS Lights Flashing On My Arris TM1602?
US/DS lights stand for upstream and downstream lights. These flashing or blinking LED lights are on the front panel to help us comprehend your internet connection's connectivity status. Spectrum Arris TM1602 modem has multiple little US/DS flashing lights on the front, which has several meanings.
The blue light on the modem usually means that your modem is undergoing connectivity issues due to weak signals or no signals at all. While green lights on your Arris TM1602 modem means there is some ongoing system update with your internet or modem.
Want to know the flashing of these US/DS lights on your Arris TM1602? Read on.
Here are some of the possible reasons you see these flashing of US/DS lights on your Arris TM1602 modem.
Your modem is insufficiently performing. The power fluctuations cause your modem to blink US/DS lights, or it can be defective.
There is some damage or breakage between your central hub and the modem.
The connections made are lousy and improperly connected.
Scheduled Outage: The Spectrum might be going through a total internet outage. You are seeing the persistent blinking of US/DS lights.
Your splitter might be damaged to ensure the safe flow of the internet via the wires.
What Do I Do When My Arris TM1602 Modem Is Flashing US/DS Lights?
Now that you know the reasons for your Arris TM1602 modem to blink US/DS lights continuously. Troubleshooting the issue becomes easy when you know the reason.
Here are some fixes you can imply to solve the Arris TM1602 US/DS lights flashing issues.
Make Sure To Tighten All The Wired Connections:
When you see your modem unusually blinking US/DS lights, the first thing you need to do is check if all the wired connections are tightly connected. Try to limit the wires and tighten them if they are loose.
Check Company's Website For Possible Outage:
The next thing you need to do is check Spectrum's website if they have some unfortunate or scheduled outage.
Makes Sure The Power Supply To Modem Is Fine:
Now check if the power supply is adequately done to your Arris TM1602 modem. Power cycle your modem by unplugging and plugging it back. Ensure that you cool down the modem before plugging back.
Check If The Splitters Are Safe:
If none of the above solutions works out, remove the splitter and connect the modem directly to the internet. Your splitter is damaged if the internet works.
However, if you still see the US/DS lights flashing on the front panel of your Arris TM1602 modem, reach out to Spectrum Customer Support right away!