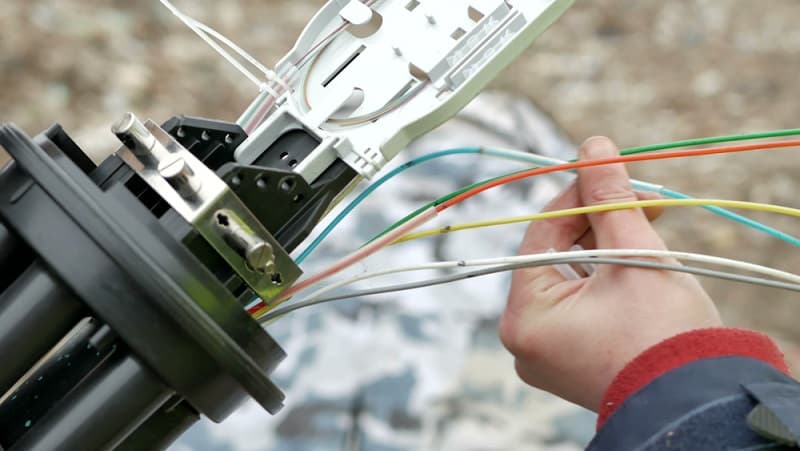 Fiber optic cables are cables that transmit data through pulses of light that are carried through optical fibers in the cable line. If you have a fiber optic Internet or television connection there are many different problems that can cause you to lose the connection.
Provided you have tested all of the other configurations in your connection such as the modem, router, television, and PC, the problem may lie in the fiber optic cable itself.  If you think it may be the cable there are several troubleshooting steps you can take to diagnose the problem.
Basic Fiber Optic Cable Troubleshooting
Before you take further steps to diagnose the problem you may want to try some basic troubleshooting strategies.
Check the Incoming Cable: Check the outside line and the access point where the fiber optic cable enters your home to see if there is anything obstructing the wires or stressing the fibers inside the cable.
Check the Inside Connection: Check the connection to your router or modem to make sure it is secured properly to the unit.  You may want to double check this by disconnecting the cable and then re-connecting it to the unit.
Inspect the Cable: Inspect the fiber optic cable to see if there are any unnecessary bends obstructing the fibers inside the cable or any damage to the outside of the cable.
Cable Position: Make sure the fiber optic cable is positioned in an area where it will not get damaged and that there is no tension on the wires.  Although you should provide support for the cable connection the wires should not be pulled too tightly because this will cause undue stress on the optical fibers inside the cable.
Fiber Optic Testing
If you have inspected the cable for any damage and checked the connections you should consider testing the cable for any end-to-end loss. Fiber optic testing requires specialized tools and test equipment so if you are not experienced with fiber optic installation you may want to contact a professional technician to test the cable connection.
If you choose to conduct the test yourself it is necessary to test all of the equipment to make sure it is working properly before using it to test the fiber optic cable.  The equipment that is needed to perform the test includes a source and power meter, optical loss test kit, a fiber tracer and visual fault locator and reference test cable that is identical to the fiber optic cable you are testing.
The entire fiber optic test includes tracing the fibers inside the cable to ensure that none of them are damaged or broken, testing the connectors for any signs of exterior damage or faults in the optical fibers, measuring the optical power to ensure that the cable, connectors, and splices are performing at the optimum level, and testing the network for any loss of optical power among the devices that are connected to the network.