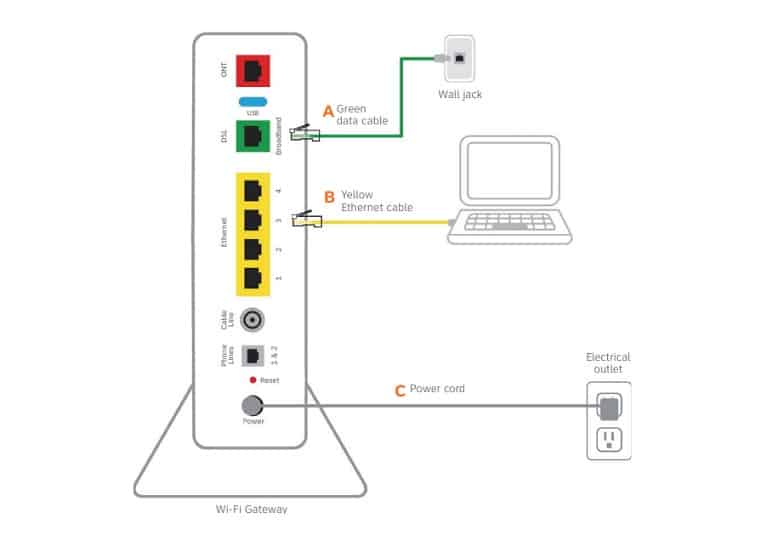 What is AT&T's WiFi Gateway?
Faithful IAG readers remember our admonition to own outright their networking gear instead of leasing it from an Internet Service Provider (ISP). It's similar to the trade-off between an incandescent lamp's lower initial cost versus the long-term savings of LED. But in these tough economic times, some consumers need a low upfront cost for Internet access. So, what is AT&T's WiFi Gateway and how much does it cost?
What Is a Gateway?
Diligent readers recall our take on the difference between modems, routers and gateways. As we noted, "routers and modems are two entirely different beasts even though it's likely that if you're renting a (modem) from your MSO (ISP), it probably also doubles as a wireless router. These combo devices, known as "gateways," connect your home Ethernet/wireless LAN to the Internet."
We also discussed why MSOs like AT&T don't want consumers owning gateways. Leasing this gear to subscribers provides AT&T a significant monthly income stream. So, as consumers become savvier about reducing Internet costs, AT&T and other MSOs have begun marketing "value-added" gateway solutions. The Death Star calls it "smart WiFi." We say you're smarter if you own your own gateway instead of renting it.
How AT&T Delivers the Internet to Your Home
Generally, the Death Star provides subscribers Internet service via two main technologies. (For now, we omit AT&T's FWA). The fortunate relative few have access to AT&T's Internet's (formerly U-verse) fiber service while others receive xDSL technologies—if they're near enough to an AT&T Digital Subscriber Line Access Multiplexer (DSLAM) headend. Many, particularly in the hinterland, aren't.
DSL speeds increasingly diminish across distances between the DSLAM and the subscriber's modem due to signal attenuation. DSL utilizes the same copper twisted pair POTS has relied on for over a century. Indicative of the changes coming to AT&T's Public Switched Telephone Network (PSTN), their WiFi gateways support VoIP instead of POTS (an exception is the Arris NVG599; see below).
To get an inkling of DSL's inconsistent connectivity, note that while AT&T trumpets the reliability of their fiber service (99%!), their ads' small print explicitly excludes DSL, a dedicated service unlike the shared line architecture of DOCSIS or fiber. Even so, both DOCSIS and fiber provide overall greater bandwidth and throughput compared to xDSL, even during network busy hours.
The Death Star also bundles fiber with VoIP phone and Internet and includes recently acquired DirectTV and now AT&T TV's streaming service. However, AT&T Fiber is available in only densely populated metropolitan areas, typically in the American Midwest, South and Southeast, and California. AT&T DSL covers a considerably larger area. See the maps below:
AT&T Fiber U.S. Availability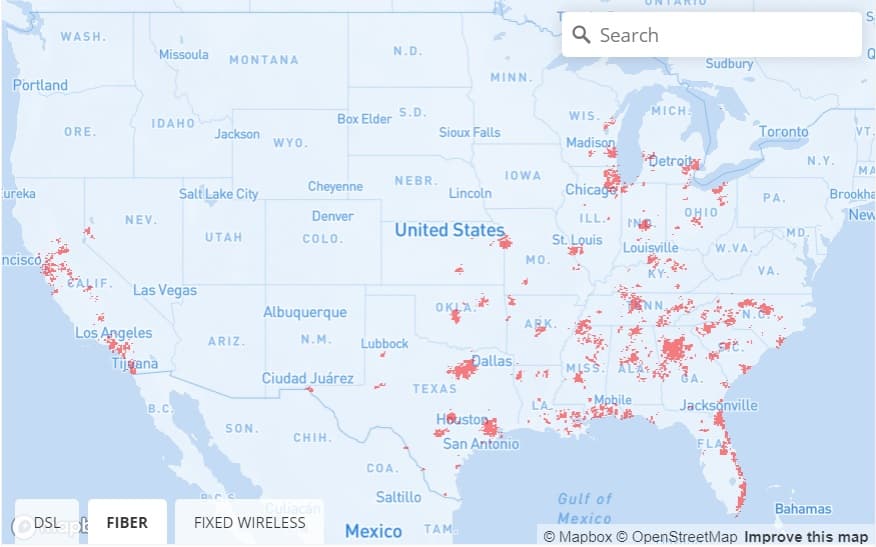 Source: Broadband Now
Fair Use per 37 CFR § 201.14
AT&T U.S. DSL Availability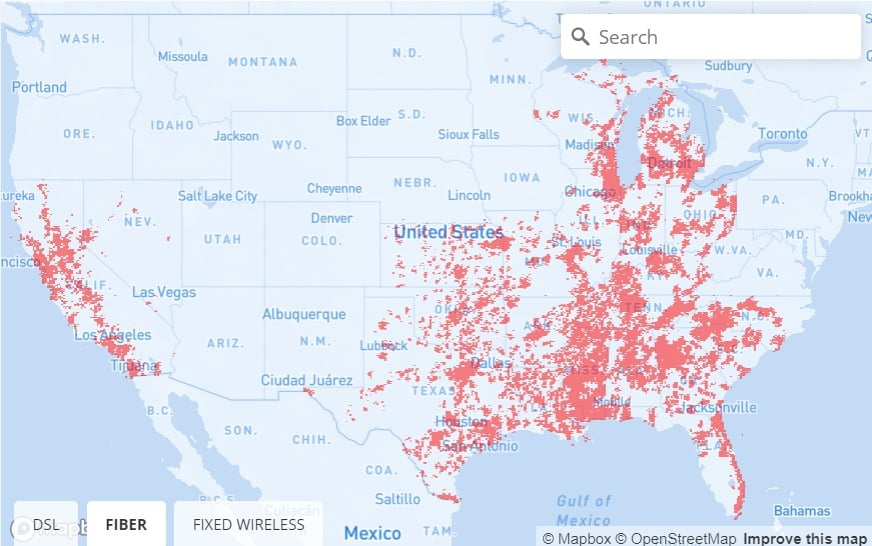 Source: Broadband Now
Fair Use per 37 CFR § 201.14
AT&T Smart WiFi Specifics
Longtime IAG readers recall our articles on home WiFi mesh networking and our reviews on Google WiFi vs. Netgear Orbi and Cox's Panoramic WiFi. While the AT&T WiFi gateway may be "smart," it's still a "volcano"-type router, not a meshnet device. If you have WiFi dead spots in your home, you'll still need a WiFi extender or repeater to augment AT&T Smart WiFi gateway coverage.
AT&T calls the technology supporting their gateway "smart WiFi" since it automatically "finds and selects your best and fastest connection" for more consistent coverage. This so-called "band steering," commonly found in dual-band WiFi deployments (i.e., 2.4 GHz and 5 GHz), automatically directs WiFi traffic to 5 GHz frequencies when possible.
Band steering can cause WiFi performance issues if 2.4 GHz and 5 GHz coverage areas vary greatly. Coverage variance stems from attenuation differences between the two frequencies caused by physical obstructions, distance or bandwidth interference.
As a rule, 5 GHz WiFi transmit levels should be 6 dB higher than that for 2.4 GHz to equalize coverage areas. If simultaneous 2.4 and 5 GHz coverage areas aren't viable, one should avoid enabling band steering on the WiFi gateway.
The gateway also includes a "Smart Home Manager App," allowing subscribers to "easily monitor, manage and customize (their) home WiFi network." Yet this app apparently doesn't apply to the Arris NVG599; see below. Smart WiFi is included with any AT&T Internet plan delivering 12 Mbps down or higher. All gateways provide four Ethernet ports for wired connections.
AT&T Smart WiFi Models
The Death Star's fine print states that Smart WiFi "requires a BGW210, 5268AC, or NVG599 Wi-Fi Gateway." These are:
AT&T's Internet's Terms of Service (TOS)
For an exhaustive look at AT&T's policies regarding their Internet service, see here. We limit our discussion below to determining how much AT&T charges per month for their gateway, if you can buy instead of lease and if you can BYOD instead of using AT&T-provided gear.
As of 14 January 2019, AT&T provides one or more of the following (collectively called "Internet Equipment") to subscribers:
As noted below, "equipment fees and purchase options depend on the AT&T services and/or rate plans you order and the installation options you choose." The gateway's purchase cost varies by device. For the first year—you'll sign a one-year agreement to initiate service—the gateway's monthly rental fee is $10. If your tier's download speeds are below 3 Mbps, the monthly rental fee is $5.
Contradicting info found in "the fine print" below, as of 30 March 2020, highspeedinternet.com reports that you can BYOD and "pay no monthly fees" to AT&T. Having had his experience with AT&T and their inflexible tariffs, your intrepid blogger seriously doubts this claim.
Finally, allconnect.com asserts that subscribers can either "choose to purchase your own WiFi extender (again, we cast askance glances at this claim) or buy the AT&T Smart WiFi Extender for $49.99." Supposedly, this extender is designed for use with the gateway models cited above.
The Fine Print
We quote:
"If you have not purchased Internet Equipment from AT&T or if previously purchased Internet Equipment is beyond the one-year (1-year) warranty period (from date of installation) and requires replacement, then you agree to pay any applicable monthly equipment fee for the Internet Equipment required for use with your Service, as part of your purchase of or continued use of the Service and/or other AT&T services. Equipment fees and purchase options depend on the AT&T Services and/or rate plans you order and the installation options you choose."
Other notable caveats:
"AT&T will install the WG (gateway). Once the WG has been installed by AT&T, you may not move the WG to a different location or reposition at your address or any other address. AT&T may also make available additional, optional internet-related equipment for sale or lease in connection with your Service, such as various types of home networking equipment (ex: Wi-Fi Extenders). Unless otherwise expressly specified to the contrary, any amounts for the purchase or lease of this additional equipment will be separate from and in addition to amounts payable for your Service."
In other words, subscribers must either pay or rent Internet Equipment from AT&T. While you can surreptitiously BYOD, you don't have the option to forego payment to AT&T for their gear.
However, an AT&T Community Forums contributor states, "You can definitely use your own router (to) give you better WiFi coverage. You have to keep (AT&T's) gateway but (connect) your router to their gateway and disable AT&T's WiFi."
This process, which puts the gateway into "bridge mode" or "passthrough mode," allows the tech-savvy AT&T subscriber to use meshnet systems like Netgear Orbi, Eero or Google WiFi instead of an inferior AT&T-provided WiFi extender.
Learn about "true" Bridge Mode from gamer guru John Glasscock:
Coda
AT&T has a well-earned reputation for snaring consumers with apparently affordable introductory prices for Internet service yet includes a plethora of hidden surcharges, taxes and fees. And after the initial service term, subscribers often see prices for their service double. Moreover, to receive the Death Star's bottom-line price, subscribers must enroll in autopay and paperless billing.
Don't want AT&T's VoIP, AT&T TV or DirecTV but still need their Internet access? Too bad; you'll pay a higher price to surf the web with the Death Star if you don't bundle their Internet service with "Triple Play" options.
Our take: if AT&T has FTTH available, it's worth the hassle. Otherwise, opt for DOCSIS 3.0 or D3.1 or even FWA. You won't be happy with xDSL unless you're within shouting distance of the serving DSLAM.