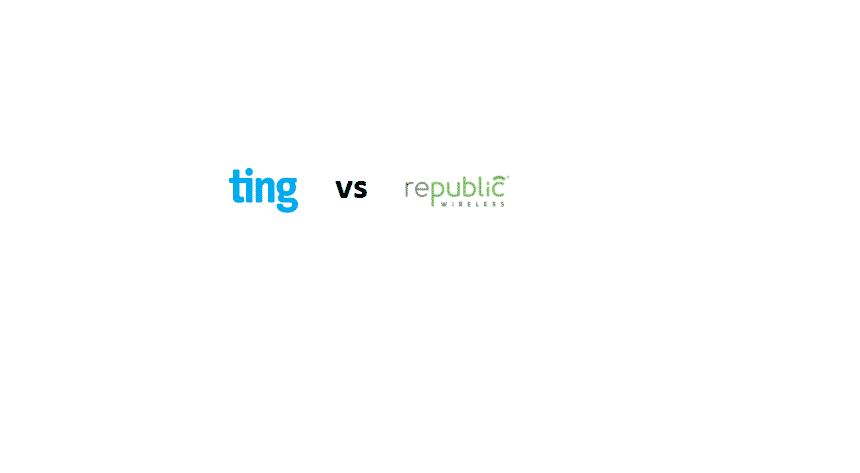 As the world is moving towards advancement, everything is being replaced by its better alternative competitors. The same goes for wireless networking service that you are using. With each passing day, the competition in the telecommunication industry is increasing and every networking company is upgrading.
All the firms are looking forward to making their network's first choice of people. In this race to reach the top, new plans and services are being offered for the people. Now as we look at the cheaper cellular carriers and compare them against one another, we will find two names giving each other a tough call.
Ting VS Republic Wireless. Both of the networks are MVNO that is a mobile virtual network operator. If you don't know what that is, just stick with us and you'll know.
What is MVNO?
A mobile virtual network operator, in short MVNO, is a wireless telecommunication company that provides its communication services to people without using their own wireless network. Such companies are usually small or owned by other large firms and so they use the network of those firms.
There are a number of MVNOs providing their services all over the world. They develop their business in agreement with a trusted and successful mobile network operator that has a well working vast network.
With the help of mutual agreement, MVNO gets access to the network services at wholesale rates, and then it is free to use its own customer service as well as the billing and marketing systems.
Comparison between Ting vs Republic Wireless
Ting offers its users a tiered system while Republic Wireless runs a full unlimited data plan. If you are looking forward to switching your usual network carrier but facing any confusion to decide on which one to choose between Ting VS Republic Wireless, let's dive into their comparison without wasting any time.
Services Offered by Ting
1. Billing of Ting Mobile:
Ting Mobile is an independent virtual network carrier using the network structure of Sprint and T-Mobile to provide its services to the people of America. Where many virtual carriers offer a limited amount of data plans and packages, Ting, on the other hand, comes with a unique billing system.
It does not trap you into any data schemes or lump sum offers. Instead, you are only charged with the least expensive plan if you are using Ting Network. You would only pay for the services you used each month depending upon your usage.
2. Coverage of Ting Mobile:
Ting services work on the network of Sprint as well as T-mobile, both being in the top four offered networks of the United States. So the question of coverage is without a doubt pointless. The services are easily accessible to all the people in different cities and places in the US.
It allows you a select the network of your choice from Sprint and T-Mobile, giving you the freedom of choice. But once you choose a network you cannot go back and forth between them independent of your service transduction issues.
3. Ting Data Price Plan:
Being available at both the Sprint and T-Mobile networks provides greater flexibility for Ting customers. In terms of the coverage and devices, Ting has proven to be a good MVNO service provider.
The data plans offered by Ting are cheaper with as low as $6 per line access charge. This is a remarkably low price per line fee which along with their low priced communication rates makes Ting Mobile a considerably decent option for an average consumer.
4. Monthly Savings of Ting Users:
If you are an average basic user who uses a minimalistic amount of data, Ting Mobile helps you save up to $50 a month on your usual data plans. Similar data plans offered by other network carriers are way more expensive than Ting data plans. But the amount of savings reduces quickly when data usage quantity increases.
Services offered by Republic Wireless
Republic Wireless Price Plans
If you are a huge data consumer or your data demands are few but huge, then Republic Wireless is a great fit for your use.
The extra small data packages offered by Republic Wireless lets the users enjoy unlimited communication through calls and messages along with 500MB of data; And all this just for $17.50 a month. Moreover, if you need more data, you can easily upgrade your plan to a higher one.
Monthly Savings of Republic Wireless Users
The best part about using the services of the Republic Wireless is that you never lose your data due to validation problems. If your data allowance is left during a given month's plan, it will be automatically added to your next month's data plan.
This way you can even save your unused data for the next month's usage or for the time when you know you'll need more data allowance.
Coverage of Republic Wireless
It is well understood that the price isn't everything but the coverage also plays an important role. If you don't have good coverage of the network, there's no point in using its services no matter how beneficial it is according to your requirements.
In this regard, Republic Wireless has definitely got an upper hand. It also uses both Sprint and T-Mobile's networks. But it is also capable of using your existing Wi-Fi connection. This way Republic Wireless provides coverage even in the sparse areas.
Conclusion
Overall when comparing Ting VS Republic Wireless, it is clearly a hard bargain to completely rule one over the other. Both service providers are cost-effective and helpful to save you some cash. Services of Republic Wireless such as using Wi-Fi connections, refund saving plans, and low priced handset deals, give it a higher value than Ting Mobile's data plan for light users.
Based on the performance and price plans, Republic Wireless wins the fight. But if you are looking forward to saving some money by using a cheaper network service, Ting Mobile might be the answer.