Fixed wireless services have long been a staple of communications in lesser-developed countries (LDCs), particularly those with little wireline infrastructure. Rather than plow scarce resources into increasingly obsolete wireline technologies, LDCs opted instead for wireless technologies with their cheaper construction costs and superior capacity and speed. As publicly owned companies here in the U.S face pressure from investors to show returns on the money sunk into expensive fiber buildouts, fixed wireless technology has reemerged as a viable alternative to deliver high capacity broadband across the "last mile" to subscribers. With carriers like Verizon and AT&T eager to roll out 5G speeds and capacity to the home, fixed wireless technologies appears to offer the biggest bang for the buck, particularly in relatively small geographical areas with high population densities.
Why is Windstream relevant to this discussion? The company announced in October that it intends to launch or upgrade fixed wireless service in at least 40 markets across the U.S., forecasting bi-directional speeds of up to 275 Mbps full duplex (i.e., synchronous) using WiMAX technology as well as plans to "support service level agreements (SLAs)." While it may not sound significant, with the implementation of SLAs Windstream is in effect defining and guaranteeing provisions of specific services such as mean time between failure (MTBF) and mean time to recovery/resolution/response (MTTR), important considerations for high usage bandwidth consumers. Windstream may not be offering speeds anywhere close to what 5G is promising in the near future, but 275 megs is plenty fast for most applications and WiMAX is an attractive cost option compared to LGE or services delivered over copper while offering greater network security and transmission range than what is typically available from Wi-Fi.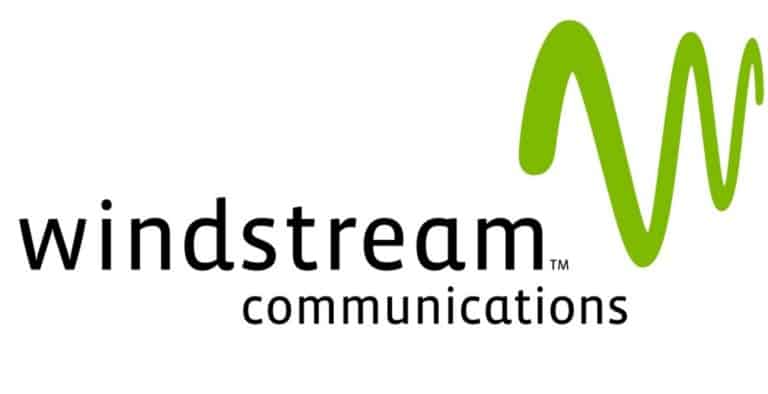 Source: integralchoice.com
Gradients to Today's Windstream
While Windstream was founded in 2006, the company traces its history back to 1943 when bucolic Allied Telephone company was formed in Little Rock, AR to meet the communication needs of subscribers in rural areas that eventually included portions of Missouri, Arkansas and Oklahoma. Fast forward to 10 years ago when Alltel (formed in 1983 in a merger between Allied and Mid-Continent Telephone Company of Ohio) spun off its landline business, merging it with VALOR Communications Group to form Windstream Corporation. Since 2006 Windstream has acquired several companies and performed a number of corporate gyrations. Among the highlights:
            2007
Divests itself of its "Yellow Pages" business to affiliates of the private equity firm Welsh, Carson, Anderson & Stow and acquires North Carolina's CT Communications.
            2009
Acquires North Carolina's Lexcom, Inc. and Pennsylvania's D&E Communications.
            2010
Acquires fiber-transport provider KDL, regional CLEC Norlight and regional data center and managed hosting provider Hosted Solutions. Windstream also expands into Iowa and Minnesota with the acquisition of Iowa Telecommunications Services and with its acquisition of NuVox the Windstream footprint now covers 16 more states.
            2011
With the acquisition of PAETEC, Windstream becomes a nationwide communications and technology solutions provider.
            2013
With the opening of new data centers in Chicago, Nashville and Raleigh-Durham, Windstream now operates 26 data centers. It also forms Windstream Holdings Inc, the parent company of Windstream Corp and its subsidiaries.
            2014
Acquires wireless broadband provider Business Only Broadband (BOB), deploys a 100 Gig long haul express network and completes triple play offering with the TV entertainment service "Kinetic."
            2015
            2016
Launches 1 Gig Internet service in 4 markets and expands fiber transport network into the western U.S. as well as the aforementioned 275 Mbps wireless technology into 40 markets.
Currently Windstream provides residential phone/Internet/video services in 18 states. Their "enterprise service" covers a large swath of the lower 48 including points of presence (POPs) in Toronto, Ottawa and Montreal serving businesses with "data, voice, network and cloud communications and technology solutions." Their fiber route network covers approximately 125,000 miles. Moreover, Windstream is also an electronics vendor, offering laptops, tablets, phones, MP3 players and other devices with "interest-free" installments payable in plans of 6, 12 or 24 months. Windstream relies heavily on WiMAX technology; finding devices that are WiMAX compatible is becoming increasingly difficult thanks to the dominance of Wi-Fi and LTE. One assumes Windstream offers laptops and tablets with built-in WiMAX compatibility.
Among the technologies Windstream employs to deliver Internet access to residential and small business customers are sundry variants of DSL (including ISDN and VDSL), DOCSIS, dedicated hi-caps like T-1s and T-3s, FTTH PON and Metro Ethernet (read, WiMAX) using "various methods and standards." Availability depends upon subscriber location.
Windstream Residential and Small Business Coverage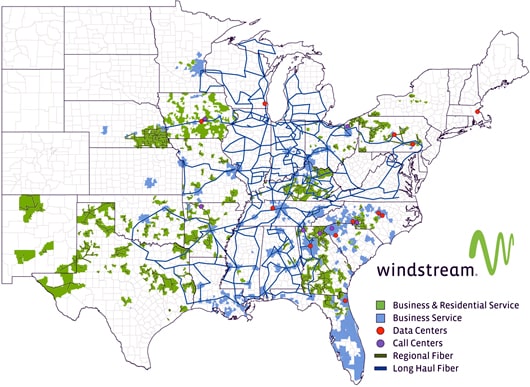 Image Source: Wikimedia
Here is a 2012 in-house video touting Windstream from YouTube:
Windstream's Quest for Urban Markets
Until its acquisition of BOB in 2014, Windstream heretofore had followed the template of its corporate predecessor AllTel by concentrating on rural and small town telecom markets underserved by Ma Bell and Big Red (Verizon). After acquiring BOB however, Windstream began aiming in earnest for Fortune 500 customers and SMEs in major markets, using WiMAX technology that has been largely eschewed by most carriers. An erstwhile contender for 4G dominance, WiMAX has been essentially superseded by LTE for wireless cellular communications. However, as we noted in our previous article on WiMAX, the IP-based technology has the flexibility for a variety of applications and offers intrinsic advantages over LTE. By acquiring BOB, Windstream reduced its reliance on Regional Bell Operating Companies (RBOCs) to interface outside its existing network.
As telecompetitor.com reported in October, Windstream plans to launch or upgrade high speed fixed wireless service in at least 40 markets nationwide. Cities where existing service will be enhanced include Chicago, NYC, Boston, Cleveland, Philly, Milwaukee and Little Rock. New service will be launched in Atlanta, Baltimore, Charlotte, Cincy, Dallas, Detroit, KC, Miami, Minneapolis, Nashville, OKC, Phoenix, Richmond, San Antonio, Seattle and St. Louis. Possible additions include markets where spectrum holding company Straight Path owns 39 GHz spectrum. For those unaware, Straight Path holds rights to bankrupt Winstar Communications spectrum licenses in the 28 GHz and 39 GHz bands.
Windstream Senior Principal Architect of Enterprise Product Access Strategy J. P. Gonzalez notes, "This specific technology's range will depend on the rain curves (i.e., rainfall intensity-duration-frequency) in any given city and be between .75 miles and 2 miles." While WiMAX has the potential to cover far greater ranges, remember Windstream is proposing SLAs that guarantee certain performance standards. Thus the company will utilize relatively small coverage areas to bolster its MTBFs and MTTRs benchmarks.
Earlier in 2016 Windstream in a Google Fiber-esque move launched 1 Gbps FTTH to 35,000 residential and small business customers in hamlets scattered across the U.S. including Sugar Land, TX (south of Houston), Lexington, KY, Lincoln, NE and seven communities in North Carolina. These speeds of course easily support Windstream's IPTV Kinetic as well as bundled Internet and phone services. Too, more Windstream areas are receiving Internet speeds of 50-100 Mbps as the company builds out FTTN, speeds which also can support a limited number of Kinetic installations in the home.
Coda
A week ago (7 November 2016) multiple sources reported that Windstream will acquire ISP EarthLink in an all-stock deal for $1.1 billion, including debt. Windstream will gain access to EarthLink's Business ™ division of voice, data, mobile, cloud hosting and equipment services as well as 145,000 fiber route miles and nationwide Multiprotocol Label Switching (MPLS)-based services. EarthLink Business provided communication services to mostly SMEs across the U.S., using a software-defined Wide Area Network (SD-WAN) application that Windstream is eager to integrate into their network footprint.
Save
Save
Save
Save
Save
Save
Save