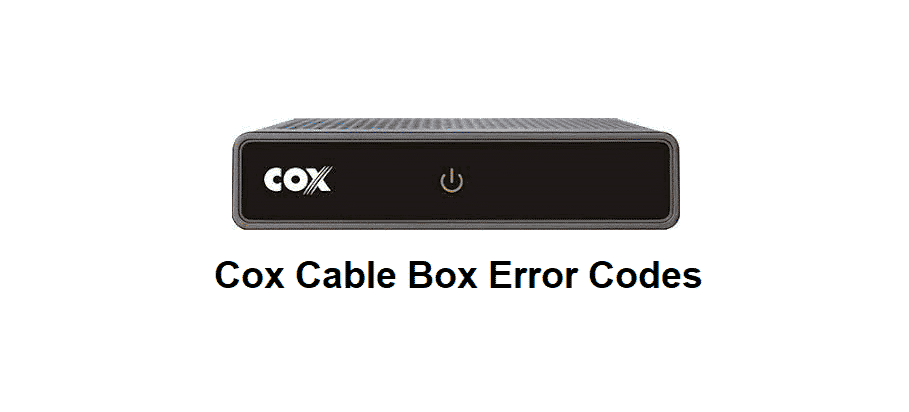 Cox is one of the best networking service providers that is supporting a wide range of services for the end users. Cox has the right infrastructure, servers, data centers and technologies that will make your internet, Cable TV and telephone communication experience a lot better.
The best part about having the Cox subscription is that they are offering their services over the coaxial cable. So, if you are living in a place that has coaxial cables wired in the walls already, you don't have to worry about a thing. Just plug in the Cox main line in your home network and everything else is sorted out for you.
Cox Cable Box Error Codes
Cox has a pretty flawless service overall, and there are not many problems that you will have to face frequently. Yet, a great thing about having the Cox service is that its Cable box shows you an error code if there are any problems so you can know where to start the diagnose and how can you fix it efficiently. A few error codes, their reasons and solutions are:
IA09
The most commonly asked question over the internet, and most frequently faced error message that you are going to get on your Cable Box is the IA09 code. This error will cause you to have no signals at all, and you will be left without any coverage.
The reason for you to have this error code on your screen is that you will not be having any sorts of coverage on the coaxial cable. This can be caused due to a number of reasons, and a few things that you will have to do in order to get the problem fixed are:
Firstly, you will need to check with the Cox and make sure that there are no coverage problems on their end that might be causing you to have this issue on the network. If there is any sort of problem with the coverage like temporary outage or something like that, they will be able to confirm it for you and also let you know a timeframe that the problem will most likely be fixed.
However, if everything is fine at their end and you are still seeing the error code on your screen. You need to check on the cable and make sure that all the connections are fine and there are no problems on them. After that, you should be resetting the mini boxes and reconnect them on the network again. Then, a simple restart is going to make it work out flawlessly for you and you will not have to face any problems like that afterwards.
1PST
Another common error code that you might have a chance to come across with your Cox Cable TV subscription is 1PST. This error code is pretty rare, but you should know what it means if it is appearing on your screen so you can take the effective measures to ensure that you can get the same seamless streaming experience across all the TVs at your home.
Basically, the error message represents a hardware problem with your TV box. Most of the times, the problem is there and needs to be fixed. Yet, a few effective ways that can solve the problem are:
First of all, you cannot rule out the possibility that there might be a bug or error on the cable box that is triggering this alert. If you are lucky enough, that might be the case and it can be easily fixed by running a simple power cycle on your device. It is not that complicated. You just have to take off the Cable Box from all the wires and connections that are attached to it. After that, just leave it for a while and then plug it back in. This will most likely be sorting out the problem for you.
However, if that doesn't work out for you. Then there might be something wrong with the cable box and you need to get it fixed. Contact Cox support and they will be guiding you to the nearest authorized services center where you can take the Cable box to be checked. They will be either repairing the box, if that is possible or help you with a proper replacement for it.