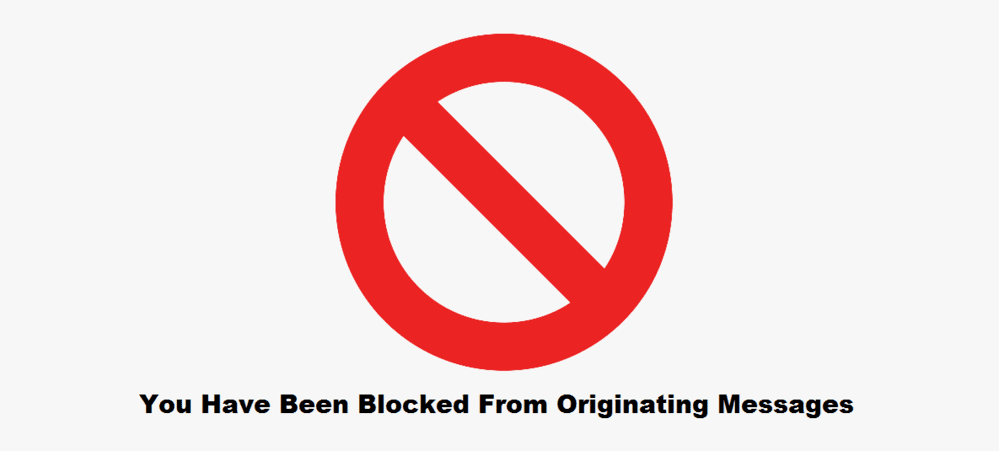 Life is getting faster and busier every day that leaves us with lesser time to get the work done. That is one of the main reasons that text messages are becoming a vital part of our everyday life. Be it for corporate, personal, or any other reasons, we are relying on text messages to communicate instead of calls. Text messages are a more convenient method to convey the messages and have a conversation without having to speak for both receiver and the sender.
The more we are relying on text messages instead of calls, the more we will have inconvenience if there is something wrong with the service. While text messages are really fast and you can send a text back and forth in a fraction of a second but there are some errors with the service sometimes that are not easily avoidable.
You have been blocked from Originating messages to (Number)
This is one of the error messages that you can possibly get while trying to message a certain number of different numbers. It leaves you stuck in a fix as you are not able to communicate with the person you want to and that is not good at all. There are several ways that this error can be solved but to start troubleshooting on that, we first need to diagnose the issue as to how it can happen and what might be the perfect solution for each of the problems you are getting.
If you are getting this error message on sending texts to all the numbers
If you get this error message while trying to send text messages, the first step for you would be to check if that error is triggering only when you trying to text a specific number of all the numbers. If it is on a specific number only, there are some helpful methods around it that we will be discussing later on in this article. However, if you are getting this message while you are trying to text any number in your contact list, here is something that you can do.
Restart your phone
Restarting your phone is the basic and most workable solution around any problem that you might be facing with it. There are possibilities that a software or hardware component might be triggering this issue or there can be some other reasons. All you need to do is reboot your phone once and give it a go. This simple solution works most of the time for most users so it is worth giving a shot.
Check your text message settings
Your text message settings are automatically set according to the carrier you are using. You need to keep an eye on them and see if everything checks out there. If not, you can reset those settings to default and it should work for you. This would most probably solve the problem for you. Restarting your phone after reset is also recommended.
Check your network settings
Network settings are also playing a key role in your messages and you need to be clear on them as well. Check your network settings and turn the auto network selection feature on. This feature is better as it would connect you directly to the right tower around you and you will be able to send the messages again.
Check your firmware
Firmware updates are released regularly by the developers as they keep fixing all the bugs on your phone and update new features. You need to keep your firmware up-to-date in order to have it work optimally. Also, make sure that your firmware updates are set on auto-update to have the right updates on your phone all the time and not face any inconvenience in the future.
Call your carrier
The last option if nothing else is working for you is to call your carrier. Your texting limit might have exceeded or they might have suspended your account for some reason. There are also chances that they might be running some maintenance that can cause you to have this error on your phone. Calling them should solve the problem for you and you can start texting on your phone again like before.
If you are getting the error on a specific number
If you have tried texting some other number and that is working fine for you, but you are unable to text only a specific number. They might have blocked you from texts and calls as well. If you believe that this might be a mistake, you can have this fixed as well in no time at all. To start with, you will need to call them and see if it connects. If the call connects, the best way would be to ask them to check their blocked settings if they have blocked you. This might be on purpose or due to some error. Whatever the reason might be, this can be fixed at their end as well. A few steps that can help you get you out of this situation are:
Resetting their phone's blocking settings
If this is a mistake and they don't remember blocking you, you can ask them to check their block list. If your number is on their block list, they can simply unblock you and it would work for you. If your number is not in the block list on their phone, they can try blocking your number and unblocking again. This should do the trick and you will be able to send text messages to them again.
If this doesn't work either, the last option for them would be to reset their blocking settings to default and this would optimally solve the problem for you.
Calling their Carrier
If you are unable to make it work by the above solutions, the last option is to call their carrier as it might be blocked at their end. All you need to do is give them a call and they can check all the settings for you. If there is an issue at their end, it will be solved in no time at all and you can start texting again.