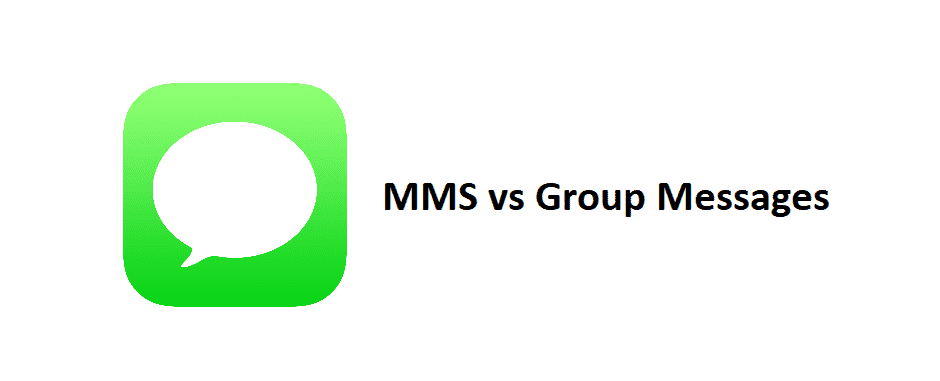 There are different types of messages out there and all depend on what content your message contains, what type of recipients you are sending these messages to, and more. So, you might be confused as to what each type of message means and how does it matter to you. There are message types that you can see on your bill or in the Verizon Messages+ application classified as Group Messages, MMS, or Text Messages.
All these messages are on the network and you don't have to worry about them if you have a plan that covers MMS + SMS as well. Another thing that you need to know is that once you start the group conversation, the message will be sent as MMS as it requires certain settings and data to be transmitted over the network. Once a group is created, you can, later on, change the settings to Text Messages only, and that way all the messages you send to that specific group. Now, the main differences and similarities between the MMS and Group Messages are:
MMS vs Group Messages
MMS
MMS stands for Multimedia Short text messages and that is one of the very first and innovative ways that was used to send images, audio, and another form of multimedia texts. MMS doesn't require an active internet connection as they are sent over the network you have. MMS is also charged a bit more than the regular text messages you send because these contain more data that needs to be transferred on the network and that will be costing you a bit more than the text messages.
MMS may not require an active Internet connection, but your phone should be capable of having the MMS option on it so that you can transmit and receive the data on your phone through an MMS. With Verizon Messaging+, you get to enjoy the perfect sense of comfort, convenience, and utility. Because you can send out messages containing multimedia over Wi-Fi that is pretty fast to load and you can send and receive MMS easily with the application. Despite the fact that other people can be sending out those messages over their regular phone network, you will always be receiving them on the messages+ application.
You also need to know that Group messages may or may not contain MMS and MMS is a different type of message. Moreover, you need to know and understand that these MMS will cost you on the bill as MMS and not the regular messages. So, if you are planning on sending or receiving the MMS, you will need to get the plan with MMS as well and that will be perfectly affordable for you.
Group Messages
Group Messages are another thing that might intrigue you. Well, initially group messages are started with the MMS and are charged accordingly. Later on, you can change that on your own accord. Moving forward, you need to know that a group message can either be a text message or an MMS containing the multimedia.
Basically, a text message sent to the group is also known as a group message. A group message is sent to all the contacts in the group and that would be just the thing to stay in touch with your family, friend, and even colleagues to keep everyone in the loop.
Group messages are charged not on the basis of their type of Group messages, but that will depend on the message that you are sending to all the contacts. Basically, if you are sending a text message to the group, it will be charged only as a text message. If the message that you are sending to the group, and it contains some multimedia such as photos, GIFS, audio, or video, it will be charged on the basis of the size of the file and as an MMS.
So, all this information would be the right thing for you to know to make it clear between the Group message and MMS. You can now ensure that you are not being overcharged for something that you can do at a much cheaper cost and you can enjoy having just the perfect messaging experience over Messages+ application or any other network that allows similar services.