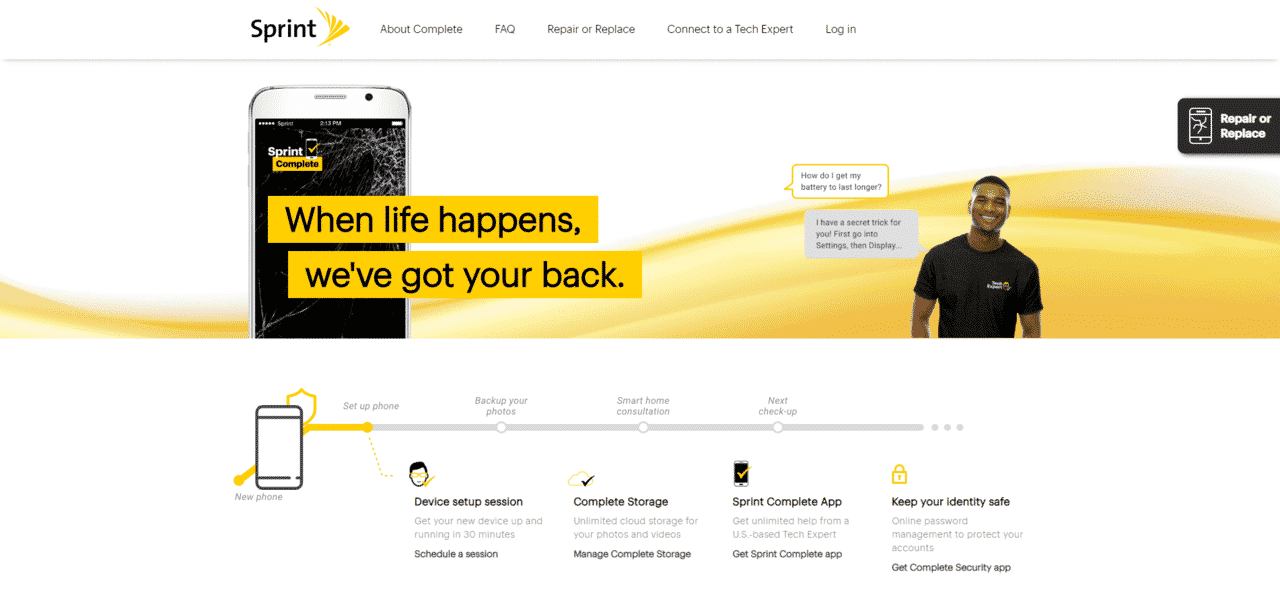 Sprint is a famous telecom network that allows you access to one of the best cellular networks across the USA. Their services are not just limited to the USA but worldwide and they are setting new bars of standards for the cellular telecommunication industry.
Sprint is dedicated to cellphones and cellular coverage only and being a dedicated company allows them certain perks that add value to user experience and make them number 1 choice for all the users who are looking for a reliable cellular service provider.
Their packages are divided into pre-paid and post-paid plans and you can choose among these according to your needs. They also offer some plans that allow you to get the latest cellphones with your package on a minimal down payment. You can use the cellphone as a part of your contract with them, and on the next release, you can just pay a bit more and have the cellphone replaced with the latest version.
This allows you the freedom to enjoy the latest cellphones without having to spend thousands of bucks and rent them from Sprint at a nominal cost that you won't even feel while paying for your monthly cell-phone bills. That is not all, Sprint brings out the best services, offers, and plans for its users to have an optimal mobile phone experience.
One of such great initiatives from spring is Sprint complete. The idea of Sprint Complete is not simple and would need a bit of detailed insight to understand properly, as on what Sprint Complete is and how does it work.
What is Sprint Complete?
You get insurance for all the important things in your life. You've got insurance for your life, your car, your home, and your business for sure. There are unfortunate incidents with everything that is unavoidable and as much as you hate them, there are no second thoughts that you might have to face any such unfortunate events at times.
Think of your smartphone, you have spent thousands of dollars on the latest cellphone and you cannot afford to lose it. At times, the data on your phone is much more important than the phone's worth and you want to have it preserved at all costs.
Sprint Complete is insurance that not only covers the physical damages of your phone but also data protection and comes with several useful features that you can take advantage of in one place. These features are:
1. $29 Screen Repair:
If you have had an experience of breaking your screen, you must know how long the process is and how much a screen may cost. A simple screen repair can cost you half the actual value of your smartphone. And if you've got lousy hands and keep breaking your screen too often, it is not affordable at all to keep replacing your screens at regular prices.
Hence, Sprint Complete offers you with a viable solution. No matter how many times you break the screen of your smartphone, they will repair it for $29, no questions asked. This is simply the perfect and cheapest way to have your smartphone screen replaced without putting a dent in your wallet.
This service is available for all the sprint complete subscribers having a smartphone.
2. Unlimited Cloud Storage:
For those who keep their data on the phone and their data is worth much more than the actual value of the phone, Sprint Complete is providing unlimited cloud storage as a part of their plan.
This will allow you to enjoy the perks of never losing your data, and no matter how many devices you lose, they break, or you simply upgrade to the latest version of your favorite smartphone.
Your data will remain safe on the cloud storage provided by Sprint Complete. This cloud storage is the perfect and most affordable way to have unlimited cloud storage for your phone as a part of your phone insurance.
3. Password Protection:
In today's world, there are too many logins and accounts that you might have and it is not an easy task to remember all of their passwords. You cannot write them down in a single place as well as it is a security risk and if you lose that file, you will not only lose access to all your accounts but also the chances of falling this information in the wrong hands can cost you crazily.
Therefore, as a part of Sprint Complete, you get a password management platform that can secure all your passwords in an encrypted format and you can access them whenever you like. This is the optimal way to keep your passwords protected and don't have to remind them all as well.
The solution is encrypted and there are equal to zero chances for the information to be compromised in any manner.
4. Next-day replacement:
Smartphones are precious little handheld devices that have high chances of getting lost or stolen. Sprint complete provides you with a complete solution that will allow you to get a replacement for your lost or stolen smartphone as soon as the next business day.
This way, there are no delays or hassles, and all you have to pay it a minimal processing fee to get the same model of your phone the very next day you lost it. There are no worries at all, because if you are sprint complete subscriber, you are already getting unlimited cloud backup, and you would not even feel that the device has been replaced.
How does it work?
The method to subscribe is pretty simple and easy, there is not much paperwork and if you subscribe for a Sprint Cellular network, they will offer you to become a part of Sprint Complete subscription and have it added to your monthly bill.
The only thing that you need to remember is that Sprint Complete subscription must be availed within the 30 days of activating your brand-new smartphone. It will not work, even if you are a current Sprint subscriber but your cellphone has been activated for more than 30 days.