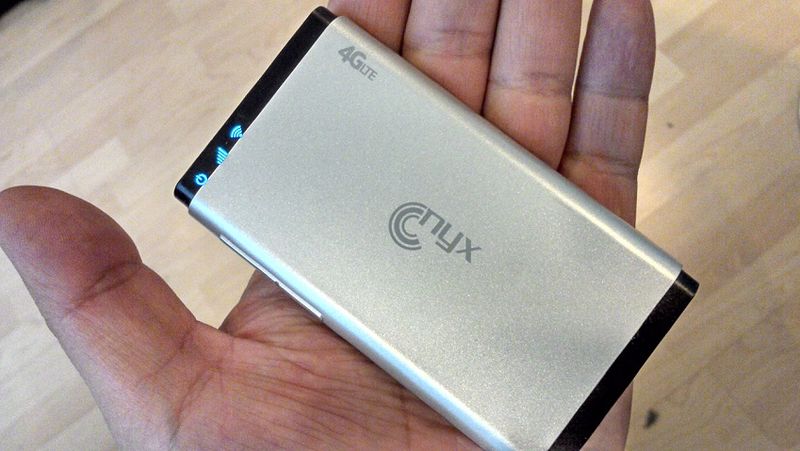 Have you ever noticed that it seems more people are walking around with smartphones as opposed to carrying around their laptop PC?  It almost seems as if the smartphone has become the preferred device of choice due to its portability and capability to easily connect to the nearest WiFi hotspot.
Although the more recent laptop PCs are being manufactured with built-in wireless capability you still have to deal with installation issues such as software, device configurations, and any necessary hardware needed to establish WiFi connectivity for multiple users.  A MiFi router solves this dilemma by allowing you to carry around your own portable wireless hotspot without the hassles associated with providing the same connectivity to your laptop as you can achieve with your smartphone.
MiFi Routers Defined
A MiFi router is a portable device which allows you to establish a wireless Internet connection for multiple users.  MiFi routers are much smaller in size than a conventional router that establishes wireless connectivity in a home or business. MiFi routers help you to establish a wireless hotspot from virtually any location that is within range of your 3G or 4G cellular signal.  A MiFi router allows multiple users to simultaneously connect to the Internet and in a more secure environment than a public wireless hotspot.
How MiFi Routers Work
A MiFi router is typically obtained from your cell phone carrier and allows for multiple connections for up to five users.  The router is designed to convert your cell phone signal into a small private WiFi network in which multiple users can connect from distances of up to 40 feet in range.  The device is battery powered so you do not have to worry about carrying around the additional hardware and cables to establish Internet connectivity.
A MiFi router prevents you from driving around looking for the nearest WiFi hotspot and paying for the extra costs associated with wireless Internet when you are staying in hotel accommodations.  You can also establish an Internet connection for multiple users in locations where there would otherwise be no connectivity.
Why Use a MiFi Router?
There are a lot of different options when it comes to establishing a mobile WiFi connection.  Using a MiFi router is different from the other methods because it provides the same type of wireless connectivity minus the hassles of connecting and disconnecting a common wireless modem provided by your cell phone carrier.  Additionally, a MiFi router is extremely portable and durable which makes it easy to carry in your briefcase or purse without having to worry about it getting damaged.
By using a MiFi router you can collaborate with multiple users on business or use the router to establish Internet connectivity on a long distance road trip with your family.  As long as you are within range of your wireless carrier signal you are good to go.
Specific Information on MiFi Routers
You can obtain MiFi from your wireless cell phone carrier.  MiFi connectivity typically is available from cell phone carriers such as Sprint and Verizon at an extra cost.  Depending upon the cell phone carrier and plan you are using the extra cost of MiFi can range anywhere from $60 to $100.
The cost is based on the volume of data transfer with an added cost for anything over the agreed upon volume of data.  For example, you may choose a MiFi plan for a cost of $70 each month for up to 5GB of data transfer.  If you exceed the agreed upon data transfer of 5GB your cell phone carrier may charge an extra fee for each megabyte of data you use.  The charge is usually a nominal amount such as five cents for each megabyte of data.
In some instances you can also purchase MiFi connectivity with a 24 hour pass if you are only going to use the connection for one day.  This eliminates the need for any contractual agreements that leave you bound to a monthly fee regardless of whether or not you use the MiFi service.  Other specific information on MiFi routers you should know includes:
MiFi Connectivity Speeds:  The speed of your MiFi connection will vary according to the carrier you are using.  However, the typical connection utilizes an 802.11g standard with download speeds of up to 1.5Mbps (megabytes per second) and slower upload speeds of up to 800Kbps (kilobytes per second).  Connectivity speeds can also vary according to the number of users that are accessing the Internet from the MiFi router.
Device Size and Weight:  The size and weight of a MiFi router makes it very easy to carry and store inside of your pocket or your purse.  The typical MiFi router is approximately 3.2 x 2.4 x 0.3 which is very small in size and the device only weighs a couple of ounces at the most.
MiFi Router Battery:  Most MiFi routers are equipped with a battery that is rechargeable with a life of up to four hours of usage time.  The life of the battery will vary according to the number of users that are connected to the MiFi router.  The battery comes with a charger that you can connect to any AC outlet and has a standby time of up to 30 hours.
MiFi Security:  MiFi Routers are equipped with an encryption system which helps you to protect multiple users from eavesdroppers on a wireless network.  The encryption can be configured to restrict access only to those users who you permit to access your MiFi connection.
Since a MiFi router essentially works the same as a WiFi router the network will appear to all connected devices as a single wireless hotspot.  You can connect to a MiFi router using any type of mobile device including a laptop PC, netbook, smartphone, tablet PC or other type of mobile device with no software required.  MiFi connectivity represents the only 3G modem solution that integrates 3G technologies with WiFi which makes it very compatible and easy to use with a wide variety of mobile devices.  In most cases it can also work with Linux-based devices without the need to install any additional drivers.
MiFi routers work like conventional WiFi routers that you control from an easy to use Web-based interface.  Because a MiFi router is only about the size of a credit card it is important to remember to remain within the 30 to 40 foot range of the signal to obtain the best wireless connection.