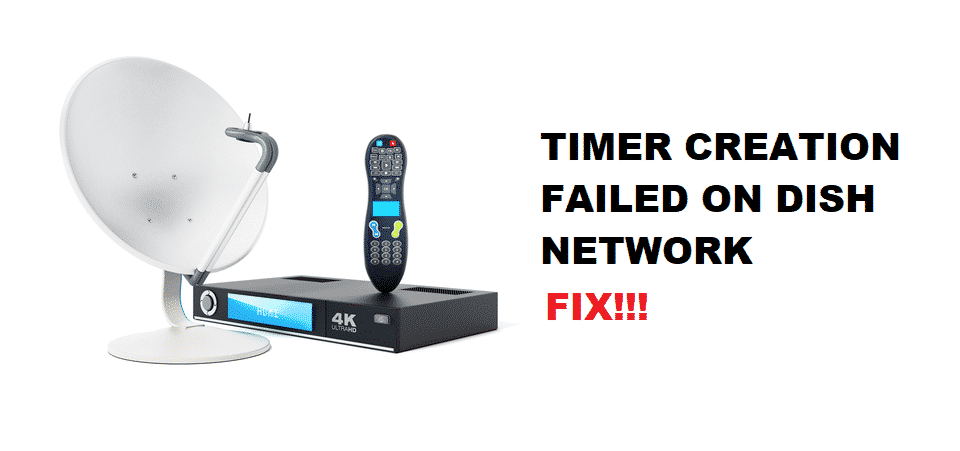 It is such a blessing to own a dish network at your home that allows you to watch unlimited yet quality content every day. Whether you're busy at work or have some important tasks to perform, your dish network will be recording your favorite programs for you. It is something that everyone wants to get.
But, what if you wake up a day and found out that your timer creation has failed and your dish network was unable to record your favorite morning show. It can be quite disturbing. This draft has brought you some of the best troubleshooting methods that will help you to avoid such issues.
What Is Timer Creation And Why it Fails?
If you own a dish network, then one of the most important benefits is that it allows you to record your favorite shows. For this, you need to set timers for the shows by merely using the remote control. It helps you to record things without directing your device every day.
The reason why the dish network timer creation fails can differ. It can be a hard drive issue, or it may relate to the software updates. If you're facing such an issue, then follow the below-given methods.
How To Fix Timer Creation Failed On Dish Network?
1. Up-gradation Issues
Those who witnessed the timer creation failure issue updated their dish network device from 3.2.4 to 3.2.5 or from 3.2.5 to 3.2.6. It is one of the most common problems that users face if they have recently upgraded their software.
The thing is that the previous version (3.2.4) had a timer related issue that annoyed the users. But, the 3.2.5 version has very few cases of timer creation failure. So, if you are facing this issue, then install the 3.2.5 version in your dish network. If the problem occurs again, then do check the second method.
2. Reboot The Device
If all of your timers are gone, then one of the best possible solutions is to unplug your device overnight and then plug it again. This method sounds weird, but it works 100% and has been suggested by SatelliteGuy.US.
Moreover, if you do not want to try this, you can reboot your system. For this, you need to push the power button for at least 10 seconds, and it will initiate the rebooting process. It will undoubtedly help you to avoid the timer creation failure issues. So, try this method and avoid problems. Moreover, you can set all of your old-timers by using your remote control.
Conclusion
If you own a dish network and have a timer creating a failure issue, the article is going to help you in the best possible manner. As written above, we have provided some of the best troubleshooting methods to overcome the timer creation failure issue in the draft. Let us know about your experience. If you've any difficulty, then let us know in the comment box, or you may also call your service provider.