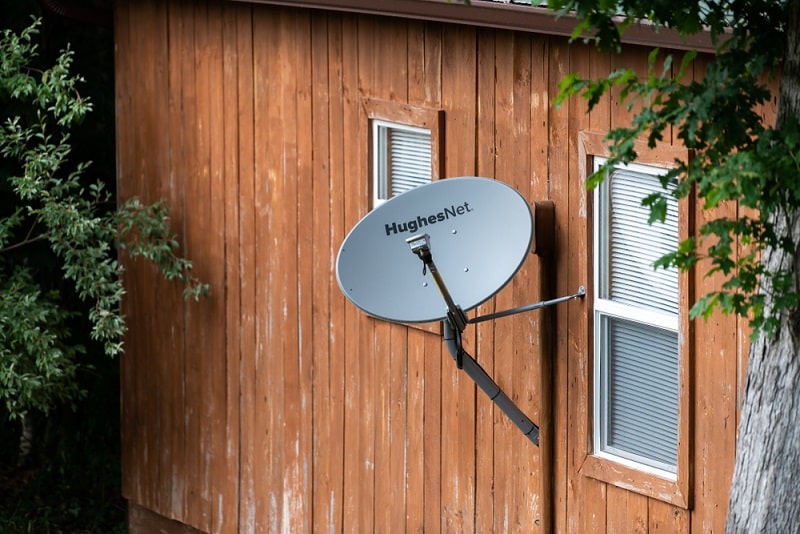 If HughesNet was a soda in the "Cola Wars," it would definitely be Coke. It's the more established brand and been in the satellite ISP biz longer than its (now) only rival, Viasat. When you're Number 1, you've got a target on your back, and HughesNet is no exception. So, welcome to the crosshairs; here's the Internet Access Guide's HughesNet satellite Internet review.
HughesNet Satellite Internet Review
HughesNet from Genome to Gen5
With over 1.3 million subscribers and counting as of October 2018, Hughes Communications (wholly owned by EchoStar) started operations in 1971 as Digital Communications Corporation (DCC), a humble manufacturer of circuit boards for telecom end-products. When acquired in 1987 by Hughes Aircraft Corp, it assumed its current name. EchoStar bought the company in 2011.
Now known as HughesNet (as of 2012), the sat-based wireless internet provider's takes its name from billionaire Howard Hughes. It started offering satellite Internet to residential and small business consumers in 1996. Other sat services provided by Hughes include backhauling 4G/LTE cellular traffic from the world's hinterlands as well as airborne mobility communications.
HughesNet's "Gen5" era began in 2017 when the Echostar XIX high-throughput satellite (HTS) began delivering reliable Internet service (if not advertised data speeds; more on that below) to consumers across North America and most recently, in several South American countries.
According to Ars Technica, in 2017 HughesNet (hereafter "HNet") controlled 60% of worldwide residential satellite Internet access. They provide sat Internet services across virtually the entire North American continent.
Does HughesNet Live Up to the Hype?
Over the years HNet progressed from providing data speeds matching that of legacy DSL (5-6 Mbps) to now advertising (note word choice) speeds that just meet the FCC's definition of broadband (25 Mbps). No doubt, it's a huge improvement over dialup. But….
While HNet Gen5's marketing spiel may not condemn them outright to the eighth circle of Hell in Dante's Divine Comedy, it's nonetheless an outlandish exercise in sensational huckstery. Consider:
HNet calls its Internet "super-fast" (it's not when compared to DOCSIS or light wave web access).
It claims to have "fundamentally re-imagined what satellite Internet can be." (Not really — HNet still uses IP multicasting just like it did before it "reimagined" satellite Internet.)
HNet gushes that its 50 GB plan (the residential plan offering the highest monthly data allowance) "is the plan to keep your whole family rolling in Internet bliss." Never mind land-based ISPs routinely offer monthly allowances with 10x more data.
Perhaps HNet's most outrageous (and misleading) claim: "Because Internet via satellite is so technologically advanced, this distance (to their orbiting bird parked 23,000 miles in space) hardly(!) makes a difference…." Ja wah!?! This distance "makes" a huge difference; we've belabored satellite's inherent network latency issues before.
Data Plans and Pricing
Note that plans and pricing offered by satellite ISPs (both HNet and Viasat) change almost as often as prices at the gas pump. The prices cited below are subject to change (read: increase) at any time.
In contrast to Viasat, kudos to HNet for its straightforward pricing and transparency in what it actually offers to consumers. This is not to say HNet plans don't have pitfalls; once you subscribe, you're stuck with them for the next two years unless you pay a stiff early termination fee (ETF). In other words, ensure that satellite ISP is your only broadband choice for the foreseeable future.
HNet's Home Internet Service Plans
| | | | |
| --- | --- | --- | --- |
| Package Name | Down Speed | Data Cap | Price |
| Hughes 10 GB | > 25 Mbps | 10 GB | $59.99/mo |
| Hughes 20 GB | > 25 Mbps | 20 GB | $69.99/mo |
| Hughes 30 GB | > 25 Mbps | 30 GB | $99.99/mo |
| Hughes 50 GB | > 25 Mbps | 50 GB | $149.99/mo |
With HNet, consumers pay for data, not data speeds. All HNet plans provide 25 Mbps download speeds and 3 Mbps up, even its business plans. (More on that later.) Once a subscriber exhausts a plan's monthly data allotment, speeds slow to 1-3 Mbps or even less. All HNet plans include free WiFi (it's part of the modem/gateway provided to the customer).
Take Full Advantage of the Bonus Zone
Recognizing subscriber outrage at its lilliputian data allowances, HNet offers the "Bonus Zone" for all four of its residential packages. This window between the hours of 2 am-8 am grants subscribers an extra 50 GB of data not counted against their plan's allowance.
If you're an HNet customer — and particularly if you've subscribed to the 10 GB or 20 GB plans — take advantage of the Bonus Zone to schedule file and software downloads during this interval.
Also, use a DVR such as the ClonerAlliance Evolve to download OTT vids from Netflix or Hulu during the Bonus Zone's wee hours. When you're awake, view your downloads without burning data from your HNet plan.
HNet offers subscribers a download manager app to assist them in dispensing their meager monthly data allotment. The app includes a usage meter so you'll know when you exceed your monthly data allowance — and if you frequently stream HD video quality (UHD video quality not available) programming to multiple devices, your data will be throttled at some point during the month.
If subscribers can afford the extra cost, data "tokens" are available for purchase from HNet when data streams become a trickle. These credits restore speeds back to (maybe) 25 Mbps. See the table below:
| | |
| --- | --- |
| Data Token | Cost |
| 3 GB | $9.00 |
| 5 GB | $15.00 |
| 10 GB | $30.00 |
| 25 GB | $75.00 |
HughesNet Satellite Internet Service for Small Businesses (and You!)
Organizations beyond "the amber waves of grain" need Internet access and web services, too. HNet offers businesses several tiers of service with 25 Mbps down and 3 Mbps up — just like their residential products — but with greater data allowances. If consumers can optimize HNet's business plan data allowances for home usage, they should consider one of its business plans.
The following reflects information current as of October 2018. Higher data allowance plans may not be available in all areas of North America.
HNet's Business Internet Service Plans
Plan

Intro cost/

month

Total Data Allowance/mo

Anytime

Data

Daytime Data

(8 am-6pm)

Business 35

$69.99

35 GB

10 GB

25 GB

Business 50

$89.99

50 GB

25 GB

25 GB

Business 75

$129.99

75 GB

50 GB

25 GB

Business 150

$239.99

150 GB

100 GB

50 GB

Business 250

$419.99

250 GB

200 GB

50 GB
Compare HNet's "Business 50" (at $90/month) monthly data allotment with its residential "50 GB" plan (at $150/month). Big price difference, eh? Data allotments across a 24-hour period vary greatly, too. As we noted in a previous IAG article, residential traffic on a sat ISP's network spikes between the hours of 6 pm to midnight. Thus the Business 50 plan can be problematic for typical household usage.
If a HNet subscriber can conform data usage to the parameters of the Business 50 plan — i.e., proportionately distribute usage between the 10 hours of "daytime data" and the 14 hours of "anytime data" — he or she will save big bucks compared to the residential 50 GB plan.
Recall HNet's data tokens mentioned above? One sees that extra data for residential plans costs $3 per GB. Let's say a household subscribes to the 50 GB plan but needs to purchase 25 GB additional data halfway into a month. The household's total monthly cost for 75 GB is $225. Compare that to Business 75 and $130 per month.
Given that one receives a 42+% discount for the same monthly data allowance when subscribing to Business 75 instead of the residential 50 GB plan, a household may decide to divvy usage between daytime and anytime hours to take advantage of the savings. One critical point to remember: there's no Bonus Zone for HNet's business plans.
HNet Business Plan User/Device Recommendations
Small businesses can refer to this table to determine how much data their organizations will need:
| | |
| --- | --- |
| Users/Devices | Plan |
| 1 to 5 | Business Plan 35, 50 or 75 GB |
| 5 to 10 | Business Plan 150 or 250 GB |
If your business has more than 10 devices/users online simultaneously, consider using a dedicated circuit from a terrestrial network, i.e., a telco T1. Yes, it will be expensive and you might not receive 25 Mbps speed but you get SLA benchmarks of performance, reliability and security. No sat ISP will guarantee its network speeds or availability — ever.
To avoid exceeding a business plan's daytime data allowance, HNet recommends business users perform "heavy data processing" between the hours of 6 pm and 8 am. If this isn't a viable option (think e-based platforms that process customer debit/credit card data or a business subscribed to an MSP), again consider a telco dedicated circuit.
Understand that businesses can't take advantage of all of today's available web services by relying solely on a sat ISP and its niggardly data allowances and its inherent network latency. Forget using a corporate VPN across a sat network. Also, dismiss VoIP for business calls. Don't succumb to HNet's siren calls hawking its Internet service; the utility of your business network will be limited.
HNet's Advertised Speeds vs. Delivered Speeds
Previously in this article, we referred to the FCC's 2018 report measuring broadband usage in America. This report found that HNet Gen5 subscribers "experience(d) a drop from 261% to 185% in the ratio of median download speed to advertised speed from off-peak hours to peak hours."
In other words, during the times when you're most likely to use HNet, your download speeds won't be 25 Mbps. Instead, your data speeds will range from between 9.58 Mbps to 13.5 Mbps. Remember that when all your household devices are simultaneously streaming and uploading data as family members complain about buffering and dropped Internet connections.
HNet's download speeds vary greatly depending upon the number of subscribers simultaneously tapping into one of its spotbeams. Read this comment by a HNet subscriber from February 2019:
I have been your customer since 2012. Satellite was my only option at that time and you were allegedly the "best"… and slow internet was better than none at all. I was an early adopter of Gen5 immediately after the launch of EchoStar XIX, and that was awesome…temporarily. Initially, before everyone else jumped on, the speeds were fast and consistent. Unfortunately that is no longer the case. Now your speeds fluctuate wildly and streaming video annoying and nearly impossible. More troubling are the slow page load speeds for normal websites. My current page load speed in seconds —
AP News: Firefox 9.91, Chrome 16.4;
BBC: Firefox 21.5, Chrome 21.0;
CNN: Firefox 12.8, Chrome 24.7;
MyHughesNet: Firefox 18.8, Chrome 24.3;
MSN: Firefox 11.6, Chrome 33.1….
Caveat emptor, dear readers. Direct your service complaints to HNet, not us.
Now have a look at this "Honest HughesNet Review March 2018" from NL Humble: https://www.youtube.com/watch?v=MlFD4eygEqU
The Fine Print
If you commit to HNet, you're hooked for 24 months. Otherwise, you're liable for an ETF of $400 if canceling HNet within 90 days of the start of their service. Afterward, HNet deducts $15 per month from $400. Multiplying $15 by 24 equals $360. Try to use that number for a baseline instead of $400 when bandying with a HNet rep over an ETF.
While HNet usually waives installation fees (insist on that when haggling with a HNet sales rep), the ISP will hit you with a $99 lease activation fee. Also, HNet requires that subscribers either purchase (for $250) or lease their equipment (dish and modem/router/gateway) for $15/month. Note if you purchase your equipment, HNet will want a $200 installation fee. So, get ready to haggle.
In case you're worried about your sat gear going on the blink, HNet offers "Express Repair" service over two separate tiers. "Basic" guarantees tech service within two business days of when an issue is reported and costs $7.95/month. "Premium" is $11.95/month and guarantees next-day service. Onsite visits by HNet techs cost $99 for the first 30 days of service and $29.95 thereafter.
Note that Express Repair doesn't cover damaged equipment (even when struck by high winds or fire), dish relocation, mounted hardware replacement or software upgrades.
Also remember that should a subscriber not return the HNet radio transmitter and modem/gateway within 45 days after canceling the service, HNet charges $300.
HNet's Optional Services
Thinking about bundling HNet's VoIP with its Internet? Don't. Vonage "does not recommend or support using satellite or wireless Internet technology." You won't be impressed by HNet's VoIP performance. Also, HNet (and its dish) do not support sat TV services like DirecTV or Dish Network. (This obviously does not include OTT streaming services.)
Other optional HNet services include the "Zone Alarm" (available for 1 PC for $1.95/month or 3 PCs for $2.95/month), which guards against malware and viruses, and the "PC System Essentials" ($3.95/month), which "cleans" a PC's operating system to optimize performance.
Coda
The IAG highly recommends that before subscribing to HNet's sat ISP service, one should read the HNet legal website (yes, they have an entire site devoted to the legalese governing their services). Once you're finished, read it again. Be prepared to devote a considerable amount of time perusing this website; it encompasses dozens of web pages.
Realize that by subscribing to HNet, you're committing hundreds if not thousands of dollars for expensive Internet access without guaranteed service offerings and doesn't work very well with many web applications. If you think HNet is your best choice for web access, await our review on Viasat, which we'll publish next.