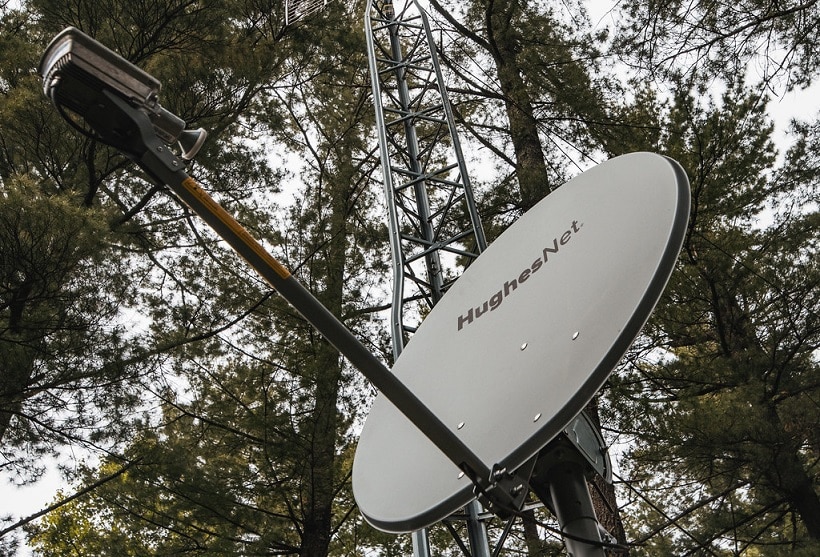 If you are looking for high speed broadband Internet connectivity, HughesNet is one of the top satellite Internet providers that provides high speed Internet, in addition to other useful services.
HughesNet satellite Internet is one option that people use to access high speed broadband Internet in locations where it would otherwise be unavailable. Unlike other satellite services, HughesNet originally only offered high speed broadband Internet, however the company has recently expanded to other useful services that serve additional customer needs and requirements.
HughesNet provides you with high speed broadband Internet in any area of the United States. As long as you have a direct line of sight to the southern sky, you can achieve a reliable and speedy Internet connection with the HughesNet satellite Internet service. Additionally, if you are in need of cost effective telephony services, you can use your HughesNet high speed Internet connection to implement a VoIP (Voice over Internet Protocol) service or you can choose to take advantage of the new HughesNet home phone service with premium features.
Benefits of HughesNet Satellite Internet
Although HughesNet has been providing satellite Internet services for several years, its newest service is known as Gen4 which allows you to live wherever you want and still remain connected to high speed Internet. If you prefer to live in a rural area, HughesNet can provide you with a high speed connection, even when DSL (Digital Subscriber Line) or cable Internet is unavailable.
Even with the increase in high speed broadband availability, there are still many areas in the United States where extending cable or DSL service is cost prohibitive for Internet Service Providers when compared to the number of rural customers they are serving. Satellite Internet represents the answer to this dilemma since all you need is a clear view of the southern sky. Other benefits include:
Compatibility: Satellite Internet is compatible with any device and operating system you choose to use. Regardless if you favor iOS and Mac devices or you use Windows devices, HughesNet satellite Internet will work with all of your devices, including a Smart TV.
Easy Installation: Once you choose the plan that suits your requirements, HughesNet has a team of technicians that will install the satellite connection for you. However, if you are a do-it-yourselfer, it may also possible to perform the installation on your own.
Secure Connection: The satellite modem which is used to establish the connection to your devices using the signal from the satellite dish, provides a secure connection using encryption technologies. Additionally, HughesNet monitors your network connection 24/7 by employing a staff of professionals in its many Network Operation Centers.
No More Dial-Up: Years ago, the only option for residents in rural areas was a dial-up connection. This no longer works with the new technologies that require a high speed connection in order to function properly. This includes streaming music and videos, using chat applications, placing telephone calls over the Internet (VoIP), sharing and accessing photos, and many other computing tasks.
How HughesNet Satellite Internet Works
HughesNet satellite Internet works via space satellites that orbit the earth. When you use your browser to access a web page, the information is sent from your device to a satellite which is located more than 20,000 miles away in outer space. The satellite always remains in the same spot with a rotation that matches that of the earth. Since the technology is advanced, the extreme distance does not cause any issues with connectivity in terms of speed.
The satellite connects with the Hughes Network Operations Center which provides the URL address of the requested website. The address is then sent back to the satellite which connects with your satellite dish and modem to display the website on your device using your web browser. Although this sounds like a lot of traveling distances, in terms of time for relay, it is only amounts to a fraction of a second.
How to Get HughesNet Satellite Internet
Like other high speed broadband Internet services, HughesNet Gen4 offers a variety of plans to meet different connectivity requirements. The plans cover Internet connectivity speeds of up to 15 Mbps and are offered as follows:
Connect: The Connect plan is an ideal plan if you only need connectivity for one device in your home. The Connect plan provides you with a download speed of 5 Mbps (megabits per second) with an upload speed of 1 Mbps. This typically does not provide you with the speed you need for accessing music and videos or making calls over the Internet, but it will help you get general computing tasks accomplished. The data allowance per month is 5GB (gigabytes) with 5GB of bonus data for just under $40 per month.
Power: If you do a lot of emailing, web browsing, and photo sharing, the Power plan will provide you with the connectivity speed you need to accomplish these tasks. The Power plan offers download speeds of up to 10 Mbps with upload speeds of 1 Mbps. The monthly data allowance is 10GB with a bonus 10GB for just under $50 per month.
Power PRO: If you use social media for sharing, the Power PRO plan will provide you with download speeds of up to 10 Mbps and upload speeds of 2 Mbps. The monthly data allowance is 15GB with a bonus of 15GB for just under $70 per month.
Power MAX: If you stream a lot of videos and music and engage in gaming, the Power MAX plan will provide you with download speeds of up to 15 Mbps and upload speeds of 2 Mbps. The monthly data allowance is 20GB with a bonus allowance of 20GB for just under $120 per month.
All of the plans we mentioned above require a 24-month commitment. The bonus data allowance applies to new HughesNet customers only. HughesNet provides tech support around the clock seven days a week with a two-year limited equipment warranty.
Additionally, it is important to note that the speeds that are claimed for each plan are the maximum speed you can achieve. This will vary according to where you are located, as well as the quality of the view you have of the southern sky among other factors.
HughesNet Satellite Internet Installation
Standard installation of HughesNet satellite Internet service includes dish and modem installation and can be accomplished by a qualified HughesNet technician. The modem is set up indoors with a connection to your PC or wireless router.
The technician will then identify a location that has a clear view of the southern sky in an area that is accessible with a ladder. If possible, it is important for the satellite dish to be easily accessible for easy servicing and to clear snow and debris off the dish to maintain signal strength.
A dual coaxial cable is connected to the dish antenna and run into your residence for connection with the modem. A faceplate with two connectors is then installed along with a grounding block to ensure the entire connection is grounded to a bonding point approved by the National Electrical Code (NEC). Then all incoming lines are sealed for protection against weather elements. The satellite dish must also be pointed and adjusted to provide you with the strongest signal.
Keep in mind, if you prefer a wireless connection in your home, you must purchase a wireless router separately for use with the satellite Internet connection. Wireless routers are readily available in your local electronics store or online. You may also require the help of someone who is knowledgeable that can assist you with router setup and configuration.
Here is a video that will provide you with an idea of what is involved with connecting a wireless router to your HughesNet satellite Internet modem.
What is HughesNet Voice?
HughesNet Voice is the latest service which provides you with home phone service. When phone and Internet service is bundled together, you can receive a price discount on your monthly bill with plans that start at just under $20 per month.
Some of the features that are offered by HughesNet Voice including call forwarding to more than one phone, call waiting, caller ID, unlimited calling in the United States and Canada, and voicemail services that include email and text, in addition to remote access. You can also choose a new phone number or use your existing one.
How It Works
HughesNet Voice delivers home phone service over your satellite Internet connection via the use of Voice over Internet Protocol (VoIP) technology and an Analog Telephone Adapter. The adapter is designed to route your calls through the satellite dish and modem without interfering with your Internet connection. The use of the voice service does not affect the data allowance on your Internet service.
To understand more about how HughesNet voice works and how easy it is to install, here is a brief video on installing your HughesNet voice equipment.
Using VoIP with HughesNet Satellite Internet
You can also choose to use a VoIP service such as Skype with your HughesNet satellite Internet connection. Once your Internet connection is setup and configured, you can make calls using your Skype account and your tablet, laptop PC, or Smart TV.
If you want to use VoIP calling with HughesNet satellite Internet, there are a few aspects to be aware of so you can develop workarounds for some of the issues that may arise with this type of high speed broadband connection.
First, in order to effectively use Internet calling on a HughesNet satellite connection, it is important to eliminate latency as much as possible. This is the delay that occurs in an Internet connection which can cause intermittent VoIP calling and poor voice quality. Latency can occur as the result of debris on the satellite dish, a loose or damaged connection, and other factors.
HughesNet has been working to improve latency problems in its satellite Internet service with the introduction of its Gen4 service. However, if you are in a location where there is very little signal interference, you should be able to use VoIP with your satellite Internet connection without experiencing delays and poor voice quality.
Another point to consider if you want to use Internet calling with your HughesNet satellite connection is the amount of bandwidth. If your connection is short on bandwidth, this can adversely affect VoIP calling. If you plan to use Internet calling on a frequent basis, it will be necessary for you to go with one of the higher end satellite Internet plans such as the Power plan or higher, which offer faster download and upload speeds.
If you have enough bandwidth, you should be able to make VoIP calls with HughesNet satellite Internet if you prefer not to take advantage of the new HughesNet Voice service. Most Internet Service Providers (ISPs) will always tell you the maximum broadband speed which is possible with your subscription. These speeds may not apply during period of peak usage which means you may not be able to utilize VoIP calling at times when there are a high number of people accessing the Internet.
In this case, it is important to talk to customers in your area who use the service and to ask HughesNet to provide you with statistics related to connection speed and reliability especially during peak usage hours. This will help you to choose the plan that is right for your needs if you wish to use Skype with your service instead of HughesNet Voice.
Conclusion
If you read the reviews on HughesNet Gen4 satellite Internet service, you will encounter a number of mixed reviews on the service. Although reading consumer reviews is important, keep in mind that location and a lot of other factors can affect the connection quality. This includes the condition of the cable connections, the time of day when the Internet is accessed, weather conditions, how well the equipment is maintained (i.e. debris on the satellite dish), etc.
Overall, HughesNet has made significant strides in the quality of its Internet connection and services. The company recently received a technology innovation award at VSAT 2014 for the implementation of its Jupiter high throughput satellite system which supports the HughesNet Gen 4 service. The technology utilizes a System on a Chip and other advancements that allow HughesNet to offer technological advantages and cost savings on its next generation satellite connection. At the very least, HughesNet is well worth looking into if your only other option is dialup Internet service.