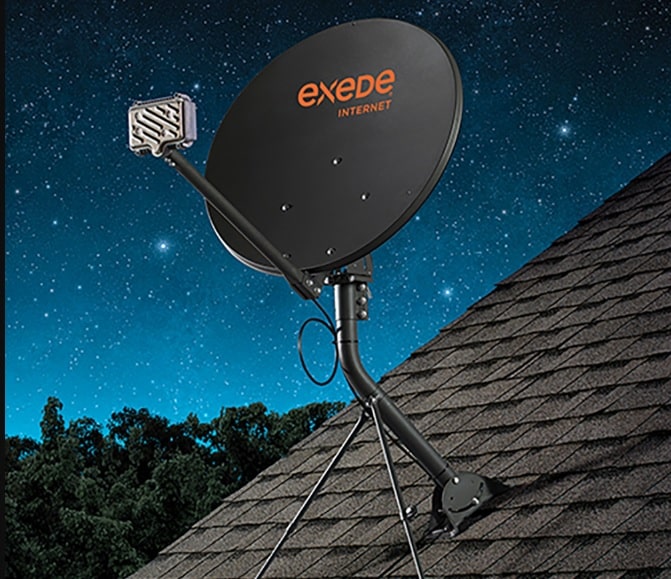 Credit: ViaSat Inc. [CC BY-SA 3.0 (https://creativecommons.org/licenses/by-sa/3.0)]
Hearkening back to our previous entry, we referenced the "Cola Wars" rivalry between the two satellite ISPs now left standing. Viasat is undoubtedly Pepsi compared to HNet's Coke. Avis, the car rental company, famously advertised: "When you're Number 2, you try harder." Does Viasat try harder? You decide — here's the IAG review of Viasat's Internet satellite service.
Viasat Satellite Internet Review
Viasat from Startup to Orbit
To Viasat's credit, its three co-founders—Mark Dankbert (Chairman and CEO), Mark Miller (VP and CTO) and Steve Hart (VP of Engineering and CTO; and yes, Viasat has two CTOs)—have overseen the company's skyrocketing (pun intended) growth since its inception in 1986.
Based in Carlsbad, CA since 1999, Viasat entered the sat ISP biz in 2000 with its acquisition of Scientific-Atlanta's satellite networking division.
Also in 2000, Viasat contracted with Astrolink International LLC (a joint venture between Lockheed Martin Global Telecommunications [LGMT], Telespazio ApA, TRW and Liberty Media), providing terminals for business applications across Astrolink's proposed satellite system. In 2003, Viasat acquired Astrolink's satellite services for resale to consumers.
Earlier, in 2001, Viasat scored a contract supplying WildBlue Communications with sat modems. Later that same year, Viasat acquired Linkway/Linkstar, LMGT's broadband satnet terminal division.
Also in 2001, Viasat partnered with Loral Skynet to create a joint venture named Immeon Networks to incubate and market sat ISP services. Another significant acquisition for Viasat happened in 2009 when it bought the aforementioned WildBlue, a sat ISP that owned WildBlue-1 and Telesat's Anik F1 (with Ka radio band capacity) satellites.
Exede, Viasat's former brand name, started in 2012 after the launch of the ViaSat-1 satellite. Exede was rebranded as Viasat in June 2017 following the launch of ViaSat-2, its third bird in space (from whence Viasat now delivers most of its North American broadband capacity). A fourth satellite, ViaSat-3, is scheduled for liftoff in 2020.
The acquisitions cited above are but a few of Viasat's corporate gyrations over the years.
Viasat on the "Street"
Viasat's initial IPO occurred in 1996. It remains an outlier among "space industry" companies in that it's one of the few publicly traded (NASDAQ: VSAT). Since Viasat has several financial metrics available for public consumption, we defer to the Motley Fool's assessment and analysis of Viasat.
The Motley Fool's "Guru," along with other market analysts, pans Viasat's performance across several metrics. These include:
Profit Margin

Relative Strength

Insider Holdings

Cash Flow from Operations

Long Term Debt/Equity Ratio

P/E to Growth Ratio

Sales

Daily Dollar Volume
In short, Viasat flunks with a "Guru Score" of 25%. Should these market benchmarks matter? They do should you wonder if Viasat will stay in business for the entire two-year length of the contract you will (probably; more on that below) sign with Viasat to receive Internet service.
Viasat Availability
To illustrate how difficult it can be to find concrete details about Viasat's plan offerings, we report that its website (www.viasat.com) was offline during August 10-12, 2019. Other tech bloggers besides your intrepid correspondent have had their difficulties when attempting to unearth specifics behind Viasat's plans and pricing.
For example, while Viasat "advertises" (note misleading marketing rhetoric) download speeds of up to 100 Mbps, they also add the disclaimer that its "service is not available in all areas." And Viasat doesn't just mean data speeds; if you live in AK or "select" parts of AZ, you're SOL if you want Viasat for sat Internet.
Reviews.com says this: "(T)o find out if (100 Mbps is) available in your neck of the woods you'll need to call Viasat customer service — there's no published speed map." There's another way; enter your zip code here.
As we noted previously, while Viasat claims to offer 100 Mbps download speeds to subscribers, a zip code search belies their claim. Let's start with the areas (east Texas, the Oklahoma panhandle, north-central Montana, central Kentucky) we cited in an earlier article before expanding to other zips:
| | | |
| --- | --- | --- |
| ZIP CODE | LOCATION | DATA SPEEDS |
| 75602 | central-east Texas | 12 Mbps |
| 73942 | Oklahoma panhandle | 12 Mbps |
| 59501 | north-central Montana | 12 Mbps |
| 40403 | central Kentucky | 12 – 25 Mbps* |
| 95945 | northern California | 12 – 50 Mbps |
| 04530 | southern Maine | 12 Mbps |
| 32320 | Florida panhandle | 12 Mbps |
| 49969 | northern Michigan | 12 – 30 Mbps |
| 47513 | southern Indiana | 12 Mbps |
| 69336 | western Nebraska | 12 Mbps |
* Note: Viasat calls its 12 Mbps data plans available in the area surrounding Berea, KY "Liberty ™," a holdover from the Exede brand.
Viasat's Data Plans and Pricing
Moreover, not all areas have the same data allowances available with 12 Mbps speeds. For example, while western Nebraska has only 12 Mbps data speed packages available, subscribers can choose between monthly 35, 45 or 65 GB allowances. On the other hand in northern California, Viasat offers a 12 Mbps plan with only a monthly 40 GB allowance and its 25 Mbps plan has only a monthly 60 GB allowance.
Confused yet? If not, we'll next try to confound you by presenting below what Viasat purports to offer as service products to consumers. No wonder industry observers slam Viasat for its opaque product offerings and pricing; the latter will vary depending upon where one lives.
Viasat
| | | | |
| --- | --- | --- | --- |
| Package Name | Down Speed | Data Cap | Price |
| Unlimited Bronze 12 | > 12 Mbps | 40 GB | $50/mo; after 90 days, $70/mo |
| Unlimited Silver 12 | > 12 Mbps | 60 GB | $100/mo; after 90 days, $150/mo |
| Unlimited Gold 12 | > 12 Mbps | 100 GB | $150/mo; after 90 days, $200/mo |
| Unlimited Bronze 25 | > 25 Mbps | 35 GB | $50/mo; after 90 days, $70/mo |
| Unlimited Silver 25 | > 25 Mbps | 60 GB | $70/mo; after 90 days, $100/mo |
| Unlimited Gold 30 | > 30 Mbps | 100 GB | $100/mo; after 90 days, $150/mo |
| Unlimited Gold 50 | > 50 Mbps | 100 GB | $100/mo; after 90 days, $150/mo |
| Unlimited Platinum 100 | > 100 Mbps | 150 GB | $150/mo; after 90 days, $200/mo |
Speaking of opaque pricing, notice that Viasat hooks consumers with an introductory price for the first three months of service before increasing rates by either $20, $30 or $50 per month, depending upon plan.
Viasat's "Free Zone"
HughesNet has its "Bonus Zone"; Viasat has the "Free Zone." Both are windows when both ISPs provide data that doesn't count against a subscriber's monthly data allowance.
But each is different. With HNet's Bonus Zone, subscribers receive up to 50 GB of data; Viasat puts no limitations on free data during Free Zone hours. However, the Bonus Zone lasts from 2 am – 8 am. The Free Zone runs only between 3 am – 6 am.
Again, Viasat muddies the options available to consumers who want to take advantage of the Free Zone. The following comes from one of its web pages:
Is there a Free Zone on the Liberty plans?
If your Liberty plan includes a Free Zone in its name, your data usage is not metered or counted toward your monthly data allowance period from 3 to 6 a.m. The Free Zone is not available with the Liberty 10, 18 or 30 plans. Instead, many Liberty 10 customers find that the high speeds available during the daytime with Liberty offer an even better experience.
As noted above, we found the Liberty plans available only in central KY. And we'll bet money that you won't consider a plan providing just 10 GB of data to be "an even better (Internet) experience."
Viasat's Business "Unlimited" Plans
Plan

"Starting

Price"

Download

Speeds

Max Upload

Speeds

Data

"Threshold"

Unlimited 35

$175.00

35 Mbps

4 Mbps

75 GB

Unlimited 60

$300.00

60 Mbps

4 Mbps

150 GB

Unlimited 100

$500.00

100 Mbps

4 Mbps

200 GB
Viasat also offers "metered broadband" plans for businesses that don't use much data. (One would think that would be a very small number indeed.) In fairness, a metered sat ISP plan can serve as a redundancy (albeit pricey) in case primary terrestrial networks fail.
Viasat's Metered Business Plans
| | | | | |
| --- | --- | --- | --- | --- |
| PLAN | START PRICE/MONTH | MAX DOWNLOAD SPEEDS | MAX UPLOAD SPEEDS | DATA "THRESHOLD" |
| Metered Broadband 1 GB | $50.00 | 35 Mbps | 4 Mbps | 1 GB; $10/additional GB |
| Metered Broadband 10 GB | $80.00 | 35 Mbps | 4 Mbps | 1 GB; $10/additional GB |
| Metered Broadband 20 GB | $100.00 | 35 Mbps | 4 Mbps | 20 GB; $6/additional GB |
| Metered Broadband 50 GB | $150.00 | 35 Mbps | 4 Mbps | 50 GB; $3/additional GB |
| Metered Broadband 200 GB | $400.00 | 35 Mbps | 4 Mbps | 200 GB; $2/additional GB |
Note that the plan prices quoted above are for the first 90 days of a plan's service. How much more will the plan cost afterward? We couldn't retrieve that info; contact Viasat to find out.
Also, these plans are not universally available but overall they're a better deal than Viasat's "unlimited" packages. And in case your business needs a static IP, Viasat provides three with every business plan.
In this Viasat-produced vid found at YouTube, Business National Sales Director Eric Stark spends two minutes discussing satellite "myths" for Viasat business plan users:
Viasat's Advertised Speeds vs. Delivered Speeds
The FCC's 2018 report measuring America's broadband usage found that Viasat subscribers "experience a drop… from 131% to 90%… in the ratio of median download speed to advertised speed from off-peak hours to peak hours."
Simply put — during the hours you're most likely to use Viasat's Internet service — you'll probably receive between 9.2 Mbps to 10.8 Mbps instead of the 12 Mbps Viasat advertises for its most widely available plans. Similarly, speeds for its 50 Mbps plans slow to 38.2 Mbps to 45 Mbps.
The Fine Print
While Viasat doesn't have HughesNet's sheer number of web pages detailing its service, it does offer a brief "disclaimer" explaining terms of service to consumers. Viasat's five-page .pdf found here gives the lowdown.
While you can expect to receive free dish and gear installation from Viasat, make sure your Viasat sales rep confirms this when you order service.
Note that one cannot buy the gear used to access Viasat's web service. Consumers have two options:
1. Sign a 24-month contract at $10/month.
2. Pay a $300 upfront "lifetime" fee to avoid a long-term contract.
Which way to go? If you're planning on staying with Viasat for longer than two years, sign the "lifetime" contract. But hopefully, you'll soon have other broadband options than just sat Internet.
Just like HughesNet, Viasat offers free WiFi to subscribers as part of the router/modem/gateway it provides to customers. Note that even if a subscriber decides to buy his or her own gateway, Viasat will still charge the subscriber $9.99/month for an equipment lease.
Yes, Viasat has an early termination fee (ETF) of $15/month for each remaining month should the subscriber bail before the end of the two-year contract. No matter when you end your service with Viasat, the subscriber must return the company's gear with 30 days or face a $300 fee.
Also, Viasat gives subscribers a 90-day warranty for defective equipment. Those who want subsequent coverage can opt into the "EasyCare" Protection Plan for $9/month, which offers three free months for new subscribers. Under EasyCare, service calls are free and dish relocation is $95. Otherwise, service calls are $95 each and dish relocation is $200.
Viasat's Bundled Services
Viasat offers subscribers the option to bundle VoIP with Internet service. Residential plans charge $30/month and must be kept for a minimum of six months. Calls are free within the U.S. and Canada.
Viasat's Business Voice Service for businesses costs $25 per voice service line per month. Business customers are afforded free calls to Mexico as well as those terminating in the U.S. and Canada.
Viasat warns residential plan customers that its "voice satellite technology may be limited in comparison to 911 service available through traditional landline telephone carriers. Voice may not work well with fax machines, security systems and other analog data services and devices."
Viasat is even blunter in its language to business consumers: "Business Voice does not support fax machines, security systems and other analog data services and devices."
Residential plans offer DirecTV bundles with Viasat's sat ISP service. See here for specific terms, conditions and limitations.
This Viasat service provides both indoors/outdoors WiFi access points (APs). Each AP has its own monthly service fee, a non-recurring activation fee and an installation fee.
Viasat's "Secure Network Accelerator Service"
Available only for business plans, this service is reputed to boost TCP acceleration for VPNs across Viasat's high latency sat network. The service appears to be an attempt at "TCP spoofing." Be forewarned; YMWV when using VoIP or a VPN over sat Internet due to network latency. Expect significant packet loss due to a lack of expected or consistent bandwidth.
Coda
If possible, Viasat appears to be the target of consumers' ire even more than HughesNet. It seems reasonable to assume that people are more likely to write scathing negative reviews than praising a provider's service. Still…
According to consumeraffairs.org, of the 30 reviews submitted to their website between 4/18/2019 to 8/7/2019, 29 gave Viasat one star. (The other one gave two stars; zero stars was not an option.)
Another clue Viasat has performance problems: Viasat is found at downdetector.com due to the company's frequent outages. Don't forget to peruse subscribers' indignant comments.