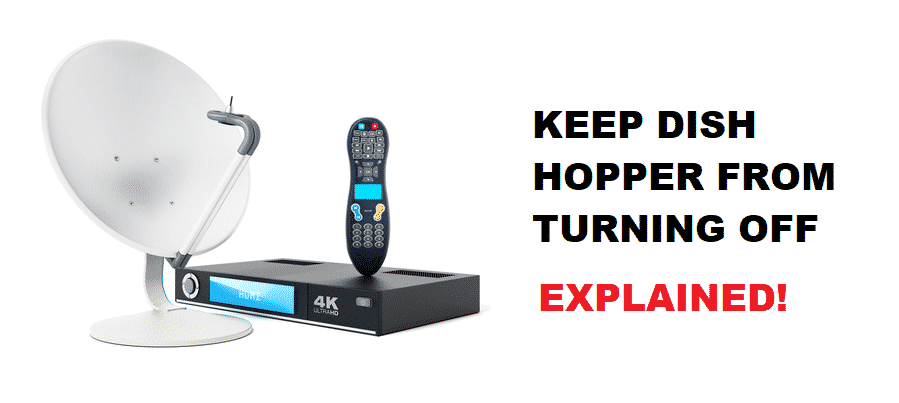 Everyone hates the inactivity or standby feature that is in your receiver device. Hopper also comes with a standby feature that can put your receiver automatically into inactive standby mode after a certain period when the device senses there is no activity done by the user. This feature saves your device from a lot of hassle and problems and it can let the device rest for some time when you are not there.
But sometimes we are indecisive and want to come back to the same screen where we left. inactivity or standby feature can be changed or the time of the standby feature can be increased with the help of your receiver remote. According to the default mode you receive will go into inactive or standby mode when the device senses 4 hours of inactivity by the user. Well, there are few easy steps that you can perform to let your Hopper stay awake for a longer period than it usually does.
How To Keep Dish Hopper From Turning Off?
Steps  To Increase Time Before Stand-By
First of all, you will have to select the Menu button on your dish remote.
Now you must use the arrow keys that are available on your dish remote to scroll to option 8 so that you can select Preferences.

When you reach preferences press the select button present on your remote.

Now you will see a screen that is showing updates.

See at the right side of the screen it shows the number of hours after which your receiver will go into standby or inactive mode.

Now again use your Arrow keys on the DISH remote so that you can change the setting of the disability of the device after this time.

Use the same Arrow keys to move to the save option and press the select button.
You have now successfully disabled the time of your device after which it will go into standby or inactive mode. However, there is an alternative method that you can try if this one doesn't work for you for activating the disabling or an active mode of your dish hopper.
Alternative Few Steps To Increase Time Before Stand-By
Pick up your hopper remote and check where it has the Menu button on it. Press the Menu button to proceed
After pressing the Menu button you will see the option Settings. Select the Setting option.
Now after selecting Setting there is an option on the screen Preferences. Select the preferences option
Now you can see that your required task is available at the Inactivity Duration option.
Then select Inactivity Duration and set the number of hours that you like for your receiver to go in standby mode after.

You can set it between a minimum of 4 and a maximum of 8 hours.
Hopefully, after reading this blog you have figured out how to disable the inactivity or standby mode of the dish Hopper device