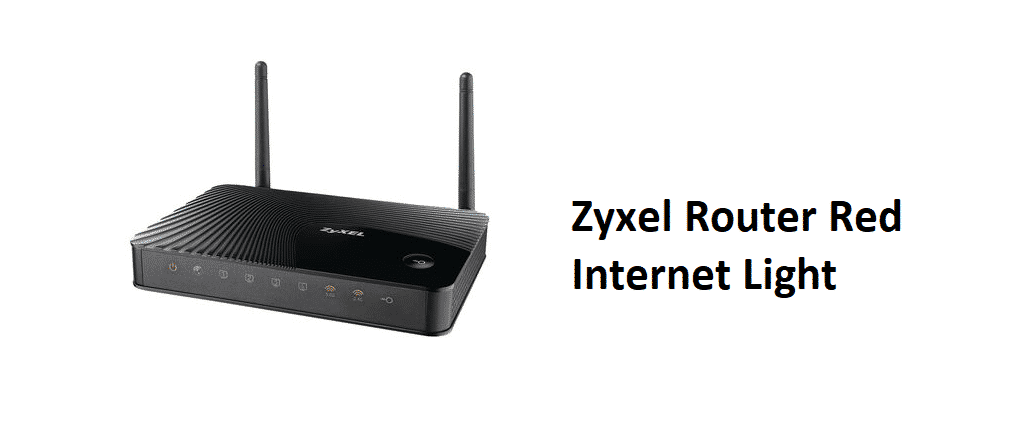 Everybody among us wants a durable and efficient internet router. Zyxel router is one of the best devices available in the market. It will provide you sufficient internet signal strength to support your day to day needs. However, few customers of Zyxel in the internet forums are complaining about the red internet light on their router.
What if you are one of them who has witnessed the same kind of issue with your Zyxel router. If you are reading this article, you are landed in the right place. In this draft, we will provide you some of the workable troubleshoots to turn off the red internet light on Zyxel routers.
Zyxel Router Red Internet Light: What Does It Mean?
Like every other router, there is a specific meaning and purpose of the lights on the Zyxel router. So, what precisely red internet light mean on the Zyxel router? If you are observing red internet light on the Zyxel router, then it means either the router is unable to receive strong signals or the router's power supply has been disturbed. Keeping in view of the red internet light purpose, removing it altogether is not a herculean task, or one does not need high intellectual. We will provide some hacks that will help you in real-time.
1) Rebooting
Of course, rebooting is an amazing and workable solution to resolve issues like constant red internet light on the Zyxel router. The device rebooting removes all the router's technical issues and makes the router work as it was working before the red internet light occurred. Thus, start rebooting the router to solicit quick and best results. Zyxel also recommended its customers to reboot their router when you face a similar kind of issue with your routers.
2) Factory Reset
If you have applied the above mentioned troubleshoot and still haven't received a promising result. Then, you should adopt an alternative technique, which is the factory reset. Yes, you can apply factory reset on the router by inserting a pin or paper clip into the reset pinhole on the back of the Zyxel router. You will fetch good results through this technique, and the red internet light will be no more on your router. However, your Wi-Fi name and password move back to the default.
4) Contact Zyxel Customer Care Center?
Indeed, you should reach out to the Zyxel customer care center if you don't find any relief through hacks as mentioned above. Zyxel promotes customer-client relationships and encourages its user to get any sort of help related to their issues. Therefore, grab your phone and contact the customer care center. They will provide you with guidelines to resolve the red internet light on the Zyxel.
Conclusion
Summing up, we have provided you with doable and implementable troubleshoots to solve the Zyxel router red internet light issue. If you adhere to the hacks mentioned above and apply them to your router, you will have satisfying results. We will encourage your participation in this forum. Please write to us in the comment section. So, we may reach you with the best solutions.