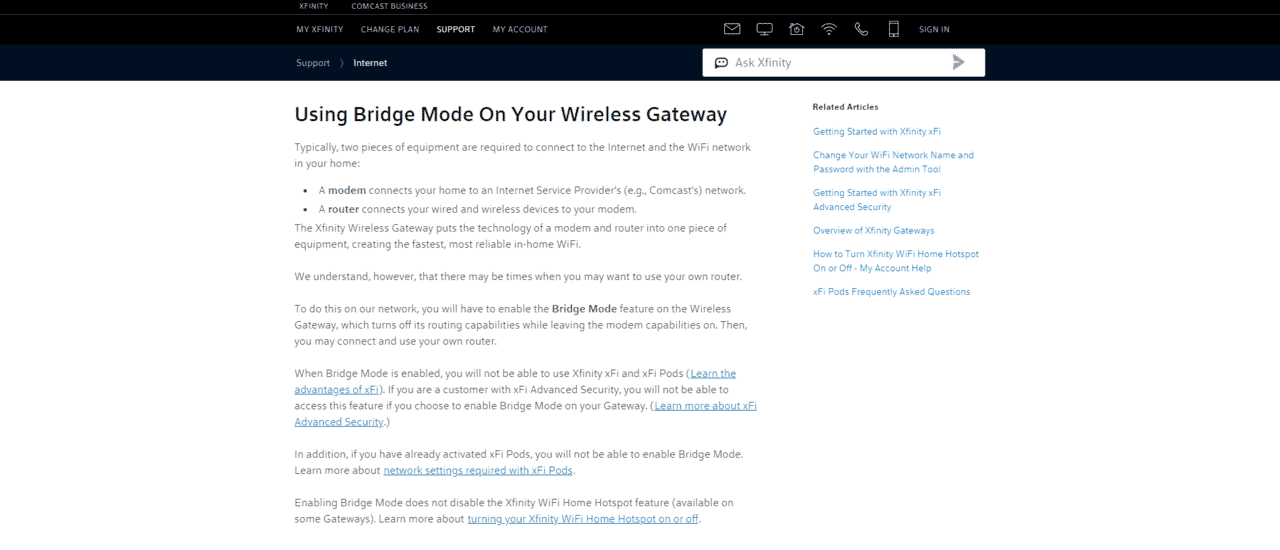 Background
The modern world is surrounded by countless science inventions and new technological advancements are continuously being made in each and every field, especially in the vast field of telecommunication. One such highly advanced service providers are Comcast Corporation, leading the telecommunication and media world to new peaks of success.
A subsidiary of Comcast Corporations, Comcast Cable Communications (LLC), is responsible for providing television cable, internet facilities, telephone communication, and wireless services to the people of America. In 2010, the firm introduced a business name for Comcast Cable Communications (LLC) and now the corporation is known to its customers under the brand name of "Xfinity".
Xfinity has become a well-known brand among the telecommunication and network sphere. It has achieved many high positions and has been serving a majority of the customers with its various services. Xfinity is the largest television cable and Internet service providing company in the United States. It is also the biggest pay-tv company of the United States and the third biggest landline service provider of the nation.  Moreover, Xfinity is the second-largest cable television and broadcasting company in the world.
Introduction to Bridging
As the name indicates, bridging means bringing the two different parts together to form an interconnecting intersection point by forming a 'Bridge' between them. Network bridging is the phenomenon of creating a bridge between two separate networking segments to form a single aggregated communication network.
A device that serves as a network bridge is usually a computer network modem that can also be wireless depending upon the connecting communication networks. There are three different types in which a network bridge can be formed i.e. Simple Bridging, Multiport Bridging, and Transparent Bridging.
What Is Bridge Mode Xfinity?
What is a Bridge Mode?
A Bridge mode is a system that connects two separate router connections without disturbing the performances of each. It is a set of configurations that invalidate the featured Network Address Translation on the modem and enables the router to work as a DHCP server with no conflict of an IP Address.
To expand the coverage area of your wireless internet services can be done by connecting multiple routers of your home or office facility together. But if you have got two different routers where each of the routers is provided with its own private Wi-Fi network, it is not a piece of cake to connect them. Personal devices may resist mutual connection and have a hard time communicating with one another.
For example, you have a wireless scanner that is provided with a Wi-Fi service of a network other than that of the network which is connected to your computer. Now, if you wish to scan some work documents into your computer in a hurry, your scanner will not be able to scan the required documents to your computer screen until you connect them.
This is because both the computer and the scanner are connected to their separate Wi-Fi networks. By using a bridge mode, this issue can be fixed because bridge mode helps multiple routers connect by sharing one single Wi-Fi network.
What is the need for a Bridge mode?
Usually, whenever two NAT devices are attached in a series combination, it is likely that the device can misbehave. Configuring your modem into the bridge is mode is preferable to avoid any future conflictions. The bridge modem must be formed before connecting to the router. This way the third-party applications will not require a public IP Address for a successful connection.
What does the Xfinity Wireless Gateway do?
The wireless gateway from Comcast Xfinity gives you a device equipped with the technology of a modem as well as a router, creating the most reliable and fastest Wi-Fi network connectivity available in your home for all of the rooms of the house.
By enabling the Bridge Mode, it is not necessary to disable the Wi-Fi Home Hotspot feature. However, at any moment if you wish to use your own router, firstly you will need to validate the Bridge Mode feature of your wireless gateway to switch off its routing feature and only switch ON the modem capabilities
The Xfinity Wireless Gateway creates a secure wireless communication network and helps you to connect all your electronic devices together with a single safe network such as your computer, cell phone, gaming systems, printer, tablets, etc. without causing any issues or conflicts. You can easily connect up to four devices by using Comcast Xfinity Wireless Gateway using a wired connection. You can Setup advance features with Wireless Gateway such as Firewall, Port forwarding, and blocking, Parental Controls, etc.
How to enable the Bridge Mode?
By following these simple steps, given below, you can enable the Xfinity Bridge Mode.
Step 1:
Browse the given URL (http://10.0.0.1) on your computer or your mobile device which is connected to the wireless gateway network to launch the web.
Step 2:
Log-in to your account. It will be the one with the admin's username and password.
Step 3:
Click on 'Gateway' from the left-hand column.
Step 3:
Click on 'Enable, to enable the Bridge Mode feature.
(If you do not see such option, go to Gateway > Connection > IP Network and go through the on-screen set of instructions. If you wish to use your gateway router facilities in the future, just click on 'Disable'.
Step 4:
Click OK on the conforming dialogue box displaying such a message.
"WARNING: Enabling Bridge Mode will disable the Router functionality of Gateway and turn off the private Wi-Fi network. Are you sure you want to continue?"
(If your wireless gateway does not restart automatically, you can press the 'Reset' button which will be located at the top of the back panel of the gateway.
Step 5:
Now, you can turn OFF the gateway and connect your own router to use it in place of the Wireless Gateway. Logout your account from the top right corner and connect your personal router to the Ethernet port on Xfinity Wireless Gateway.
Step 6:
Lastly, you can switch ON both the gateway as well as the router and check for Internet access.