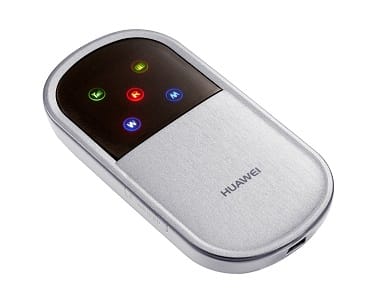 With many mobile devices being equipped with hotspot capability, many wonder whether or not a portable Wi-Fi router is useful. Although you can use your phone as a Wi-Fi hotspot, there are still benefits to using a portable Wi-Fi router.
If you have heard of a portable Wi-Fi router, you are probably wondering why you should use one with the convenient technologies that are being built into today's mobile devices. What is the point of using a portable Wi-Fi router when you can tether your smartphone and use it as a hotspot? Why spend the money on a portable Wi-Fi router?
These are some of the questions that probably come to your mind when you see portable Wi-Fi routers being offered on the market. However, like the new technologies that are being included in mobile devices, portable Wi-Fi routers are being equipped with modern technologies and improvements as well. The most recent routers on the market are the very reason why there are benefits to using this type of device.
In this article we will discuss some of the benefits, in addition to a few of the latest routers on the market. This will provide you with an idea of what portable Wi-Fi routers are capable of and some of the advantages they can offer.
Advantages of Using a Portable Wi-Fi Router
There are many advantages to using a portable Wi-Fi router, some of which include:
Increased Security over a Public Wi-Fi Access Point
As a mobile device user, you know there are many public Wi-Fi access points that are available in public venues such as shopping centers, restaurants, coffee shops, parks, malls, and many other locations. Although public Wi-Fi access points are convenient, they also pose a risk to your privacy since this type of network is typically unsecured. This makes the connection more susceptible to hackers and other unscrupulous people that exploit the network for the purpose of eavesdropping and stealing personal information.
By using a portable Wi-Fi router, you can protect yourself from some of the risks that are possible when you enter passwords and banking information over a free public Wi-Fi network. The security is achieved by activating the firewall and using password protection to control who has access to the connection. Most portable Wi-Fi routers are also equipped with WPA (Wireless Protected Access) and WPA-2 encryption which enhances security when accessing the Internet.
Access Wireless Internet from Anywhere at Any Time
By using a portable wireless router, you can ensure that you will always have wireless access to the Internet while you are on the go or working from a remote location. Additionally, the wireless router can provide others with Internet connectivity but only with your permission. Other Wi-Fi devices such as a tablet, smartphone, or laptop PC can establish a connection to the Internet when you use a portable Wi-Fi router. This allows you to share content with others in the work setting or with your family.
Portable Wi-Fi routers can also be used to extend an existing Internet connection and work similar to a wireless repeater. This helps you to provide more wireless coverage throughout your household, in addition to your home office.
Carry Your Wi-Fi Connection in Your Pocket
Most portable Wi-Fi routers are small enough to fit in your pocket which makes it a great device for use in hotels and conference areas. For mobile professionals, the best devices are those that are compact, easy to use, and multifunctional. Plus, you can establish a secure connection for conducting business on the road.
A portable Wi-Fi router also offers different modes which make it multifunctional. It can function as a router, access point, or wireless client. If the device is placed in router mode, this enables you to share Internet access with other mobile professionals. When the device is in access point mode, you can share Internet access whenever there is only one available Ethernet connection.
When used as a wireless client, a portable Wi-Fi router allows you to access an existing wireless connection without having to download any software or install hardware. Additionally, most models of portable Wi-Fi routers also support a Virtual Private Network (VPN) with firewall features that include Network Address Translation (NAT) and MAC (Media Access Control) address filtering. Plus, they utilize a USB connection which allows you to connect whenever there is no wall outlet readily available.
How Portable Wi-Fi Routers Work
Depending upon the type of router you choose, there are a variety of different methods that are used to establish wireless connectivity with a portable Wi-Fi router.
If you choose a portable wireless router that is designed for use with an iPad or tablet PC, you can create a wireless hotspot that can be shared with a variety of other Wi-Fi enabled devices including smartphones, tablets, Ultrabooks, hybrid devices, and laptop PCs. Most of the routers support the wireless 802.11b/g/n standards and in some cases, the new ac standard. If the router is equipped with 802.11ac, it is backwards compatible with all of the other previous wireless standards.
This type of portable wireless router is powered by USB and fits directly over the wall charger for your iPad. If you are using another wall charger, the manufacturer typically includes a USB extension cable to enable you to power up the device. There is also a USB charge port in the front of the unit to allow you to charge your devices as necessary. The configuration looks something like this: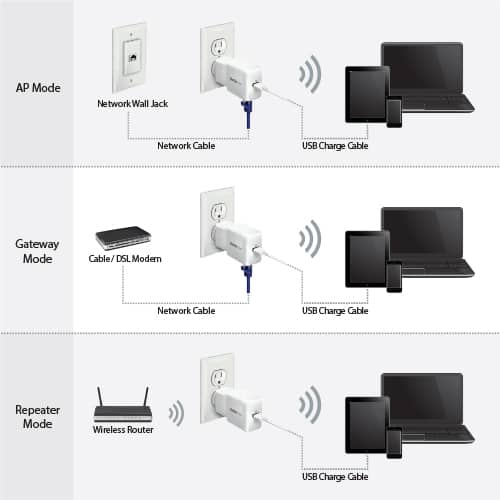 One of the more recent routers that was just released on the market is a small travel device manufactured by Netgear. The Netgear Trek N300 is a travel router that includes a range extender and has an external antenna that folds out. The device is equipped with technologies that help to boost Wi-Fi signal strength and has an integrated power adapter that is built into the unit to make it easy to transport.
If you connect the Netgear Trek N300 to a public wireless network, it creates a secure connection to the Internet for all of your devices. The router can be plugged directly into a wall outlet or it can be connected to a USB port on your laptop PC using a USB cable. The side switch allows you to change back and forth from an Ethernet connection to a wireless network with two Ethernet ports for establishing an Internet connection or using a wired device to access the Internet.
In terms of other connectivity options, there is a mini USB port that allows you to power up the router and a full-sized USB 2.0 port for sharing files or connecting a shared printer. Like the portable Wi-Fi router we discussed earlier, the Trek N300 also allows you to use the device as a mobile hotspot, wireless access point, and range extender. It is also very easy to setup and use, and only requires an app to be downloaded on your Android or iOS device. Here is more information on how the Trek N300 portable Wi-Fi router works to provide you with a visual representation of how a portable Wi-Fi router works.
Additionally, if you would like to learn more about your options for portable Wi-Fi routers, PCWorld recently published an interesting article on the Trendnet Travel router which provides slightly different options than what we discussed earlier.
Why Portable Wi-Fi Routers are Better than Using Tethering
While tethering is an option that is used by many smartphone users to provide access to 3G or 4G connectivity, in many instances, using a portable Wi-Fi router is a better option.
First, there are some wireless carriers that will charge additional fees for tethering your smartphone. If you use tethering a lot, this can become a costly proposition when compared to the price of a portable Wi-Fi router. Other wireless carriers do not offer tethering as a service in their cellular plans.
Second, if you use tethering to access a lot of media and stream videos frequently, this can really put a dent in your cellular data plan. Especially, if you are streaming videos for any extended period of time.
In terms of security, when you use a portable Wi-Fi router you have the additional benefits of firewall security. Although a 3G or 4G connection offers its own form of security, a portable Wi-Fi router provides better security and is also capable of supporting a VPN. This is especially important when connecting to public wireless access points.
Additionally, tethering can really eat up your battery life if you use it on a frequent basis. You must also remember to turn off the service when it is not in use to prevent it from having an adverse effect on your cellular data plan.
The Bottom Line
A portable Wi-Fi router provides many benefits that outweigh the wireless technologies included in mobile devices. It provides you with the capability to use a personal Wi-Fi hotspot at your convenience and without having to use your cellular data plan. You also have the option to use a wired connection with an Ethernet cable which is convenient in a hotel or conference room and can potentially provide a faster connection.
Additionally, you can use the device to recharge your mobile devices and connect a 3G or 4G modem to enjoy streaming media using a USB flash drive. And, best of all, the connection is more secure than the connection you use with your cellular data plan. This is more than worth the price of the portable Wi-Fi router alone.