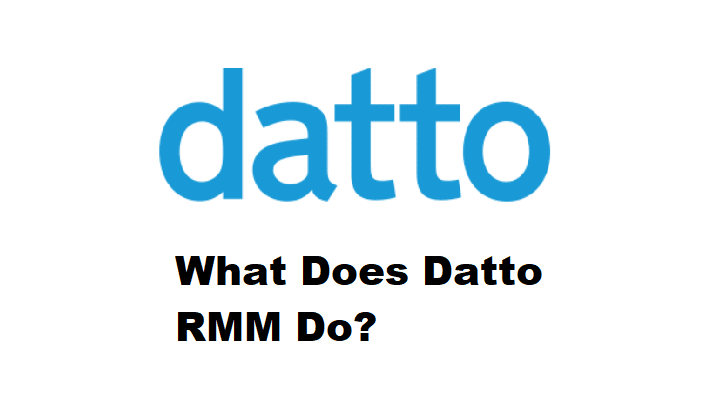 What exactly is Datto? Datto is a vendor that provides data recovery and backup tools for businesses. It also sells its appliances, which adds to the fun. Datto has many features that are worth discussing, but we'll save them for later. For the time being, we are concentrating on the RMM platform. Now, what is RMM, and what does it do? If you have similar inquiries, we are here to assist you.
In this article, we will go over RMM in general and why it is important in Datto. So make sure you read the entire article.
What Does Datto RMM Do?
What Is RMM?
Remote monitoring and management (RMM) is a Datto cloud management system that enables you to monitor, control, and manage the endpoints of your Datto clients. If you own a business, you understand the importance of having a monitored environment for your software and clients. In terms of Datto, this cloud-based system increases the efficiency of your business and reduces costs by providing robust features that are just a click away.
Functionality and Features:
As previously stated, monitoring and controlling all endpoints is a serious task that necessitates expertise and dedication. For the RMM, not only is the software scope extensive but so is the security, which is a critical factor for any established business. If you've used other backup and recovery services, you're probably aware that entrusting the service with your data is a sensitive subject. As a result, Datto enables you to automate updates, ensuring that your software remains operational and secure.
Besides that, its Dynamic Automation allows you to have control over your automated tasks. Not only that, but the RMM can send you automatic alerts if anything goes wrong with the system. Resolve your issues with its simplified troubleshooting and complete diagnostic information that tells you where the problem has occurred. With Datto, it means you are your boss.
Extending on the previous point, keeping the devices and their security in mind is critical but difficult. Assume you have a thousand endpoints in your setup. It would be difficult to keep each secure if it weren't for Datto's Ransomware Detection. With this feature, you can manage your endpoints and monitor for threats or viruses. RMM ensures the security of other devices by isolating the infected endpoint from the system until the problem is resolved.
You can also multitask with Datto RMM. Speaking of which, when your devices require technicians, regardless of their location, its remote range allows you to connect to them, improving the system's functionality. Furthermore, its HTML 5 integrated remote control allows you to connect to any supported device.
Finally, with the RMM, you can easily take control of your network by having a centralized dashboard that displays all system information. Furthermore, device management across this cloud platform, as well as updated security, make it a successful tool for your business.