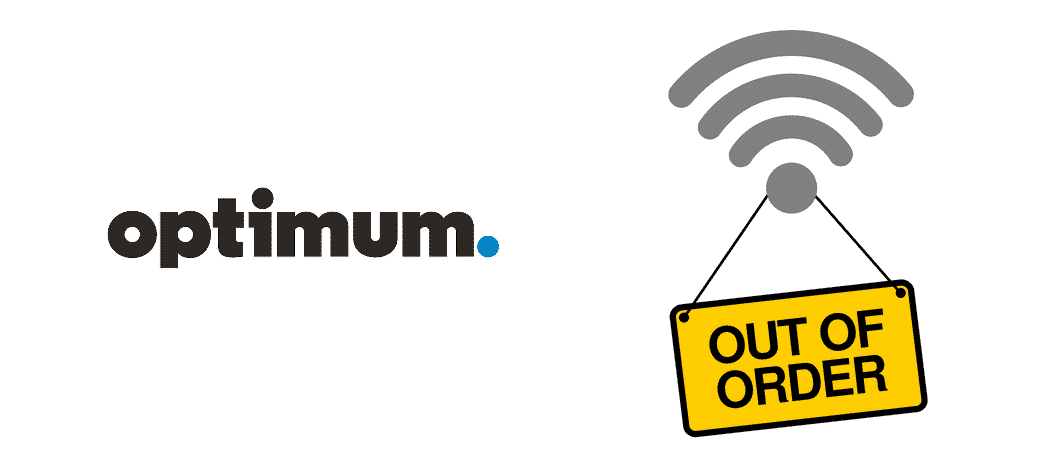 It can be incredibly bothersome to have your access to the internet completely fail and unable to maintain a stable connection for work or any other purpose. This can due to a number of reasons, like a particular site being down, your service provider facing internet outage, or other factors. If you're a user of Optimum internet and feel like your disrupted access to the internet is due to Optimum internet outage then you can follow this guide to pick a service that helps you get to the root of the problem and figure out where the problem lies.
Optimum is a popular internet service provider, providing more service besides the internet like cable television and home phone service to residential and businesses in New York, New Jersey, Connecticut, and even Colorado, Montana, Wyoming, and Utah. But despite being a household name, it is prone to internet outages and a number of users have reported trouble with their internet access.
Here's a list of services that can help monitor your internet connection in relation to sites and service providers and enable you to pinpoint exactly where the issue is situated:
Downdetector – A massively popular service that details all major sites and services and their current state with increased accuracy in reports.
Currentlydown – A go-to for most users on the internet, it offers quick and detailed reports on server status and site availability
Uptrends – A service based on the cloud, it offers effective alerts and comprehensive stats
Pingdom – An affordable option for any business-minded needs with a cloud-based monitor system that keep tracks of major sites and services
Outages.io – A hybrid monitoring system that offers hardware and software solutions
Websites To Check The Optimum Internet Outage:
1) Downdetector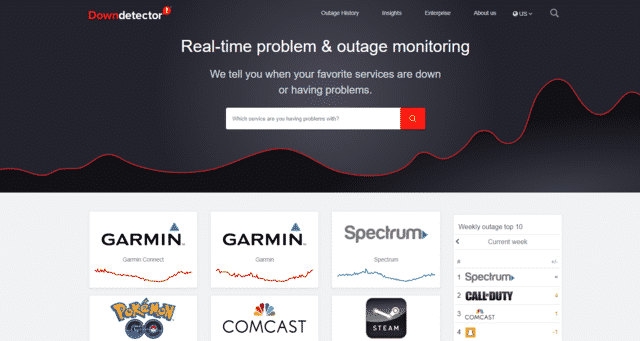 One of the most reliable services, and the oldest player in the market, Downdetector basically started the trend for quick monitoring and reporting of site status back in 2012 for major sites that users on the internet needed information about. Now, the service tracks almost all vital sources and provides real-time reports on outages and site malfunctions. It keeps track of internet providers, mobile providers, gaming services, financial resources and much more,
It collects reports and statistics from its own site, along with social media apps like Twitter and Facebook, and thoroughly validates each report and user input to detect connection issues and disruptions in early stages for any service or site. It also provides users with operational monitoring, for businesses that need to track their online website status and connection with customers. It even offers real-time incident analysis and automated alerts so users can get ahead of outages and effectively deal with any issues with detailed stats and reports.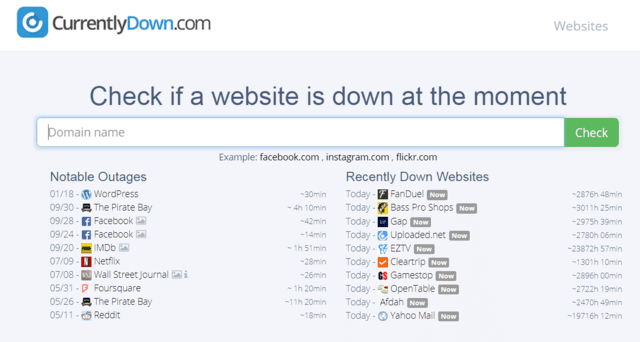 In the case of any site or provider outage, users on the internet quickly flock to this service to check the status of the site or their connection to it. Currentlydown is popular amongst users of all internet needs and provides detailed reports on all major services, including site availability or, if you're an Optimum user, reports on Optimum internet outage in various cities. It tracks all data over an extended period of time and provides an easy-to-read report on any particular site. Using this, users can even check if the network carrier is experiencing outages or maybe it's just their connection.
3) Ouatges.io

Outages provide the user with a unique solution to their network monitoring needs, offering both a hardware solution and a software one for your tracking needs. Their hardware solution comes as a toolbox you attach to your router which becomes part of the network and keeps tabs on all network activities. It is regularly updated by Outages.io and monitors internet traffic. The software tool can be installed on most major platforms and works well to monitor the network.
It helps identify performance issues on the network if any, and reports on any internet or service outages. It even tracks web-based apps and services and determines if they're working at full capacity. All reports are detailed and complied easily for the user to view.
4) Uptrends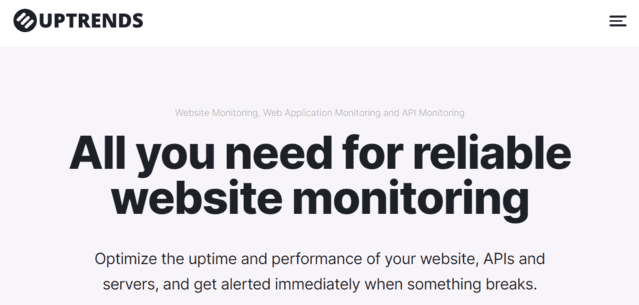 This service helps monitor sites and network status comprehensively using a variety of factors in its reports. It checks site availability and outages straight from the browser as a remote service and even pings any particular site from any location for a more in-depth analysis, even services hosted on the Cloud. It runs performance checks regularly, and even checks with factors such as DSN records, SSL certificates, FTP performance, and more.
Uptrends offers detailed reports, easily available on its customizable dashboard and performance stats can even be exported to PDF or Excel files and emailed out or through any other messaging app. The dashboard can also be easily viewed from any browser, even mobile devices.
5) Pingdom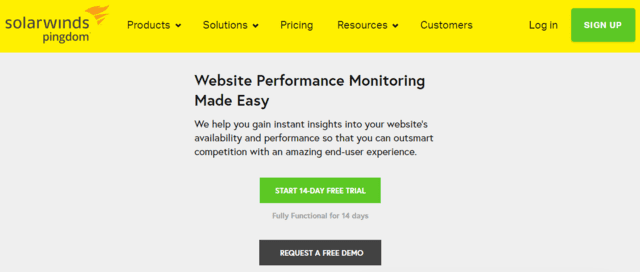 Pingdom is a cloud-based monitoring system and externally views any service or site for better performance evaluation and better statistics. Without the need to download any software, it works off the browser with a personalized dashboard you can access with your credentials. You have access to 60 different locations to ping sites from and effectively test your network or service. It provides real-time reports on-site availability and analyzes service performance for all major carriers and providers. Pingdom offers double the accuracy, where information is double-checked through a second source and then posted, offering more accurate and detailed results for users.
Even with optimum internet outages, you can easily check the service status using any of these service tools and understand how and when the outages started or whether the outage is solely occurring in your area or a specific site or service.