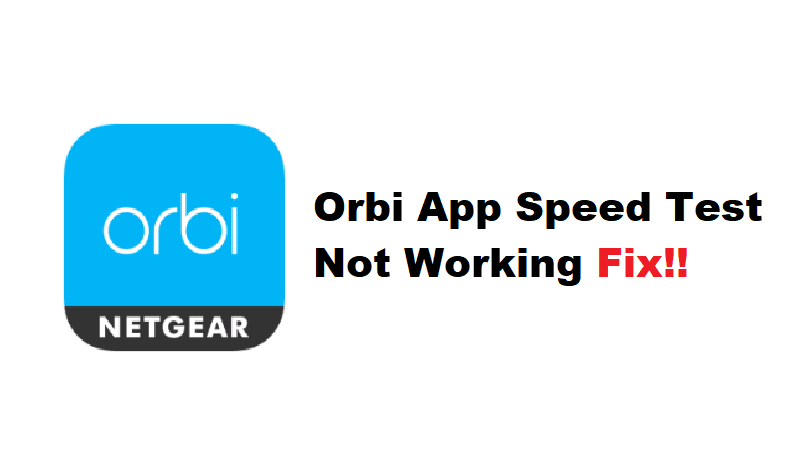 Is your network providing the speeds you've paid for? Or your internet service is fast enough to what Netgear Orbi has promised you. These questions arise when you are working on your network and you get the sudden urge to run a speed test to see if your network is performing as expected.
You can easily run the speed test through the Orbi app. But since many of you have reported that the Orbi app speed test is not working, we have devised some troubleshooting steps to address this issue. Make sure you read this article to the end.
How to Fix Orbi App Speed Test Not Working?
Your System Is Currently Working:
Speed tests are typically performed when you notice a minor hiccup in your internet performance or when the download and upload speeds appear to lag. Running a speed test for your network is one way to assess its performance. If your Orbi app speed test is not working, it is most likely due to ongoing downloads on your system. Make sure your network is free before running the speed test.
Aside from that, disabling your system's firewall and antivirus may help you pass the speed test. So, if your system has proxy software enabled, temporarily disable it until the speed test is completed.
Uninstall The Application:
People who use the Orbi app on their smartphones are more likely to experience speed test issues. As a result, the likelihood of an unsuccessful installation or cache of files on your phone is increased. Uninstalling the app will allow you to reinstall it, which will fix any errors that the app may have had.
Go to your device's settings and uninstall the Orbi application form there. Remove any junk and cache files from your system to ensure a smooth re-installation. Install the most recent version of the Orbi app on your device by going to the app store. Log in to the app with the proper credentials and run a speed test.
Update Firmware:
If nothing appears to be wrong with the Orbi app, the problem could be with your Orbi router. Check to see if the Orbi has the most recent firmware version. If your Orbi is not updated to the latest version and the app is working on the latest update, you may encounter difficulties accessing certain Orbi features. As a result, ensure that the device's firmware is up to date.
Reset Orbi:
If you're having trouble running a speed test with the app, this should be your last resort. Because a reset will remove your network configurations, you will need to reconfigure your network. You never know when an incorrect configuration will cause your Orbi app to perform partially.
Simply use a sharp object to press the reset button on your Orbi until the power light flashes amber. Wait for it to reboot, and your Orbi will be reset to factory settings.