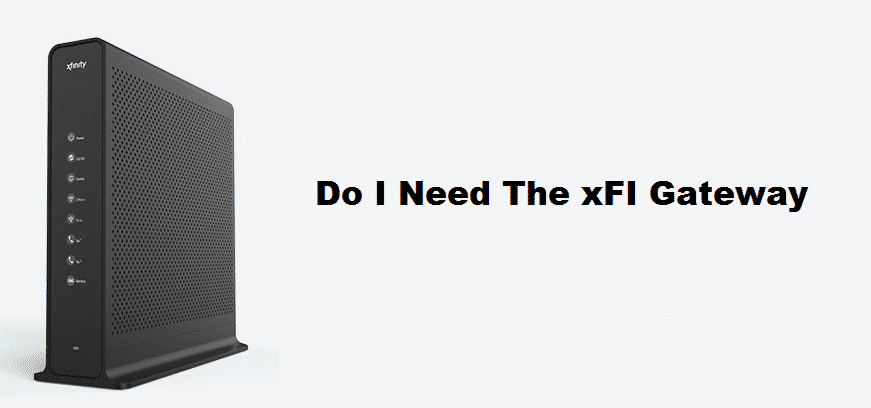 Internet surfers always look for ways to get the most out of their existing internet services. They don't hold back from enriching their internet resources once they get a chance. Xfinity routers and modems are very popular among high-speed internet users. They always keep themselves updated whenever Xfinity comes up with their new routers or gateways. xFi gateway is its new and advanced modem. According to the resources, it combats with one of the top high-speed internet gateways. Xfinity users usually wonder if they need to get xFi Gateway or not.
Well, in this article, we will feed you some relevant details regarding the xFi Gateway, and then you will understand if buying xFi gateway is worth it or the same features and competency can be found in my existing modem already. Keep on reading to get your queries answered.
xFi Modem Gateway For Xfinity Customers: 
Being an Xfinity Internet customer, you are given the option of renting an Xfinity xFi Gateway. Note that such Gateways offer excessively fast speeds, reliable connection, consistent coverage, and par control of your in-home network, etc. Gateways provide sufficient support and the fastest Internet speeds as compared to Wi-Fi connections. These gateway connections make sure that you get the best out of your optimal ISP performance all-around your home.
Do I Need The xFi Gateway?
Mostly those internet users who suffer to get the maximum speeds out of their existing ISP connection and keep getting their connection lagging need xFi gateway the most. Most of the business organizations that can't rely on their services and operations being functional on low-speed internet routers switch to high-performance and fast-speed modem gateways to make their workflow much efficient.
Moreover, if you are one of the current users of third-party network equipment and are manifesting to make it in use then you can rent or simply purchase an xFi Gateway. You will be given the perk of getting your xFi devices upgraded ON TIME. After you rent an xFi gateway, you wouldn't have to stay concerned about updating to a newer model. All you would need to do is visit www.xfinity.com/equipmentupdate.
Besides, you can also get xFi gateway if you are done with your existing internet devices persistently disconnecting and getting their signals dropped. Apart from that, if your current internet is working fine then there is no need to get the xFi Gateway modem.
You can decide if you genuinely need xFi gateway or not by simply going through the description below.
Xfinity Gateways—xFi Gateway:
All of the Xfinity Gateways along with the xFi Gateways are all-in-one devices. They have almost similar functions built-in. xFi gateway delivers Internet and VoIP services alongside in-home Wi-Fi coverage, network autonomy, and ultimately high speed. xFi Advanced Gateway offers up to 2.5 Gigabit speeds alongside the xFi Gateway Third Generation.
Final Thoughts:
Needing or not needing an xFi Gateway modem simply depends on your needs and your existing internet modem/router competency. If you are an Xfinity user and highly bothered by persistent signal dropping and slow speeds, then you might want to rent for gateway.