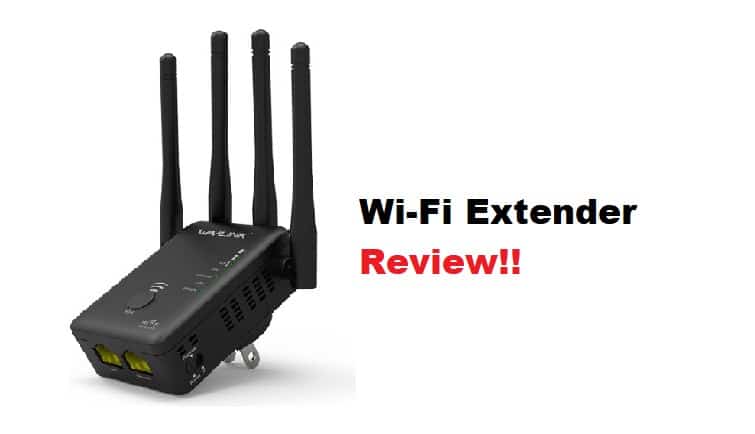 Having a huge house is all fun and games until you start getting the internet dead zones in the homes. This is because even if you have a Wi-Fi network, you won't be able to get wireless internet signals in every part of the home, which is why Wi-Fi extenders are used. The extenders are perfect for extending wireless signals to every part of the home, making sure that everyone can remain connected to the internet. So, if you have to fix the wireless dead zones, we are reviewing the Wavlink Wi-Fi extender in this article!
Wavlink Wi-Fi Extender Review
The Brief
This wireless extender by Wavlink is one of the smartest and most advanced wireless extenders out there. It is a dual-band unit, which means it can help extend the 2.4GHz internet band as well as the 5GHz internet band. It is designed with advanced internet and wireless technology and can upgrade the network to the next-generation wireless connection. When it comes down to the internet throughput, it can achieve 1000Mbps speed on the 2.4GHz band while 5GHz has an internet throughput of over 2167Mbps.
For this reason, this wireless extender can be used for intensive multitasking, online gaming, and 4K streaming, making it a reliable choice for internet users. There are omnidirectional antennas in the extender, which help improve the wireless internet performance in the bigger home. It has been designed with special features that help block the websites and there are parental controls available to personalize the internet access for the kids and others at home.
The parental control features of this wireless extender also allow the users to see what kids are browsing and you can also block them from accessing inappropriate content. The best thing about this wireless extender is that it has a minimalistic design, which looks great and offers powerful wireless internet performance.
Internet Speed Boost
This is a dual-band wireless extender, with which you can achieve the internet throughput of 1000Mbps on the 2.4GHz wireless band. On the other hand, it offers around 2167Mbps internet throughput on a 5GHz wireless band. Having said that, it can achieve a superior internet speed of around 3200Mbps, which is enough for bandwidth-consuming activities, such as streaming the 4K videos, playing online video games, and browsing.
Full Network Coverage
There are eight powerful antennas integrated into this wireless extender and all of them are omnidirectional with a 5dBi configuration, making them the most powerful antennas. The antennas help boost the wireless internet signals and you will be able to spread them across the home and office – it's an apt way of eliminating the dead zones.
MU-MIMO Technology
The wireless extender has been designed with MU-MIMO technology, which is the multi-user, multi-input, and multi-output technology. With this technology, you will get strong internet signals on different devices without slowing down the internet connection. In addition, it has been designed to handle around sixty devices at once. Not to forget, it also has beamforming technology that helps spread the wireless signals to the client device rather than broadcasting the signals in all directions. All in all, these two technologies help avoid the internet slowdown.
Advanced Feature
When it comes down Wavlink Wi-Fi extender, it's far from a basic unit. That's because there are 23 functions available, such as remote control and parental controls. With parental controls, the users can see what the kids are browsing on their devices and block malicious or inappropriate websites with one touch. In addition, there are security features available that help creates an online browsing experience without compromising on the internet speed.
Processor
The wireless extender has been integrated with Broadcom's 1.5GHz dual-core process which makes it suitable for corporate as well as residential use. That's because the CPU is strong enough to handle the immense bandwidth and ensure intelligent distribution. In addition, there are three co-processors available that help speeds up the connection and prevent overheating of the system.
Display Screen
On top of everything, the extender has a TFT LCD screen, with which you can keep an eye on the wireless connectivity as well as the router status. In addition, you can get information about the Wi-Fi connection and the connected devices.