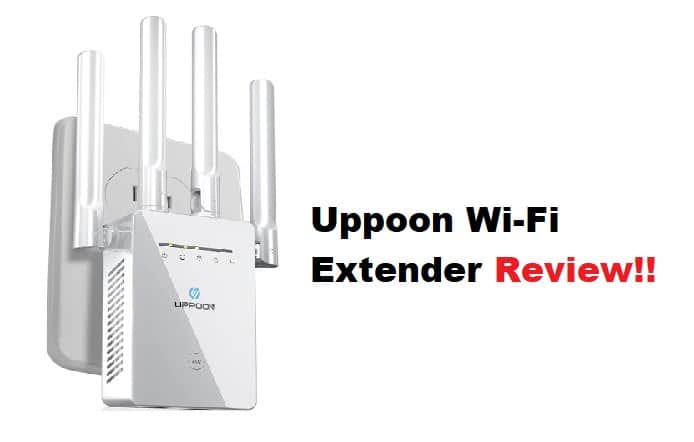 Wireless range extenders have become an important part of wireless connections, especially in offices and bigger homes because it helps extend the internet connection to every part of the space. For this reason, the UPPOON Wi-Fi extender has gained popularity. This wireless range extender is designed to provide 360-degree internet signal coverage and helps overcome the interferences to ensure every device is connected to a high-speed internet connection. So, if you want to determine if it's the right range extender for you or not, we are sharing the review with you!
UPPOON Wi-Fi Extender Review:
The Brief
UPPOON Wi-Fi extender is designed to extend the wireless internet signals from the network router to make sure the dead zones are eliminated and every device is connected to the wireless network. It is designed to offer 360-degree signal coverage, which means it can extend the wireless connectivity range in every direction without worrying about obstacles.
In fact, it can be used in areas where the signal coverage is already sufficient because the extender is designed to create its own wireless hotspot. That's because the wireless range extender works as a bridge between the two internet networks on different wireless channels. What we love about this extender is that it's suitable for residential as well as corporate use.
Zero Signal Loss
UPPOON Wi-Fi extender is basically a wireless device that's perfect for connecting the tablet, laptop, or smartphone to the internet if they don't get wireless coverage. That's because the range extender can be turned on by connecting to the power outlet on the wall and makes sure every room gets sufficient wireless signals. In simpler words, it has the capacity to break physical barriers and prevent signal loss caused by walls.
Dual-Band Design
This is a dual-band Wi-Fi extender, which is one of the best ways of extending the current wireless network. It is a high-powered unit and the dual-band design means that the internet throughput is exceptional. In addition, the extender has a smart antenna technology that promises a top-notch internet connection as it can strengthen the internet signals. The best thing about smart antenna technology is that it offers internet or network coverage in areas where the primary Wi-Fi connection doesn't reach. Last but not least, the extender has a sleek design, which means it blends pretty well in your home.
When it comes down to the internet speed, the UPPOON Wi-Fi extender promises superior internet coverage – it offers around 1200Mbps internet throughput and can be used in places that are sized around 5000 sq./ft. Having said that, it's a promising choice to optimize the streaming and gaming experience. In addition, the extender has various ports that help connect the printer, 4K TV, Xbox, and desktop.
Security & Compatibility
This is one of the most affordable and simplest solutions for everyone who wants to extend the wireless connection. That's because the UPPOON Wi-Fi extender can support over forty devices for wireless connection and there are four LAN ports available to create the wired connection. In addition, it has been integrated with 128-bit encryption technology, which promises cutting-edge security, promising zero chances of cyber threats to the internet connection.
Technical Support
UPPOON Wi-Fi extender comes with 24/7 free technical support in case you have any internet issues. In addition to the around-the-clock technical support, the extender is backed by ninety days of replacement or return warranty in case the unit is defective. In addition, the accessories that come with this unit have a one-year warranty.
Various Modes
This is a Wi-Fi extender but it can be used in other modes as well. To begin with, it works as a bridge to extend the current Wi-Fi connection in the office and home. In addition, it can work as a repeater, client, or access point. If you purchase two of these units with the same username on the network, they will communicate with each other wirelessly and work as a single unit to extend the wireless internet coverage.
The Bottom Line
The bottom line is that this wireless range extender is a reliable choice and supports various activities, including streaming and gaming, as they are bandwidth-consuming activities. In addition, you can use the WPS button to set it up and there is a web management dashboard for easier configuration.