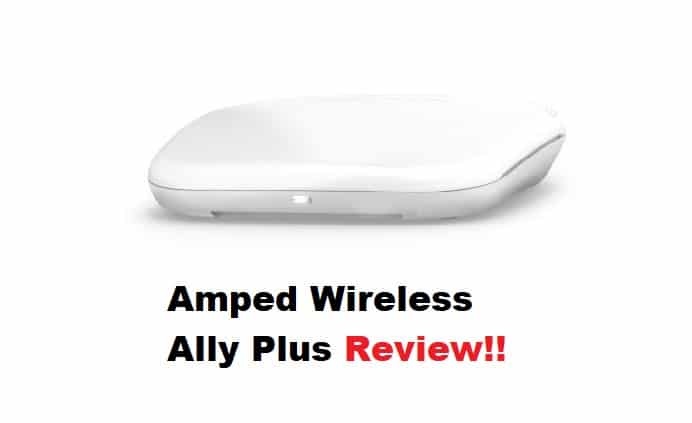 Amped wireless ALLY Plus is an excellent home networking solution for both novice and advanced users. It not only has good Wi-Fi coverage, but it is also very simple to use. Though it cannot compete with the high speeds offered by some of the best routers on the market, you will not find yourself compromising on features at this price.
Since its release, the Amped ALLY Plus has received positive feedback from users. So, if you're wondering what makes this router worth buying or not, this Amped wireless ALLY Plus review will clear things up for you.
Amped Wireless ALLY Plus Review:
Performance:
Two things come to mind when discussing mesh-enabled systems. The coverage and the speed. However, the Amped ALLY Plus does not provide exceptional speeds due to its dual-band, but it does provide adequate throughput against the 2.4GHz and 5GHz bands. With a theoretical throughput of 800Mbps at 2.4GHz and 1.3GHz at 5GHz, you can enjoy high data rates across all of your devices. Aside from that, the router's dual-core processor supports MU-MIMO, which should significantly increase data rates across multiple devices, but considering the router's performance ratio, the Wi-Fi speeds are rather mediocre. The router allows you to use the radio bands separately, which is beneficial to the ALLY Plus users
The amplified ALLY Plus has a great range of up to 5000 square feet, but the internet speed across the distance is incredible. Most routers will give you 3000 square feet but only average Wi-Fi speeds, as opposed to ones with a short range but excellent internet speeds throughout. When the router was tested for speed, it managed to deliver 95Mbps on the 2.4GHz band and 508Mbps on the 5GHz band. This data rate may not be the fastest for a router at this price, but it certainly outperforms some of the more popular routers on the market. Even at a distance, the data rates appear to flicker slightly lower, but the performance is less for a nearly $400 budget router.
Design And Hardware:
The design of the ALLY Plus is a sleek round-edged structure with measurements of 6.7 x 6.4 x 1.5 inches. This goes both for the extender and the router as they both come in an identical design. The unit has a glossy exterior with a minimal white color that allows it to be easily placed on shelves or a router table. The router's back hardware panel includes three gigabit LAN ports and one WAN port. It has an interactive LED panel that displays the device's status. The router has a 3.0 USB port and a WPS button in addition to power on/off button.
The ALLY Plus extender has one gigabit LAN port and a power on/off button. The extender, like the router, has a WPS button on the back. The unit's four internal antennas allow it to deliver good data rates across each band, making your connection faster and more reliable.
Setup And Installation:
One factor to consider when purchasing the Amped wireless is how simple the setup and installation procedures are. This router-extender unit has something for everyone, whether you are a novice or an advanced user. With an interactive mobile app, you can easily manage and control your network. You can see how many clients are connected to your network, whether the ALLY is online or offline, and even when your clients joined. Furthermore, you can limit or restrict a client on your network, for example, you may want to limit your child's internet activities using its parental controls. Your network is protected against security breaches thanks to the amazing features of the Activity report Feature and integrated malware protection.
The Final Verdict:
When it comes to speeds and Wi-Fi signals, the amplified wireless ALLY Plus is not a good investment at nearly $400. Even though this router-extender unit provides excellent coverage and capacity, the mediocre MU-MIMO performance is not a trade-off you want to make at this price. So, if you have an alternative, you might want to look for a better deal.