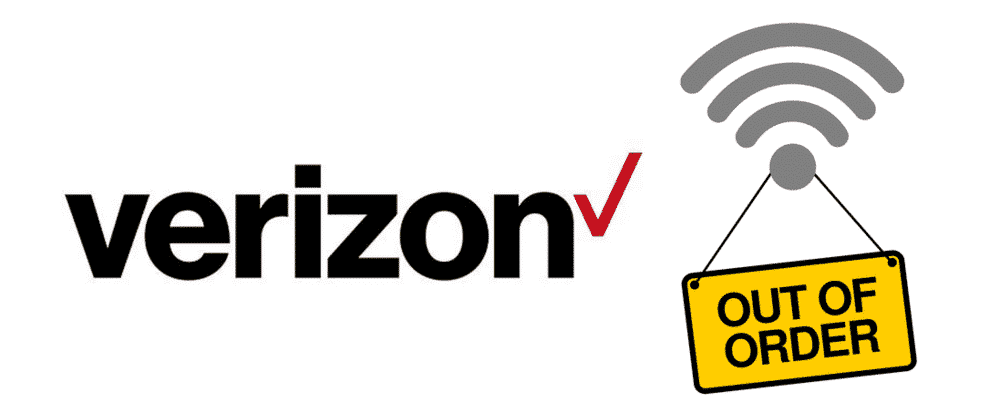 An internet outage can spell trouble for any user, especially if you're in the middle of work or struggling with a close deadline. With a provider like Verizon, despite its popularity, it is still plagued with the occasional internet outage and can be a hassle to deal with. In which case, you may need to check the status of your internet or your access to it completely, which can give you an idea of how and when the outage started, how many people and areas were affected and when the problem would be resolved. Luckily, there are countless sites and online services that can help you verify the integrity of your connection and figure out if the outage is affecting just you or a particular site or online service you're attempting to access.
Verizon is one of the biggest communications in the country, offering mobile and landline services including broadband internet. Often, users report being unable to access the internet due to Verizon internet outages and have to where to turn to except making a complaint to official support staff. And if you haven't signed up for automatic alerts from your provider, you can use the following services to effectively keep track of any and all outages in your area or service.
Following is a list of useful services that can help evaluate your troublesome internet connection and figure out if the problems lie with your network, your provider's service or something else entirely like a site being down for some reason:
Currentlydown – A highly popular site, that users quickly access in the case of outages or to check if certain site servers are available
Outages.io – A hardware/software solution that effectively monitors your network
Downdetector – The most reliable and helpful site, providing accurate site status information for all major sources
Pingdom – An affordable cloud-based service that keeps track of services and offers cloud-based monitoring
Uptrends – Offering comprehensive reporting along with alerts for casual users and online business owners alike
Websites To Check The Verizon Internet Outage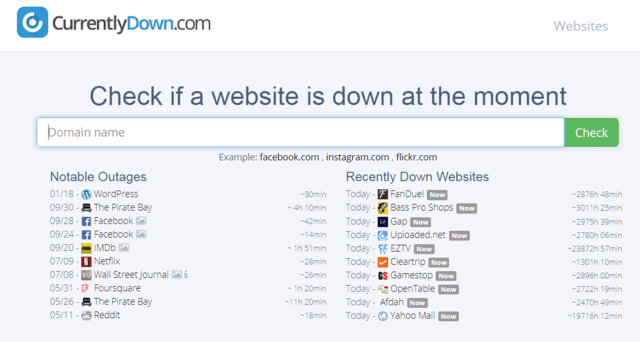 Regarded as one of the most easily accessible and popular sites, Currentlydown provides simple and easy stats on your favorite sites and services, detailing site availability and server status. You can check if a particular site is offline, or if the connection issue is only present to your device. This can highlight whether the problem lies in your connection to the internet or the site you are trying to access. The site tracks data and reports for all major sites over a certain period of time, detailing its status, accessibility, and any issues regarding it for the past days.
Currentlydown stores outage reports for all major services and sites, and keeps track of real-time server issues and carrier outages such as a Verizon internet outage in any particular area.
2) Outages.io

Outages.io provides users with the option of either utilizing their hardware solution for keeping track of your entire home or business network or opting for their software tool to help analyze internet traffic to certain services or sites. They provide a box that connects with your router and effectively merges with your network to monitor it and analyze for any issues or connection issues. It can easily evaluate your access to the internet and figure out exactly where the problem lies.
The software tool you download identifies poor network performance and network outages on your connection, along with a detailed analysis of any web-based apps to see if they're working properly. All reports and network statistics are displayed on the dashboard for the users to view, highlighting any network problems or carrier outages.
3) Downdetector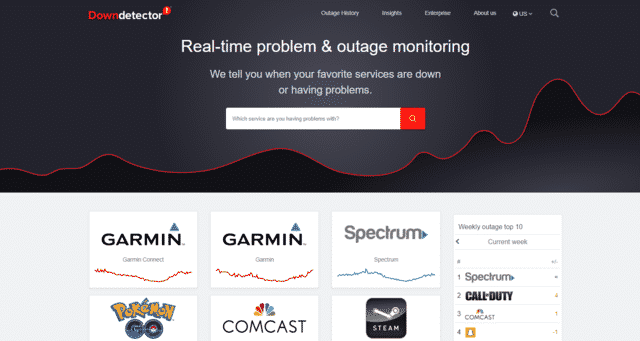 Downdetector is regarded as the service that started tracking website status, and is the most reliable and most accurate service that tracks all major services and sites from around the world and provides real-time reports on internet outages and offline status for sites. From mobile providers, internet service providers, financial services, and even major gaming servers, Downdetector have detailed reports for all these services.
It obtains all reports through its main site and app, along with reports taken from Twitter, and then analyzes and validates all the reports to detail and highlight server issues and get the jump on any outages in early stages. It establishes a baseline for internet or server issues, and any reports exceeding that are logged as official reports against the service culminating in a validated outage situation. With over 20 million individual users reporting on-site and service status, Downdetector houses the most accurate and detailed information collection along with providing real-time incident analysis, operational monitoring, and automatic alerts.
4) Pingdom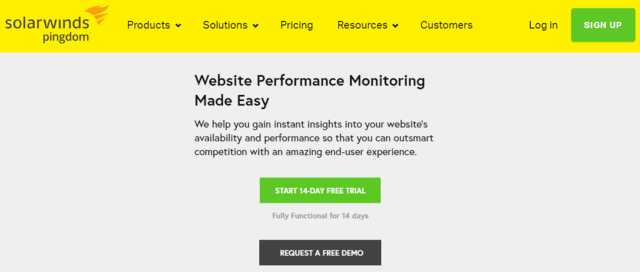 Pingdom utilizes your network from an external viewpoint to effectively monitor any network and gain effective statistics. Right from the browser, users can access a personalized dashboard linked to your account that can display all network details and information regarding internet access. Providing real-time stats on-site availability and server status, Pingdom even has 60 different locations to choose from where you can ping sites and services for better results. Even with official reports, they make sure to check the information through other sources before officially posting it for their users.
Pingdom also tracks major carriers and providers and offers accurate stats on even Verizon internet outages for any particular area.
5) Uptrends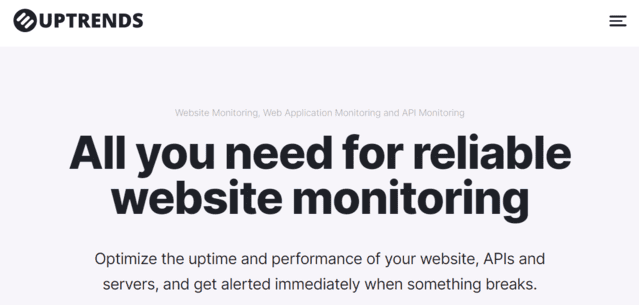 Uptrends offers a comprehensive list of factors the site uses to test a service or site, also provides site availability stats for all major sites and resources all from the browser. It checks and pings web servers from various different locations for better results, even for services hosted on the cloud. It checks sites for various factors such as FTP performance, SSL certificates, and even DNS records. All performance checks can be viewed every minute and even exported to PDF and Excel files and emailed or sent through other messaging apps. Otherwise, all information and reports can be easily viewed on the customizable dashboard that can display required stats and even be viewed on mobile devices.
Regardless of how your internet outage occurred, you can utilize these services to keep a check on your connection and make sure your provider or carrier resolves this and gets your connection up and running.