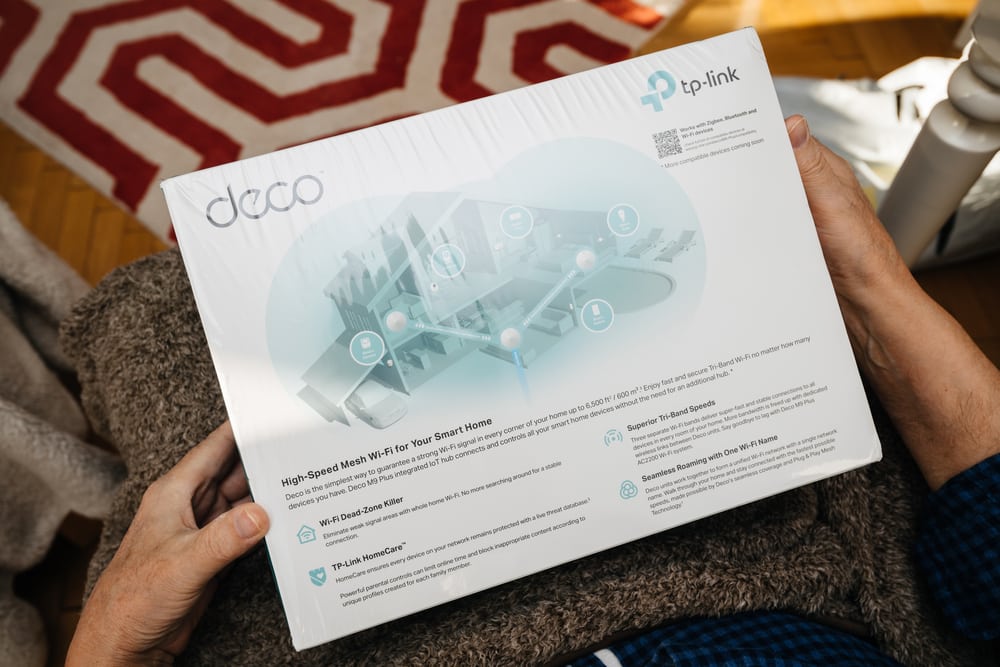 Mesh Wi-Fi has become the ultimate priority of internet users since it deploys a modular approach, which helps extend the wireless connection. The best thing about mesh Wi-Fi is that you need minimal setup without compromising on the internet performance and speed – it's responsible for capturing and delivering the strongest internet signals. This is why you need to be particular about the routers and that brings us to talking about TP-Link Deco X20 vs X60 vs X90 because these three are the best ones you can try!
The Differences Between TP-Link Deco X20 vs X60 vs X90
TP-Link Deco X20
Promising higher value for money and exceptional parental controls, this router is a perfect choice for homes. This router can be used to expand the wireless connection as it's integrated with a dual-band system. It wouldn't be wrong to say that this is the most feature-packed mesh system you can find with reasonable performance. To begin with, it has a smaller footprint to make sure it easily blends into your home and is available in one-pack, two-pack, and three-pack forms, so you can optimize the coverage.
The single-pack is suitable for people who want to upgrade the network and add an access point. However, if you need a mesh system for the office or home with multiple stories, you can opt for a three-form system. The mesh system has been designed with identical components and every satellite is a white-colored tube, which promises easier installation. It is integrated with two Ethernet ports on the back (they support gigabit connections).
Many people complain about the absence of a 2.5Gbps port but it's not an issue since the price tag is pretty low. As far as the satellites are concerned, you can get two Ethernet ports for establishing a wired connection, making it suitable for people who are tired of wireless interference. As far as security is concerned, there are parental controls available, so you can block the websites and schedule internet access. Also, it can be controlled remotely but you won't be able to change the wireless channel.
It can be connected to the app for configuration and every satellite is integrated with the status indicator LED, so you can determine the network status. On the other hand, the app can be used to check the signal strength as well. Also, when you open the app, don't forget to enable fast roaming as it ensures connectivity with the strongest satellite.
TP-Link Deco X60
It's common to think that Wi-Fi 6 system has to be better than the old Wi-Fi 5 systems, and Deco X60 by TP-Link is designed to show that it's true. This mesh system is designed to provide wireless internet coverage to over seven thousand square feet, which makes it perfect for offices and big homes – you can also add the add-on unit for extending the coverage even more. However, the two-pack form provides internet coverage to over 5,000 sq./ft.
This is a dual-band system, so you can shift from 2.4GHz to 5GHz, and vice versa. It's integrated with four antennae and two Ethernet ports on one node, so you can customize the internet connection. The best thing about this system is the free malware protection. It has been designed in white color, which looks pretty great and you can use the Ethernet ports (yes, they support the gigabit connection) to establish a wired connection for gaming consoles and PCs.
The front side of the X60 has an LED to help you determine the network status – the green light means a stable internet connection. As far as the setup is concerned, it has been designed to connect to the existing modem or router as there is no in-built modem. You can use the Deco app for setup and all you have to do is to add some information about the internet connection (the information can be taken from the router's web interface) and it will be connected. Also, you can connect multiple mesh systems to expand the network coverage.
When it comes down to the features, you can set up the night mode and adjust the QoS according to the internet needs. Moreover, you can prioritize the devices for internet usage and the parental controls allow the users to pause and/or block internet access to some users. Last but not least, malware protection protects the devices and connections from virus attacks. Overall, the coverage is pretty awesome and the internet speed remains consistent. Last but not least, you get IPv6 as well as IPv4 protocols.
TP-Link Deco X90
This is one of the most expensive mesh systems out there with a two-piece design. It is designed to expand the wireless network to every corner of your space. It has a tri-band system that also offers multi-gig connection, security software, and reliable parental controls. This mesh system is extremely easy to install and promises fast internet speed. It has been designed with two cylindrical nodes which work together to offer internet coverage of up to 6,000 sq./ft.
It is around 8.3-inch tall and 5.1-inch wide. As far as the appearance is concerned, it has a matte finish appearance and every node is designed with two Ethernet ports; these ports have an auto-sensing feature to connect you to the strongest internet channel. One of these ports is the 2.5Gbps port but you will miss the USB ports. The front node has an LED indicator light that turns yellow during the startup, blue during setup, and green when the connection has been established.
Every node is designed with six antennas (yes, they are internal), a 1.5GHz quad-core processor, and circuitry with an 802.11ax configuration, which makes it capable enough to support different wireless technologies. In addition, it has OFDMA data packet transmission, MU-MIMO for seamless streaming on multiple devices, and WPA3 encryption. With the 2.4GHz, it can achieve the highest speed of 574Mbps while the two 5GHz channels can reach 1201Mbps and 4804Mbps speeds.
It has been integrated with the HomeSheild security system, so the users can schedule the internet shutdown time, block the websites, and set up age-based internet filters.
So, which one of these will you choose?