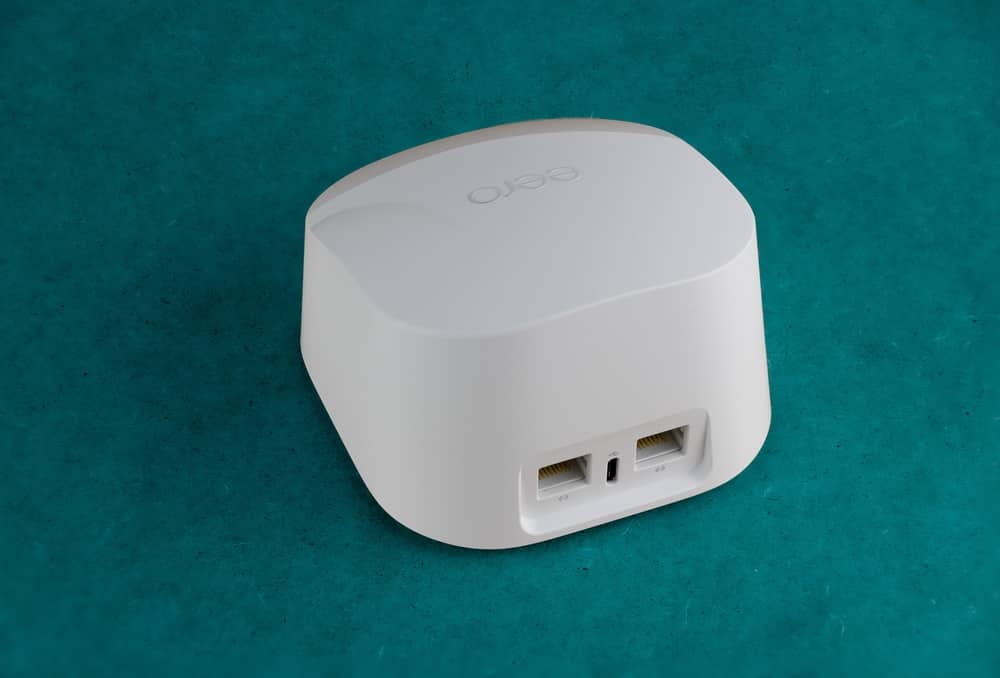 TP-Link is an industry leader when it comes down to routers, and in the past few years, they have cranked up the notch by offering Wi-Fi 6 mesh systems to the users who want to extend their internet coverage. On the other hand, Eero has also designed a reliable counterpart, which makes it difficult for the users to select a mesh system. So, to assist you, we've shared a TP-Link Deco X20 vs Eero Pro 6 comparison in this article!
TP-Link Deco X20 vs Eero Pro 6 Comparison
TP-Link Deco X20
Ranging from a convenient setup to a compact design and affordable price tag, this mesh system has everything a regular internet user needs. It is a great way of upgrading to a Wi-Fi 6 connection and it comes with built-in security features to protect the devices from online threats. It has been integrated with four non-removable antennae, promising better signal reception. In addition, there is one LAN/WAN port for supporting the gigabit Ethernet connections.
TP-Link has added a 1GHz quad-core processor to make sure the internet speed is optimized and there is no overheating of the system. In fact, there is a Qualcomm Networking Pro 400 wireless chip to improve the internet connection. It has a range of over 95ft, which makes it suitable for medium and small spaces. It is available in white color and the company has added cooling slots on the bottom to ensure seamless air circulation. However, you won't find any mounting inserts, so it cannot be mounted to the wall.
There is an LED indicator light that shows a yellow color during startup and turns green when the internet connection has been established. This is a dual-band mesh system, such as 5GHz and 2.4GHz but there is no second backhaul channel but that doesn't take away from the advanced wireless coverage. The mesh system promises dynamic data flow management and you will be able to use the Ethernet cable for connecting this system to the satellite.
Every unit of this system is installed and set up as a satellite or host during the installation process, and every unit has four antennae. On the back side of the mesh system, there are two LAN ports, so you can connect the networking device and establish a WAN connection. However, you won't be able to aggregate the ports (it is used to increase the throughput). Last but not least, the reset button is added on the bottom to revert the system to factory default settings.
Eero Pro 6
Eero Pro 6 has been designed by Amazon as a tri-band mesh system that promises seamless wireless coverage and can be used as a home automation hub. The setup and management are extremely easy but some users have been complaining about limited features. To begin with, this is the first mesh system with Wi-Fi 6 technology designed by the company and they have added Zigbee radio to enhance the home automation feature.
It promises wireless coverage to over 6,000 sq./ft and the throughout the performance is exceptional as well. Eero Pro 6 has been integrated with three low-profile nodes, and each node provides coverage to over 2000 sq./ft area. One node of the system works as a mesh router while the remaining two work as mesh nodes. In addition to this three-pack form, Eero Pro 6 is also available in the two-pack and single-pack form. Not to forget, the node has two LAN ports with an auto-sensing feature to optimize the connectivity.
Given the tri-band design, it can reach different internet speeds on each band. For instance, it achieves 574Mbps speed on the 2.4GHz band and the other two 5GHz bands achieve 2402Mbps to 1201Mbps speed. The mesh system is based on the wireless 6 configuration and has WPA3 encryption available. In addition, there is MU-MIMO available for uninterrupted data streaming on multiple devices at once but keep in mind that it doesn't support 160MHz bandwidth.
There are no built-in anti-malware tools or parental controls like Deco X20, which means you've to subscribe to the Eero Secure plan, which is obviously an additional cost. In addition, there are no QoS settings available, which means you cannot prioritize the internet for different devices, so gaming and streaming might suffer. As far as setup and monitoring are concerned, there are iOS and Android apps available and you can also control it with Amazon Alexa.