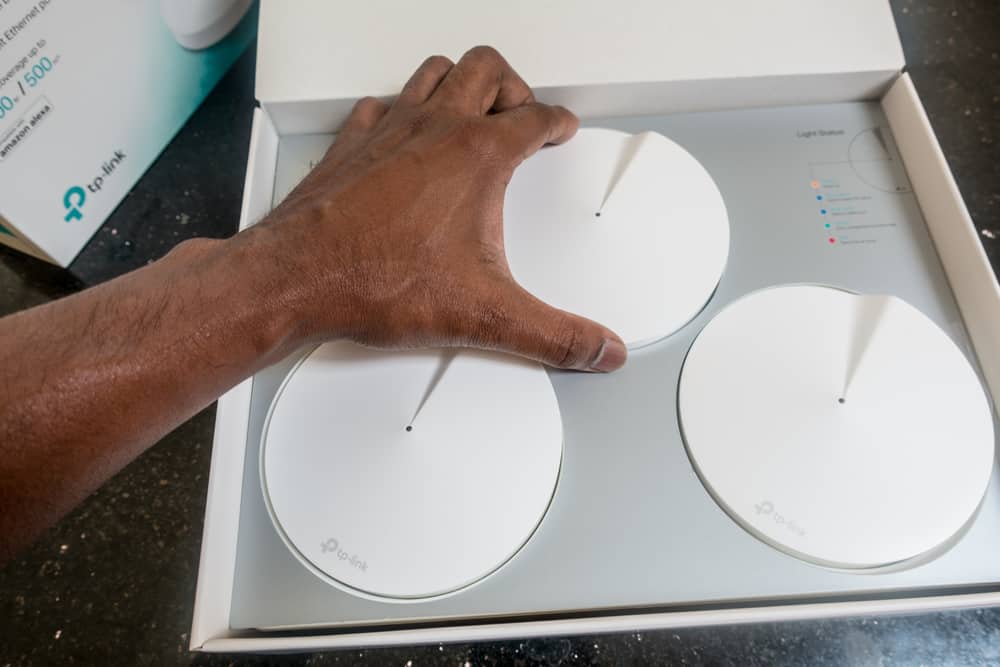 TP-Link is a world-renowned manufacturer of computer networking products, including routers and modems. Recently, they have ventured into designing and manufacturing high-end Wi-Fi 6 mesh systems. The TP-Link Deco M9 Plus vs TP-Link Deco X20 comparison in this article is curated to help you purchase a reliable mesh system with extensive wireless internet coverage.
TP-Link Deco M9 Plus vs TP-Link Deco X20 Comparison
TP-Link Deco M9 Plus
Designed with a convenient setup and easier navigation, Deco M9 Plus by TP-Link is the perfect choice for people who want to create a mesh wireless network. It has been designed with 802.11ac wireless technology that promises seamless internet connectivity and zero errors. Eight non-removable antennae improve the signal reception and increase the system's capacity to select the strongest possible internet signals.
When it comes down to the ports, there are two LAN ports with 1Gbps support, along with a power and USB port. In addition, the company has added a quad-core ARM 4GB processor that promises faster performance without putting the system at risk of overheating. TP-Link Deco M9 Plus has been integrated with a Qualcomm IPQ4019 wireless chip (it's the ultimate way of achieving a better wireless connection). However, the wireless internet range is only 70ft, which is a bummer for some people.
The setup is pretty simple and can be used to control smart home devices, ranging from thermostats to smart locks. Some people have complained about the erratic performance, but as long as you are controlling and adjusting the settings through the smartphone app, you won't have any issues. In addition, it has been designed with in-built security, promising ultimate security to the users. It has been designed in white color and you can install it on the wall with separate wall-mounting brackets.
The system is available in two-pack and three-pack forms and offers wireless coverage of 4500 sq./ft and 6500 sq./ft, respectively. According to the experts, you can connect over ten units to achieve seamless wireless coverage for bigger homes and commercial offices. In addition, they can be transformed into an internet extension or router during the setup process. On top of everything, it comes with an LED indicator, so you can determine the network status. As far as the setup is concerned, you can use Bluetooth for connecting it to smart home devices.
TP-Link Deco X20
This is yet another affordable and compact mesh system that's designed with an easier setup and loaded with security features. It has a smaller router as well as a satellite to achieve a strong internet connection. The network has an exceptional range and you can get better security. However, you need to remember that there is no special backchannel for the data and the customization options are pretty limited. As long as you are okay with these two issues, Deco X20 will be a great addition to your wireless network.
TP-Link Deco X20 has been integrated with four non-removable antennae that do a great job at capturing the internet signals to ensure seamless internet browsing and streaming experience. It has been integrated with one WAN/LAN port that supports gigabit connections. In addition, TP-Link had added the quad-core 1GHz processor that prevents overheating and faster navigation. When it comes down to the Wi-Fi functionality, there is a Qualcomm Networking Pro 400 chip to support multiple data streams.
It has an 802.11ac configuration that provides an internet speed of over 622Mbps at around a 15ft range. The overall wireless range of this mesh system is 95ft. TP-Link Deco X20 has been designed with in-built security software that promises the protection of the internet network and the devices connected to the internet. The mesh system has a compact design, which makes it easier to hide on the shelves and the white color looks pretty great.
It has been integrated with a dual-band configuration and you can also combine the 5GHz and 2.4GHz connections to increase the internet performance. It can efficiently manage the data flow and there is also a port available for connecting the Ethernet cable; it helps create a wired connection. It's integrated with the HomeCare security suite and anti-malware code to add a security layer – it not only promises protection against digital threats but helps filter out the malicious websites as well.