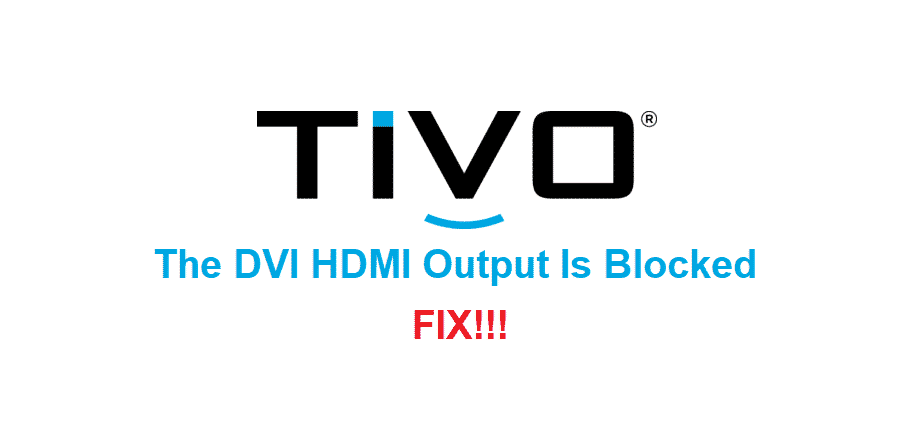 If you enjoy watching television for different shows or sports channels then you should know how annoying it can be to miss them. This can be due to some important work or if you are too busy to watch them at the time. Considering this, TiVo provides its users with a device that they can use to record all their channels whenever they want.
These can then be watched by you later on when you are available. This takes out the worry of missing your favorite show and also allows you to watch a single episode on repeat. While that is great, you might sometimes get the error message 'The DVI HDMI Output is blocked' when trying to record a show with your TiVo device. If this happens, then you can follow these steps to get rid of the problem.
The DVI HDMI Output Is Blocked TiVo
Reboot Devices
While there can be several reasons for this error message, the fastest way to get rid of it is by rebooting your TiVo box. There might be a problem in its configuration files which might be preventing you from using the DVR service. The reboot deletes most problems from these devices and gets rids of these error messages.
While rebooting the TiVo device, make sure that you reboot your cable box as well. This is in case it was preventing you from recording the shows. Lastly, keep in mind that you have to keep your devices switched off for at least some minutes before you turn them back on.
Keep Television Switched On
If you switch off your television after the recording feature has been enabled then this might be why you are getting the problem. HDMI users should keep in mind that most cable boxes can only work if the opposing device is receiving signals.
If you turn off your device then the recording will only contain audio data and the video will be protected by a black screen. One easy way to prevent this is by keeping your television on while it is recording. You can then switch it off once you are done with the DVR feature.
Use Cable Box Wires
Sometimes users might not want to keep their devices running all the time. In this case, you should note that some cable box companies don't allow users to record their shows when you are using your wires on them. These include both the HDMI as well as DVI cables. If you want to record the shows then you will have to use the component wires included with your cable box.
Although, the quality of them can be quite blurry and most users might not enjoy using them. This is why you can alternatively contact your cable provider instead. Tell them about your problem and ask them to lift the security bits provided on your stream. If they do so, then you should be able to record the shows without getting any more error messages.