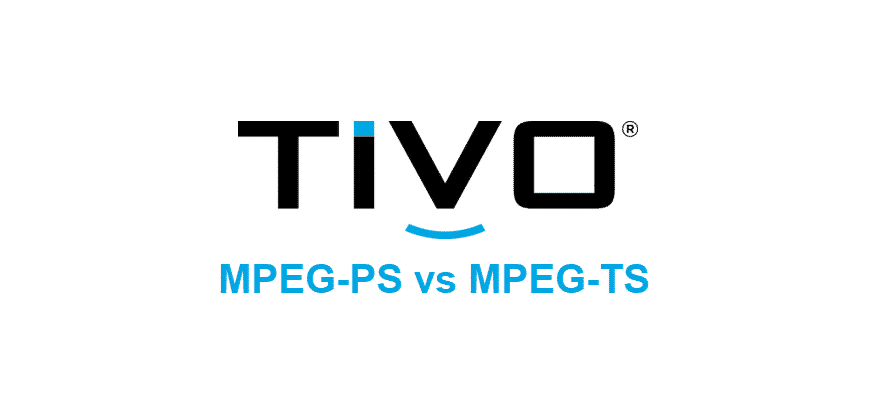 If you enjoy watching movies and shows then you might also download them on your system or devices. This allows users to watch these whenever they want. Additionally, you have the option to pause them whenever you want to.
Although, while downloading them through a DVR service or when transferring these files, you need to consider the format of these files. This is important because some devices can have trouble playing files that they don't support.
There are many different formats that these files can be downloaded in and users have the options to select between them. TiVo provides its users with support for transferring MPEG files through two streaming options, including TS and PS. You have the option to choose one of these.
Considering this, you might be confused about which one out of these two will be best for you. We will be using this article, to provide you with information about both of these so that it can be easier for you to select one.
TiVo MPEG-PS vs MPEG-TS
TiVo MPEG PS
The program stream or also just known as PS is a type of video and audio synchronizer. These are used to transfer files that have MPEG as their standard format. Mainly PS streams are used to store up any videos that you want to. These include DVDs as well as any other video that you might want to save. These can then be played on your device without having any problems.
Although, you need to consider the fact that both types of formats can be used under certain conditions. It usually depends on what you want to use the feature for before you can select one of these formats. This depends on the specifications of both your application and the file you want to play. If you are someone who just enjoys watching shows and doesn't use the TiVo transfers for anything else then the PS option should be best for you.
This is already set by default on all the devices provided by the company ensuring that the users do not have any problems. The only way to change this format is by going to the settings of your device. Considering this, if you have no issues with your streaming services and the DVR feature then it is better that you keep this format and do not change it. However, if you are getting error messages then you might have to consider switching to TS.
TiVo MPEG TS
The TS format stands for transport stream. The main purpose of this format is to broadcast all the data and information from the satellites to your device. On top of this, it makes sure that the communication between these devices is accurate and there is no fluctuation between them. This also means that this stream contains many different program streams within it and can send them all at once. While this can be much faster than program stream, you need to consider that it has some downsides as well.
TS is equipped with features that can correct its error messages on its own, these are installed to ensure that users can get good signals even when the data is being transmitted through unreliable sources. Though, if you use this format then you will notice that different devices and programs can have a lot of issues when playing these files.
The main reason for TiVo to add this feature on their devices was because of them spreading their services. Some countries use the video format H.264 instead of MPEG for their channels. This can be almost impossible for PS to handle.
For users living in these areas, TS can be selected. This makes the videos to stream without any problem and is supported by all the devices. Considering this, there are certain conditions under which the TS feature can outperform PS. If you are still interested in switching these formats then you can change them for your curiosity. There is no harm in changing between these formats and if you have any problems then you can switch back to the prior one. This should also help you in checking which format works best on your TiVo player.