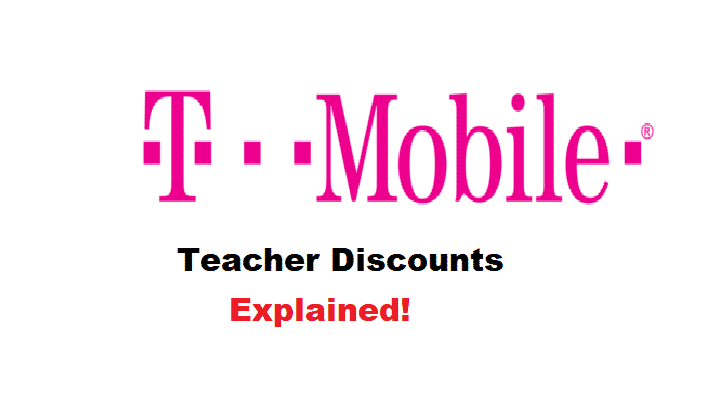 T-Mobile is undoubtedly one of the largest voice and data services providers across the world and especially in the North American region including the US and Canada. They are offering pretty great services such as mobile network services and more at affordable tariffs that are pretty great.
They also have some special discounts such as veteran and teachers discounts as regard to their services towards the community. There are some great Teacher Discounts being offered by T-Mobile and here is a brief account of what it entails.
T-Mobile Teacher Discounts
The Discount
The first and most important question that comes to anyone's mind is that what discount a teacher can get over their services and that is not that simple to answer. So, to start with that, on average a teacher can save $10 on their monthly bills but the savings and discounts may vary based on different packages, plans, and localities. You can never be sure about what they have in the store for you and it might vary depending on what organization you are working with, and stuff like that.
But one thing is for sure, that you are going to get a better deal and a great package that will outrun any other service provider out there and is definitely discounted than the regular plans being offered by T-Mobile.
Eligibility
Now, not all the teachers are eligible for these discounts and you need to be careful about that as well. There are certain organizations and institutions that are registered with T-Mobile and sometimes there are other technicalities involved. So, don't get super excited if you are a teacher and you need to contact T-Mobile or your institutions for an exact confirmation and if you are eligible for it. You might also need some documentation from your institution to get these discounts so make sure that you contact T-Mobile first and get it all sorted out.
Validity
Validity is another main concern for those who are looking to get these discounts and they would want to know what packages and offers these discounts are valid for. The first limitation that you are going to get on these discounts is that it is only valid for Magenta Plan being currently offered by T-Mobile and you cannot make it work with any other plans out there. Moving forward, there is another important thing that you need to know about and that is the fact that these discounts cannot be combined with any other discount or offers that are going around. So, if you are already on a discounted plan or you are using some offer that gets you better pricing, then these discounts might not be the best thing for you to choose.
How to Avail?
If you are wondering how to avail of these discounts if you are currently on the T-Mobile network, or you are looking to make a switch is to contact T-Mobile and they will be able to get you the right details that you need to know in order to avail these discounts and make good use of these.