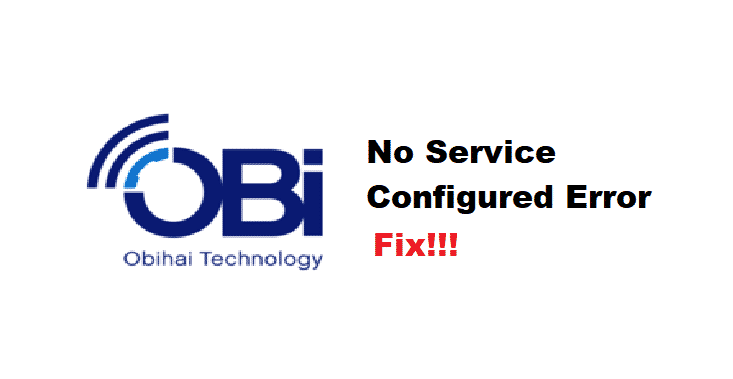 Obihai Technology also knows as OBI talk is one of the mega manufacturers for analog telephone adapters. They are developing some great solutions to support SIP, XMPP, and Google Voice compatible internet communication over analog phones. That makes them one of the best-selling VoIP phone manufacturers.
Due to their affordable prices, it makes one of the best domestic VoIP phones that is being used for homes and you can get a superb quality of voice calls all over the US and Canada. If you are getting the error stating "No Service Configured" on your OBI phone, here is what you need to do.
How To Fix No Service Configured Error OBI?
1. Restart the Phone
The basic troubleshooting step and that has worked wondrously most of the time is to try a restart on your phone. When you run a power cycle on your phone, it will not only restart all the components but will also be connecting with the network again and all the configuration settings and services that you are entitled to will be pinged. So, this is going to most likely solve the problem for you and you will be able to communicate over the phone without having any issues.
2. Optimize Settings
Sometimes the error can also be caused if you don't have the settings optimized as they need to be. So, to start with that, you need to access the Obitalk.com website and click on the "Google Voice Setup" button. Here you will be able to see a yellow triangle in front of the device that you are using if you are getting the "No Service Configured" error on the device.
So, by clicking on that icon, you will get an error message and it will take you to the page where you can configure the settings for your Google Voice account. You need to enter your Google Voice credentials here and then toggle the Google Voice on to make it work for you. After you have set these settings, you can click on the save icon and then restart your phone once again. This is going to make it work for you and you will not have to worry about this sort of error again.
3. Update Firmware
Another possible reason that can cause you to have this issue is an outdated firmware and that needs to be fixed as well. So, to start with that, you can find the right firmware update and instructions on the Obitalk website and that will allow you to get the right firmware version installed on your phone that will fix all such issues and problems for you.
4. Contact OBI Support
Another thing that you need to be careful about is that these are some highly technical equipment and you might mess up things on them instead of fixing up the issue. So, if you are not confident about these troubleshooting steps, it would be better to call OBI support for help and they are going to fix the problem in the best possible manner without causing much trouble.