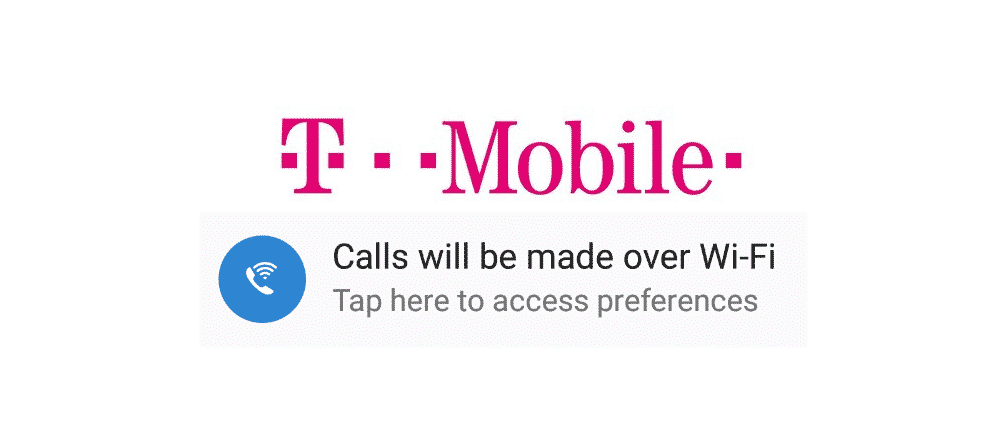 T-Mobile has a massive coverage area that allows the users to be able to receive and make calls, send and receive messages, and use the Internet just about anywhere in the US.
However, despite having huge network coverage, there are areas where the users may not get T-Mobile service or a weak signal. In such situations, Wi-Fi calling is a very handy feature that many T-Mobile users rely on. Even under normal circumstances, many users prefer Wi-Fi calling because, in some instances, it allows them better quality and more affordable service.
Fix T-Mobile Calls Will Be Made Over Wi-Fi Notification
While making calls with Wi-Fi using your T-Mobile phone is an easy process and is quite convenient, sometimes the users face issues. One of the major issues revolving around this service is users getting notifications on their device saying that "Calls will be made over Wi-Fi." Receiving this notification once in a while may not be a major concern. However, some users have reported that they keep receiving this notification over and over again.
Every time their phone connects to the Wi-Fi network they get this notification. Even when their phone is already connected to the same Wi-Fi network, still they keep getting this notification after every few minutes. It can be really annoying for the users. If you are facing the issue of seeing the "Calls will be made over Wi-Fi" notification over and over again, here are a few things that you can try to get rid of this issue.
1 – Change the Importance of Wi-Fi Notifications on Your Device

One of the solutions that you can apply for this issue is changing the importance of the Wi-Fi notifications on your device. You can easily do this by first going to settings and then to the General tab. After that, you have to tap on App Info. Now you will see the 3 dots menu located on the upper right-hand corner of your smartphone.
Click on that menu, and then click on Show System. After that scroll down and tap on Wi-Fi Calling. Remember that this option will only appear after you will select the Show System Apps option. Once you are on the Wi-Fi Calling screen, tap on App Notifications. Then you will have to tap 3-dots settings located next to Calls made over Wi-Fi. It will be under categories. After that, you need to tap on the importance and then you can set the importance to low.
2 – Turn Off the Wi-Fi Notifications

Another possible fix for this issue can be turning off the Wi-Fi notifications on your device. While this may solve the issue, it will turn off all the notifications related to Wi-Fi on your device. So if you feel that you do not have a need to see Wi-Fi notifications, then you can turn them off.
3 – Make Sure Your Wi-Fi Connection is Working Fine

In some cases, the Wi-Fi internet connection is not stable and it keeps getting disconnected. This leads the phone to reconnect to the Wi-Fi every time the connection appears again. So make sure that you have a stable Wi-Fi connection.