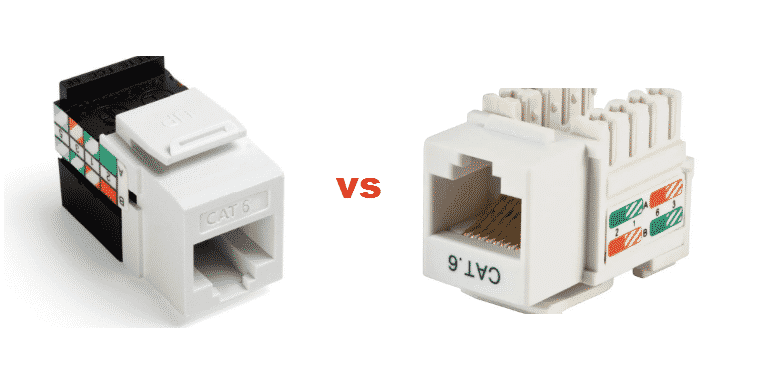 If you have built a new house or are shifting to a new place, or you are setting up a new office, one of the key decisions that you may be faced with is choosing the right mix and match panels, wallplates, surface mount boxes, and connectors. While there are several options available in the market, Leviton Quickport and Keystone Jacks are among the most popular options.
While both are pretty much similar in their work, build quality, durability, safety, and reliability, they are both made by different companies and have their pros and cons. Most of the users have had pretty good experiences with both products. If you are having a hard time deciding whether to use Leviton Quickport or Keystone jacks, here is everything that you need to know.
QuickPort vs Keystone
QuickPort
QuickPort is Leviton's exclusive product. It is a set of mix and match panels, wallplates, surface mount boxes, and connectors. You can use the QuickPort system to create the perfect mix of data, audio, and video in a single panel. QuickPort offers a variety of jacks. The Atlas-X1 Cat 5e UTP Jack is one of the most popular Quickport jacks. It can be used for surface mount boxes, patch panels, or wall plates with the standard Quickport ports.  Here are some of the key features of this Quickport jack.
It is ideal for mission-critical 1000BASE-T horizontal voice and data applications. It delivers top-notch performance across the networks that have very high bandwidth requirements.
QuickPort Atlast-X1 Cat 5e UTP Jack is third-party verified to exceed all component, permanent link, and channel margins.
QuickPort has used its patented RFT or Retention Force Technology that protects against damage. It increases the overall longevity of the system. So you can be sure of a reliable experience for many years to come.
It has a very innovative design that supports tool-free termination and tool-free re-termination.
It has a short connector design that has a superior bend radius for high-density applications.
Another great thing about Quickport Jacks is that they are available in 13 colors so you can have greater network flexibility.
This Quickport Jack features interchangeable icons. These are available separately for easy identification and tracking of voice, data, or other functions.
Keystone
Keystone has a variety of jacks available. The heavy-duty Cat6 RJ45 is one of the most popular Keystone modular jacks. It can be used for surface mount boxes, patch panels, or wall plates with the standard Keystone ports. Here are some of the key features of this Keystone jack.
The Keystone Cat6 RJ45 will pretty much future proof your network installation by providing a 10-Gigabit Ethernet.
It features gold-plated contacts along with easy snap-in retaining clips that ensure a secure connection. In addition, it is also corrosion-free. So you can use it for tens of years without having to worry about corrosion and the usual wear and tear with time.
It is very cost-effective when purchased in 25-pack. The 25 pack of the category 6KJ modules includes a jack punch-down stand that provides much safer and easier cable termination. It also provides an impact tool or tool-free termination.
Another great feature of this product is that it has a true Heavy-Duty Construction that includes a fire-retardant and impact-resistant housing with the gold plated RJ 45 contacts. It also has dual IDC covers. The snap-in retaining clip provides further safety and a much safer connection.
One thing that you should remember is that if you use the Monoprice Keystone Jacks with the Leviton wallplates, they would not fit right. The individual keystone jacks may work fine, and the vertically stacked plate may also work, but the Monoprice Keystones are just too wide to fit in the Leviton wall plate. So instead of going for one product from Keystone and one from Qucikport, it is better to go with either entirely QucikPort or entirely Keystone.
Both QuickPort and Keystone are great products and have been proven reliable by thousands of customer reviews. One area where you may fancy Keystone more than Quickstone is pricing. In terms of functionality, durability, reliability, and performance, both Quickstone and Keystone are quite similar to each other.