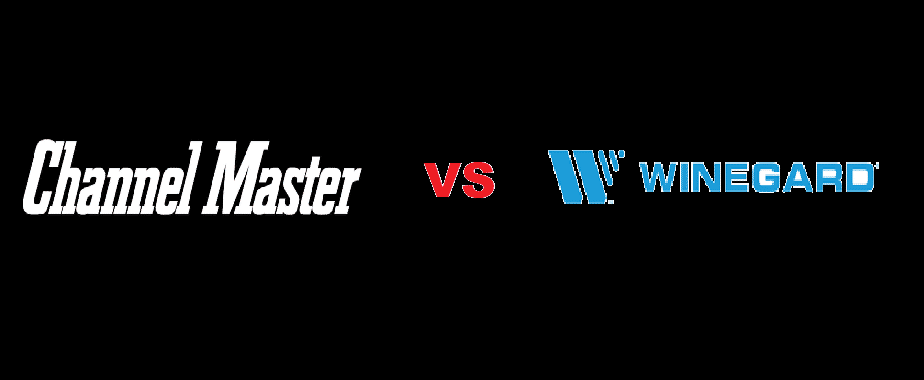 TV antennas are something that has been helping us to enjoy excellent video content for decades. These TV antennas increase the range to help boast our satellite connectivity. But in this digital world, when you have the best dish networks, which of the TV antennas will be best for your house. It is one of those questions that put a lot of us in trouble. It becomes quite hard for us to decide which company we should depend on to get an amazing quality antenna.
For our reader's ease, we have brought two of the amazing companies that stand firm in the market when we talk about dish antenna connectivity. The Channel Master and Winegard have been providing us with some of the great TV antennas with remarkable range. In the article, we will compare both of them and allow you to decide the best one.
Channel Master vs Winegard
Channel Master
Whenever you enter the market to get the TV antennas or other such accessories, the first name you will hear is Channel Master. This company has been providing its customers with great TV antennas for more than six decades. But, is it be good enough to get a Channel Master TV antenna for your home? It is something that this article will help you to find out.
In the market, there are a lot of TV antennas developed by Channel Master. In this modern world, when everything is getting digitalized, Channel Master is creating some of the best indoor antennas and their remarkable outdoor antennas. If we talk about their best indoor antenna, then the first name comes to our mind is the SMARTenna+.
The SMARTenna+ is one of the best indoor TV antennae that you can get for your home. It is designed and created so that despite being placed in your room, the device will fetch signals in the challenging areas up to 60 miles from all the dimensions without even changing the antenna's direction.
It comes with seven different antennas inside, and the processor analyzes the TV signals, and then it automatically selects the best reception pattern to ensure amazing quality. The best thing about the SMARTenna+ is that you will be getting it under the price tag of $49. It is something relatively cheap when we look at the specification.
Moreover, if you need an outdoor antenna with great range, you need to give at least a glance to the Channel Master EXTREMEtenna. It is one of the best outdoor antennas available in the market. It has a range of 80 miles and can catch signals easily due to its multidimensional abilities.
Winegard 
Along with Channel Master, the Winegard is something that can help you to put your hands on some of the finest TV antennas of this generation. Winegard is one of the best TV antenna-making companies that has kept its quality and innovation as per the demand of this rapidly evolving market.
If you need a fantastic outdoor antenna that will not only help you to get a great range of up to 65 miles but also allow you to watch 4K high definition video content, then you need to bet on Winegard HD8200U Platinum. It is one of the best outdoor antennas that Winegard has ever produced. It is powered by corded electricity and can work finely in the worst condition.
But, if you need to spend your money on an indoor antenna, then Winegard has the solution for this too. The Winegard FL-5000 is something that will fulfill all of your demands. It is one of the lightest antennas that you will ever witness, with a range of 35 miles. It is so smart and slim that you can place it anywhere with ease. The best thing is that this antenna will only cost you $25.
Final Remarks
If you need to spend your money on some of the suitable antennas available in the market, then both Winegard and the Channel Master has got amazing offers for you. But what you must choose as the first choice is the Channel Master antennas.
We know that it cost a bit more than the Winegard antenna, but if we compare the range and compatibility, then the Channel Master antenna has no comparison. It doesn't mean that Winegard is terrible, but when it is about Channel Master Vs. Winegard, then we suggest you bet on Channel Master.
Conclusion
This draft is something that you need to study with care before entering the market to get an antenna. In the draft, you will find a decent comparison between two of the best antenna making companies. We've given our best to provide you with a neutral analysis to grab the best thing. Follow this article to get the best antenna for your home.