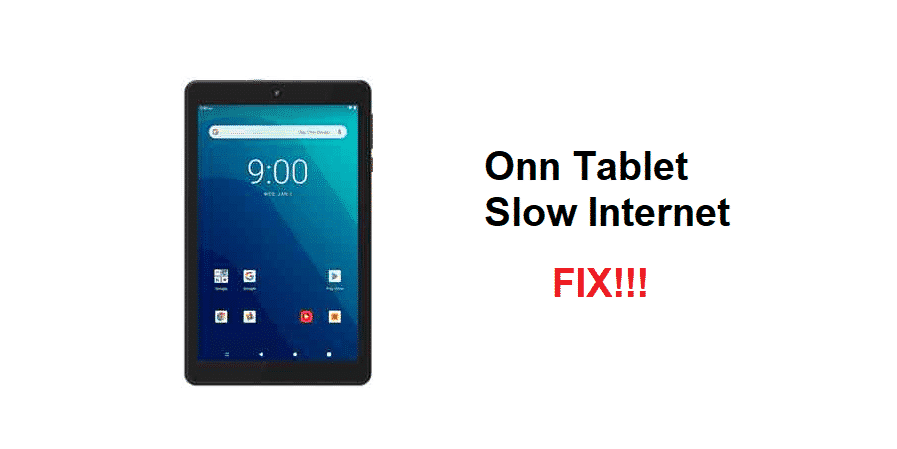 Tablets can be extremely helpful sometimes and they might even act as a source of entertainment. This is because you can use these devices to stream videos, movies and even play games on them. Additionally, you even have the option to make video calls to your family and friends. This is done with the help of the front and back camera provided on these devices. You can even use this camera to take pictures and store your memories.
While a normal tablet can be expensive for some people. The company Onn has come up with a budget tablet that is extremely cheap. This is an extremely amazing tablet and performs really well considering its price. Although, some Onn tablet users have been getting slow internet speeds on their devices. You might get this problem as well; this is why we will be using this article to provide you with some steps that you can follow to troubleshoot this.
Onn Tablet Slow Internet
Check Internet Speeds
There can be a lot of reasons for your device to be getting slow internet speed on it. The first thing you should try is to check the speed of your connection. Make sure that you select the connection which you are using to connect your tablet to the internet while checking this speed. To check your connection, open up a speed test online.
There are a lot of websites that provide you with a test to check your internet. You can even download an application on the tablet for this. After running the test, take a reading of the speed that it shows. After this, compare the download and upload speed with the data on your internet package. If the speeds match then move on to the next step, however, if these do not match then contact your ISP. Most ISP's can be contacted online, although you also have the option to call them instead.
After contacting them, tell them that your connection speed is slower than the package that you are subscribed to. They will check for any errors on their backend then contact you back. Sometimes, the ISP companies are running a maintenance check on their servers which can result in the speeds slowing down. Whatever the case might be, the company will either fix your problem or it will go away on its own after some time. You should stay patient because this may take up time.
Change Connection Package
If you are receiving the speed that you should be and still feel like your internet speed is slow. Then this means that you need to upgrade your current package. Contact your ISP or visit their website online. You should find a list of all the internet packages that the company provides along with the bandwidth on them. Select one of these and make sure that the speeds are notably better than the ones, you are using.
After this, tell your ISP to change your package to the new one that you have just selected. Some ISP services might not provide their users with a faster connection package. In this case, you should change your ISP to another and find one that has better packages. You might even be able to find a company that has better speeds in less price. Keep in mind that your package might take a few days to change. Alternatively, if you are switching your ISP company then you will have to install their own device and might even have to change the wiring in your house.
Update Software Version
Another thing that you can try is to update the software version of your Onn tablet. If you have not updated your device for some time now, then it will most likely have a number of new updates. Running your device on an older update will slow it down and cause it to run into errors as well. Your device might even start to power off on its own. This is why you should update your device to the latest version. This should fix the slow internet problem that you are getting on your tablet. Talking about this, you should also update the applications that you are using on your device.