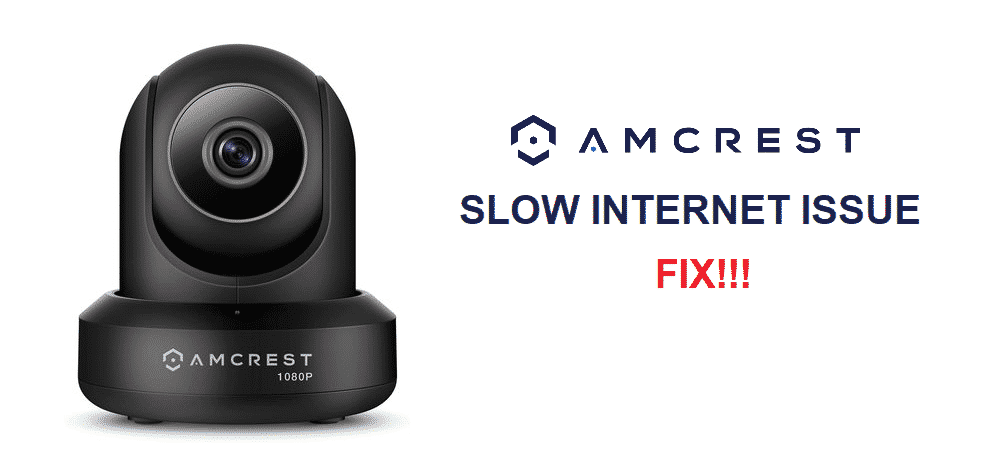 Amcrest is known for manufacturing Wi-Fi cameras. These are extremely easy to setup and you can do it on your own. In case there is a problem while you are trying to set up the camera, you can easily check the guide provided by the company and follow it. The step-by-step guide given by them makes it easy to install the camera for even someone who has no prior knowledge about stuff like this.
Aside from this, the quality of these cameras is amazing and you even have the option to record all your data using a storage device. The Amcrest might be a great camera but some people have been getting slow internet on their devices. If that is the case with you as well then here are a few ways you can fix it.
Amcrest Camera Slow Internet
Wired Connection
Most people run their wireless cameras through Wi-Fi. Although that might be the optimal option to go for because you won't have to worry about any wiring. The speed of your internet connection can vary drastically over Wi-Fi. There are quite a number of factors that can affect the speed of your Wi-Fi connection to slow down. For instance, there might be a lot of metal object between your devices which are interfering with the signals.
Alternatively, the router might be a little too far from your camera. This will cause the signals to be extremely weak, resulting in a slow internet connection. The solution for all these problems is that you use a wired connection instead. Even though you will have to take a wire from your modem or router to your camera. You can make it clean by using internal wiring as well. Once the camera has been connected to the internet using a wired connection.
The speeds on it will increase a lot and this should solve your issue. Another thing that you will notice is that the speeds are now extremely stable and there is no lag in the recording. Also, if you are deciding to go for a wired connection then make sure that you select the best wire because that can also affect the speed of your connection.
Change Settings
If the slow speed on your internet is making you have trouble while checking the footage of your camera when you are outside your house. Then this can get a little frustrating. The stream might work at times while at others, it might be causing problems. One of the best solutions for this is that you change the settings on your camera.
Most cameras nowadays stream in 1080p and the default bitrate on them is really high. To stream this footage, the user is required to have a really fast internet connection. In case your connection is not the best and the speed on it falls at times. Then it is recommended that you change the resolution and bitrate of your camera through its settings. Changing the resolution down to even 720p from 1080p should make you feel a lot of improvement in the smoothness of the footage.
Although the quality might end up suffering a little. If only the resolution decrease doesn't help you then you can also lower the bitrate to smooth out your stream. Make sure that you keep the settings at a level where you can clearly see the footage.
Update Your Device
Amcrest has come up with many updates that have fixed problems on their devices. The slow internet problem that you are getting on your device might have already been fixed by the company in a prior update. If you have not been updating your device at regular intervals. Then this might be the reason why you are getting this error,
It is recommended that you update your camera to the latest version of the software to fix most of the problems with it. Another thing to note is that some updates from the company are released for testing. You might accidentally end up installing one of these. While most of the time these are also quite stable and you should have no problem with them. In case you do, you can revert the update back to a version that has the least errors. This can easily be checked online on the forums of the company.